So, Bertha has been a member of the family for just under two months.  So far, I am super happy with the decision.  She's a GREAT truck and should bring our family years of fun.
Over the past couple of months, my focus has been on building the 'official plan' to get her where I want her.  The reality is that she needs some work.  We knew this going in, and are prepared.  I'm not the type to go buy a completely restored truck for the highest premium price.  Instead, I'll opt to learn and restore it on my own time (and dime).  By no means am I a gear head, but I'm not afraid try (while making every effort to not do more damage).
To recap, here's where we started: the engine, transmission, brakes, tires, interior, and most of the systems are in good shape.  There is a little rust (I'll get to that later), and some of the systems need some work.  The previous owner mentioned 'she needs a new muffler'.  OK.
I drove her around quite a bit and tried to get to know her as much as possible.  It's different driving an SUV manufactured in 1990 vs. a 2018 Audi Q7, but not so much that it makes the driving uncomfortable.  It's fun.  I've been obsessively reading the IH8MUD forum, I bought the official Repair Manual, and I started networking with other FJ60/62 owners.  While developing my Bertha plan, I started making some new friends.  FJ owners are good people.
From an official plan perspective, here's where we are:
1. I took Bertha to a reputable muffler place, and it was quickly determined that she needed a new exhaust system.  Not a huge surprise.  After a couple of days at the shop, she was much quieter, got better gas mileage, had a bit more power, and (most importantly) wasn't leaking CO2 into the cab.
2. There are a lot of interior systems and some electrical that need some work.  The AC compressor is bad and needs to be replaced, the door locks are super wonky, and the gauge lighting is hit or miss.  The previous owner had a full analysis done by ACC Garage back in 2017, and their original quote included quite a bit of what was I mentioned above.  I've got an appointment with ACC in mid-March to have a bunch of system work done.  As I mentioned – I've never dug deep into an old car, so right now I'm not comfortable taking off the dash/etc, but the ACC folks said it was OK if I watched (if it's not too busy).  I'm excited to have all this done, as well as upgrading the headlights and dome/cargo lights to LEDs, straighten the steering wheel, and inspect the driver's side power window.
3. The rust situation has been very interesting.  I have called at least a dozen places all over town, and had estimates all over the place.  It's been a frustrating process.  At this point, I'll say this:  I've found someone who is going to do the rust and paintwork, and I'm not at liberty to reveal their contact information unless given explicit permission.  I am looking to have this done in the Spring/Summer timeframe.
4. Fun stuff: All of the modification and upgrades available to FJ60s/62s is mindboggling.  Being that I'm a traditionalist, I want to keep the truck as close to the original look as possible.  I love the roof rack, but will not add a lift.  I have no desire to add a snorkel or a wench.  I am more interested in adding subtle creature comforts that make driving Bertha more enjoyable.  Here are a few things that I'm working on: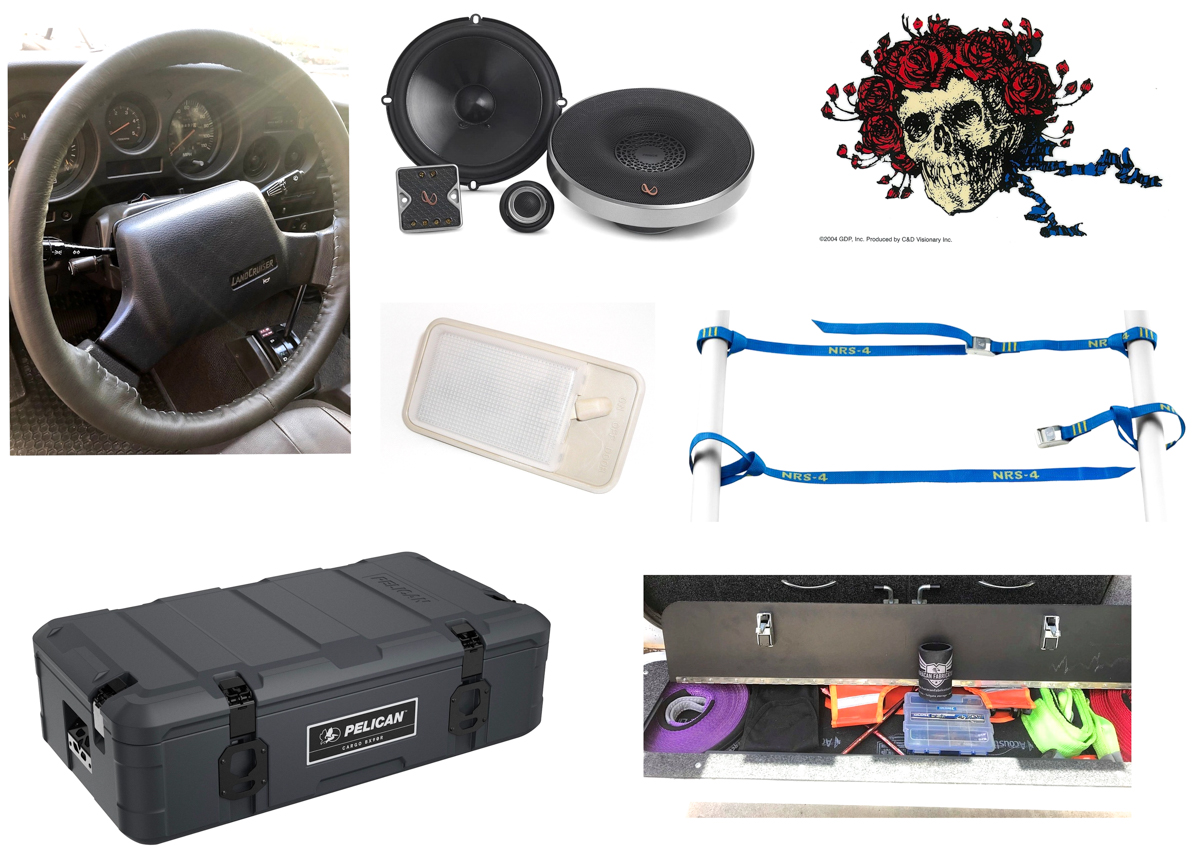 Starting at the top left:
Between now and the ACC visit, I'm planning on heavily cleaning the interior and all the jams.  Luckily it's in relatively good condition, but there are some areas that need some work.  The center console lid is pretty crusty, and the door jams and kick plates are grimy.  I bought a handheld steam cleaner that should help get all the sludge loosened up, then I'll get to work on re-greasing all the hinges, oiling the locks and handles, and WD40-ing everything I don't want to rust.  We've got a hand-held carpet cleaner that we'll use on the carpets, but only if the shop vac doesn't get it where we want it.  I bought some good cleaning and conditioning supplies for the plastic dash, and since Bertha is going to be garage-kept I don't expect there to be any issue around deterioration.
Some other stuff I'm working on:
Learning about fluids and general maintenance.  This isn't something I've ever had to do before, but I'm enjoying learning.
I need some sort of solution to hold my iPhone.  I've looked at some mods on IH8MUD as well as some cigarette lighter options on Amazon.  Not sure what I'm going to do here.
A Pakmule.  I'm obsessed with these things.  I haven't started shopping yet, but this makes a ton of sense.
I need to get new bumper corners and I'd like to add snake blinders.  I'll try to source these via the forum.
Internal fishing rod racks.  Something I can attach to the ceiling.
I'm sure there's more…
So that's where we are.  I appreciate all of you reaching out and checking in…I know there hasn't been much here or on @berthasbigadventure, but I expect that to change over the next few months.  Got any advice or ideas?  Let's hear it!