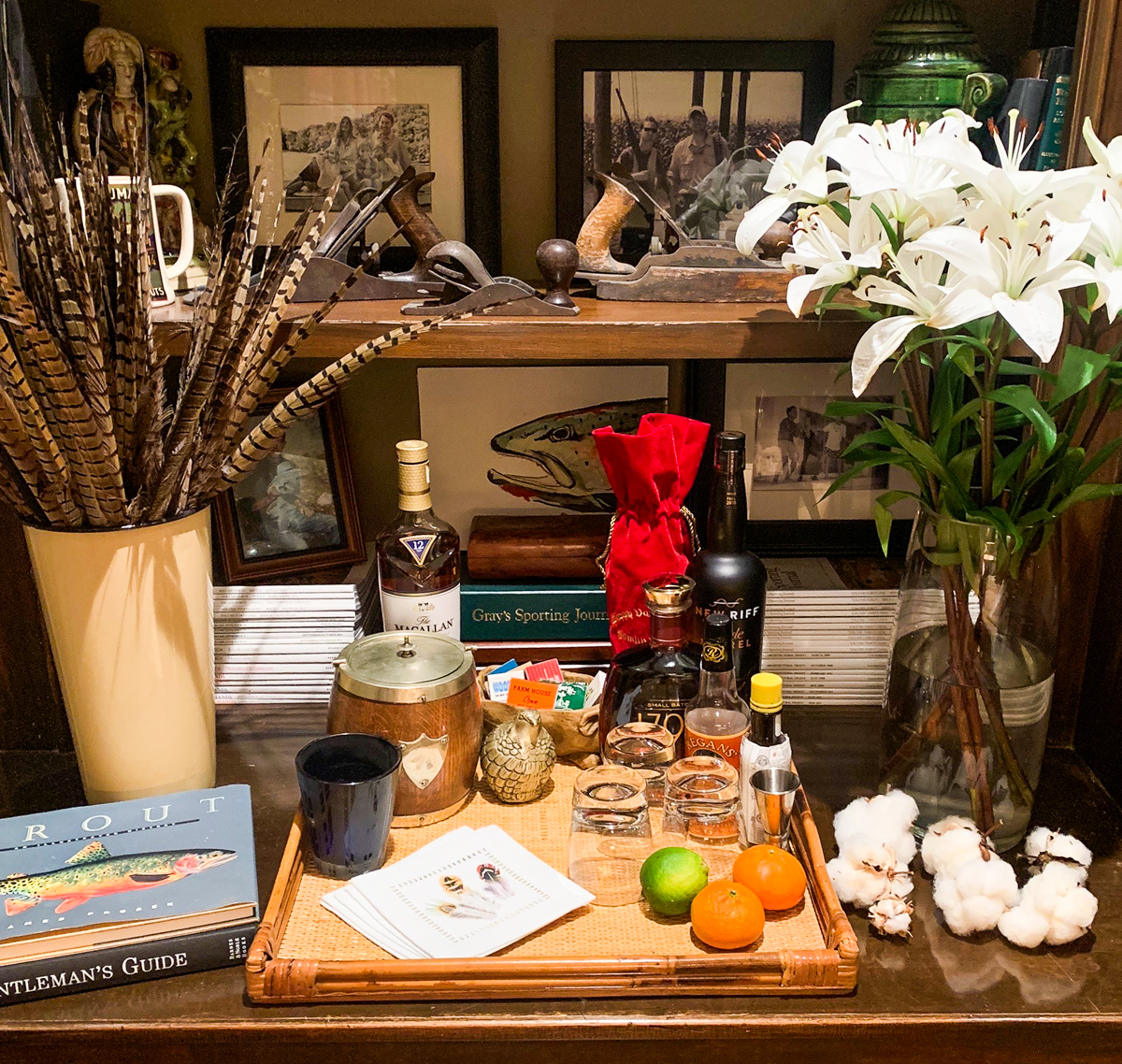 Happy Holidays!
Opening our home to guests around Christmas and New Years is one of the elements of this season that is highly anticipated.
I've always idealized an iconic cocktail party around Christmas, with smart dress, smart drinks poured, smart music spinning, and festive smiles. I imagine Holly Golightly's apartment party. One lasting only long enough that there is no need to sit down, guests coming and going as they please, very shallow and cheerful conversations. Sometimes having the Christmas bar at the ready is perfect just for someone delivering a gift, that neighbor on a golf cart with cheese straws. A bar on a counter tray or cart invites some mischief with family gatherings, pregaming for other events, and an oasis for a tired Santa.
A well-adored bar is part of my Christmas decor and if nothing else, this is a great time for a winter restocking of spirits.
If there was ever a time to put out a bar, this is it! Today is THE day to stop by your bottle shop with long weekend coming, a busy week leading up to a weekend Christmas, and a weekend New Year's Eve. It's going to be a happening run of celebration!
Whether you are expecting drop-ins, you have invited guests, or just think a flashmob cocktail party will overtake your home- here's a list to prepare you.
Semper Paratus!
-Will Kelly via RCS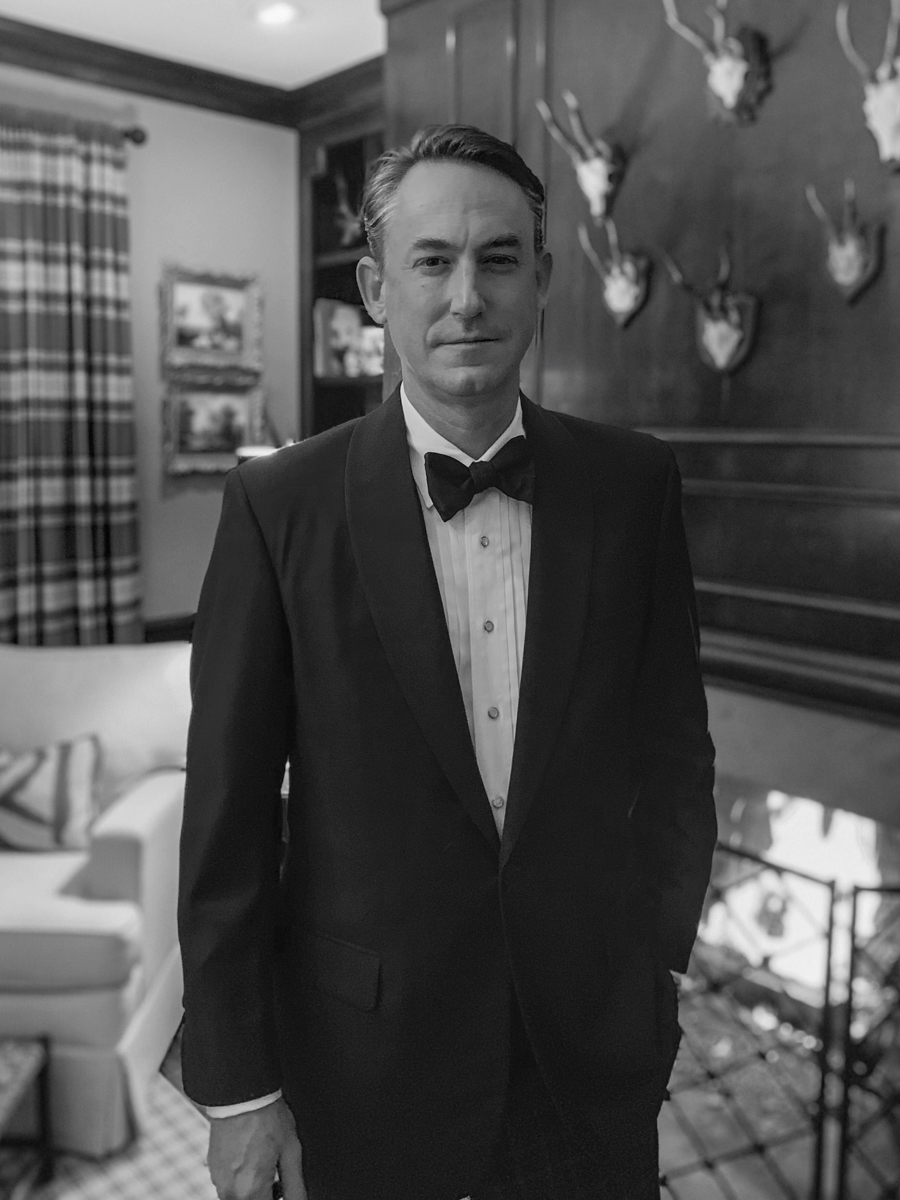 The Armamentarium:
Glassware:
Double Old Fashions (Large and substantial- think 12-16 oz)
Low Ball Glasses (more petite- around 7-9 oz)
Champagne Flutes or narrow tall wine glasses
Coupe Glasses
Nick and Nora Glasses as alternative to Traditional Martini
Wine Glasses
Napkins:
You may have "cute" or "whimsical" printed paper napkins- DO NOT use them! Honor the moment and the effort and use real cloth napkins, even if you just buy hem stitched linen squares and throw them away. Personal holiday favorites are tartan.
Sundries:
Great Cherries (Luxardo)
Angostura Bitters
Orange Bitters
Bamboo cocktail picks
Black stirrer straws
Limes, Lemons, Navel Oranges
Fresh Potted Rosemary
Large Queen Olives
Vacu Vin stoppers
Sugar Bowl
Wine opener
Paring Knife
Stirring Spoons (love sterling baby spoons)
Shaker
Jigger
Bottle Opener
Vegetable peeler (for citrus twists)
The Stock:
Mixers (at the ready, preferably in glass bottles and all fruit is 100% natural fruit juice):
Ginger Beer
Ginger Ale
Coke
Sprite
Club Soda
Cranberry Juice
Ruby Red
Orange Juice
Bloody Mary Mix
Low Test:
Kitchen Beer- Bottled Light Beer (think a neutral "nobody's brand" import like Stella)
Garage Beer- Case of Coors Light Cans, Case of Budweiser Cans, Six pack of Lite cans or adjust accordingly to regional tastes.
Bubbly for drinking and mixing (moderately priced for mixing, i.e.. Josh Prosecco and Chandon Brut; Bubbly to your liking we buy Moet and Chandon Imperial, GH Mumm Grand Cordon, VC, just depends, but nothing over the top.)
Reds: Napa Cabs, Oregon Pinot Noirs
Whites: An everyday Chardonnay
High Test: Spirits
Fifth of Nice Scotch
Fifth of Nice Rye
Fifth of Nice Bourbon
Fifth of Nice Gin
Fifth of Nice Vodka
Handle of well vodka- for mixing
A nice Sweet Vermouth (Antica)
A nice Dry Vermouth (Dolin)
Campari
Grand Marinier
To clarify on brands: I believe a home that is reputed to have cocktails at the ready should have established regulars on the bar tray. This is not to say there may not be special spirits in the cabinet. I believe all of the "nice" brands in my bar lineup are not leaning to any extreme in flavor profile. Not too cheap- not too fancy. This is a very personal decision based on budget, taste, and presentation. My personal bar: Macallan 12 year, Bulliet Rye, Makers Mark, Tanqueray, Titos. Mount Gay, Don Julio Resposado.
Always have your ice game ready.
Don't use ice that is in the freezer with food- nobody likes a whiskey infused with shrimp ice. A stand-alone ice maker is ideal.
For us mortals without an ice maker, this means finding good bagged ice and keeping it in a YETI cooler in the garage. You all have one, use it.
Silcone whiskey ice is nice, I love to freeze a whole silicon brownie pan and break it with an ice pick for large irregular shards in DOF pours.
Some Holiday Season appropriate Cocktails that aren't too gimmicky, and can fit guests that aren't looking for extremes. We'll forgo the peppermint schnapps martini. (Lots of "Pink Drinks" here):
Poinsettia
Champagne Flute
Mix 1oz Grand Marinier, 2 oz Cranberry Juice and top with Bubbly. Garnish with Rosemary
Sprig and Fresh Cranberries. Perfect drink for Mom on Christmas afternoon.
The Manhattan
Shake 2 oz rye, 1 oz vermouth, 2 dash of Angostura Bitters vigorously and serve up in a chilled
Martini Glass with an Orange twist and pick full of cherries.
Ruby Red Vodka
Low Ball Glass
Over ice mix 2 oz vodka, 2oz Ruby Red, a squeeze of lemon and top with Sparkling Water,
Garnish with Rosemary and an Orange peel twist.
Ruby (or Cranberry) Mule
Low Ball Glass
Over ice mix 2 oz vodka, squeeze of lime juice, 2 oz. juice, top with ginger beer and garnish with
lime.
Winter Negroni
(Boozy, chose your audience I'd say this is an IFKYK drink, I wouldn't waste liquor trying to
convert)
Low Ball Glass
In a cocktail shaker or mixing pitcher combine equal parts sweet vermouth, Campari and gin.
Garnish with a thin long orange peel twist over clean ice.
The Pom-tini
(Another Pink Drink, in evening wear)
Serve in Martini Glass or Nick and Nora
Mix 2 oz vodka, 2 oz Grand Marinier, 1 oz fresh lemon juice, 2 Tsp simple syrup (or sugar packet), Pom Juice in iced shaker- strain into glass and garnish with rosemary sprig
Bourbon Old Fashioned
In a DOF, pour a packet of sugar and 6-8 dashes of Ango Bitters over and 3-4 dashes of orange bitters, gentle layer 3 oz of the spirit, place one large ice cube in, gently top with 2 oz or less of club soda. Garnich with an orange peel twist that has been toasted by lighter, torch, or over gas stove element.
The Martini Lineup
Martinis are very personal, so ask:
Gin or Vodka?
Vermouth: None, Light, Heavy?
Dirty with Brine: Yes or Hell No
Garnish: Lemon Twist or Olive
How I make a Martini if you don't ask:
Chilled Nick and Nora glass with ice in it as I mix other ingredients.
In a cocktail shaker:
Vigorously shake 4 oz Plymouth Gin from freezer with clean ice for ten seconds
Dump ice from glass and drip about 1/2 ounce of Dolin vermouth, roll glass until sides are coated and dump the excess. Pour chilled Gin over through strainer. Garnish with a long strip of lemon twisting the zest into the beverage.
The Mimosa
Oj and Bubbly in a Coupe
The Bloody Lineup
Use a bright OTC mix (like Sister's Sauce)
3 oz vodka and 5 oz mix in a Tall Glass
Have Tabasco, L&P, Limes, and Olives at the ready
The key to simple drinks for example a scotch rocks:
Use great glasses, use great ice, use the best liquor in your budget for "well" house spirits.
Make call if your mixing. Do dad a favor and pour a stiff one from inside the cabinet.
Some people really get off on making their own cocktail, so let them. Some people over serve themselves, so don't let them. Some people really admire you for making them a drink- so make them a great one.
Enjoy the Season and God Bless you every one.