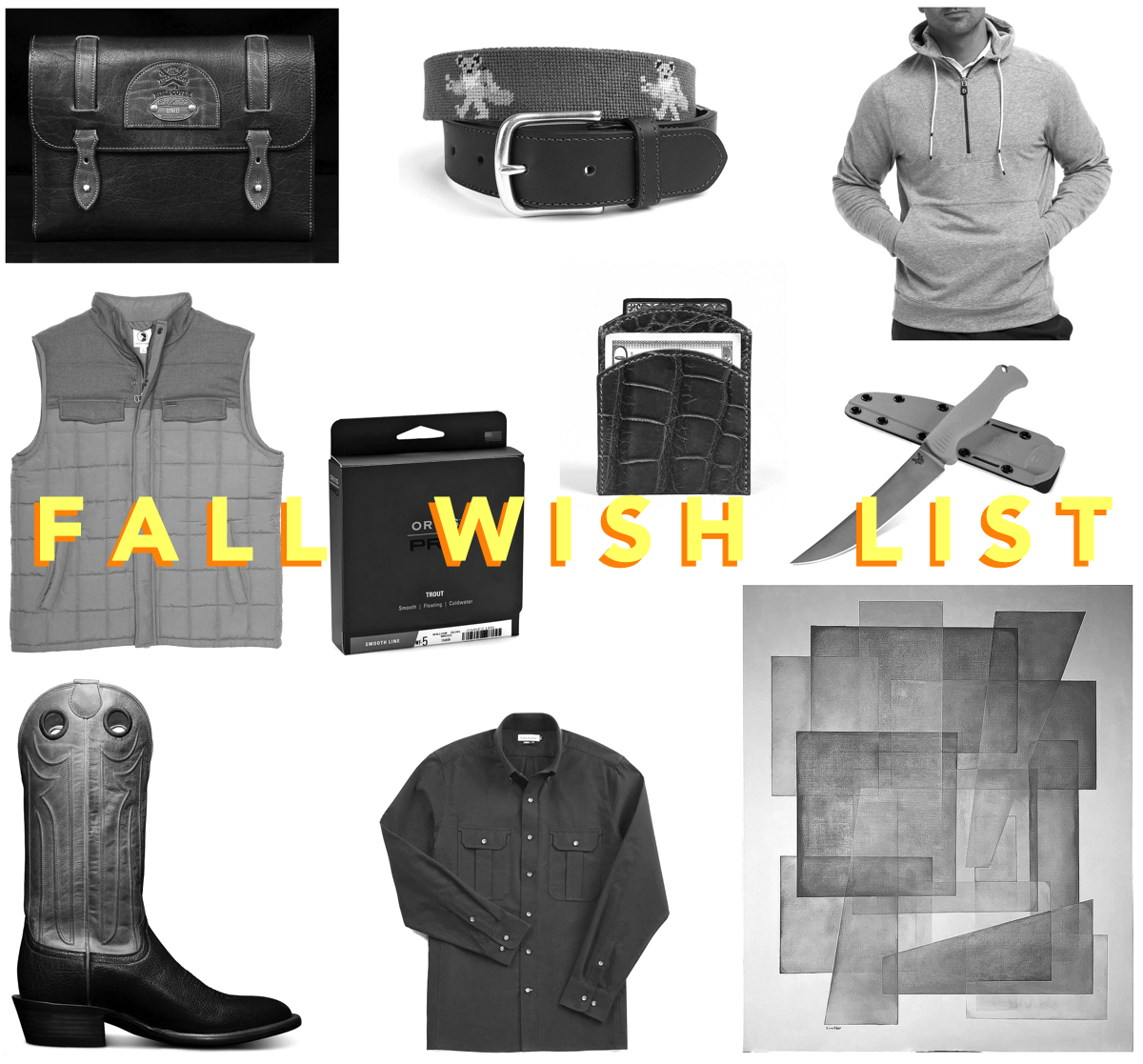 I noticed this morning that the sun is waiting a few extra minutes to make an appearance, and that it's starting to set a few minutes earlier in the evening.  Oh – and we kick off (real) college football this weekend, which means one thing: Fall is approaching.  My favorite time of year.  Golf, fishing, hunting, football, cooler temps, and layers.  Does it get any better?
As we move into Fall, I like to take stock in what I have, and what I want.  Purges happen.  Of course, there is a wish list…with supply chains loosening up and some normalcy returning, brands are starting to release on a more regimented schedule.  And there is some GREAT stuff out there.  Here is what I've got my eye on: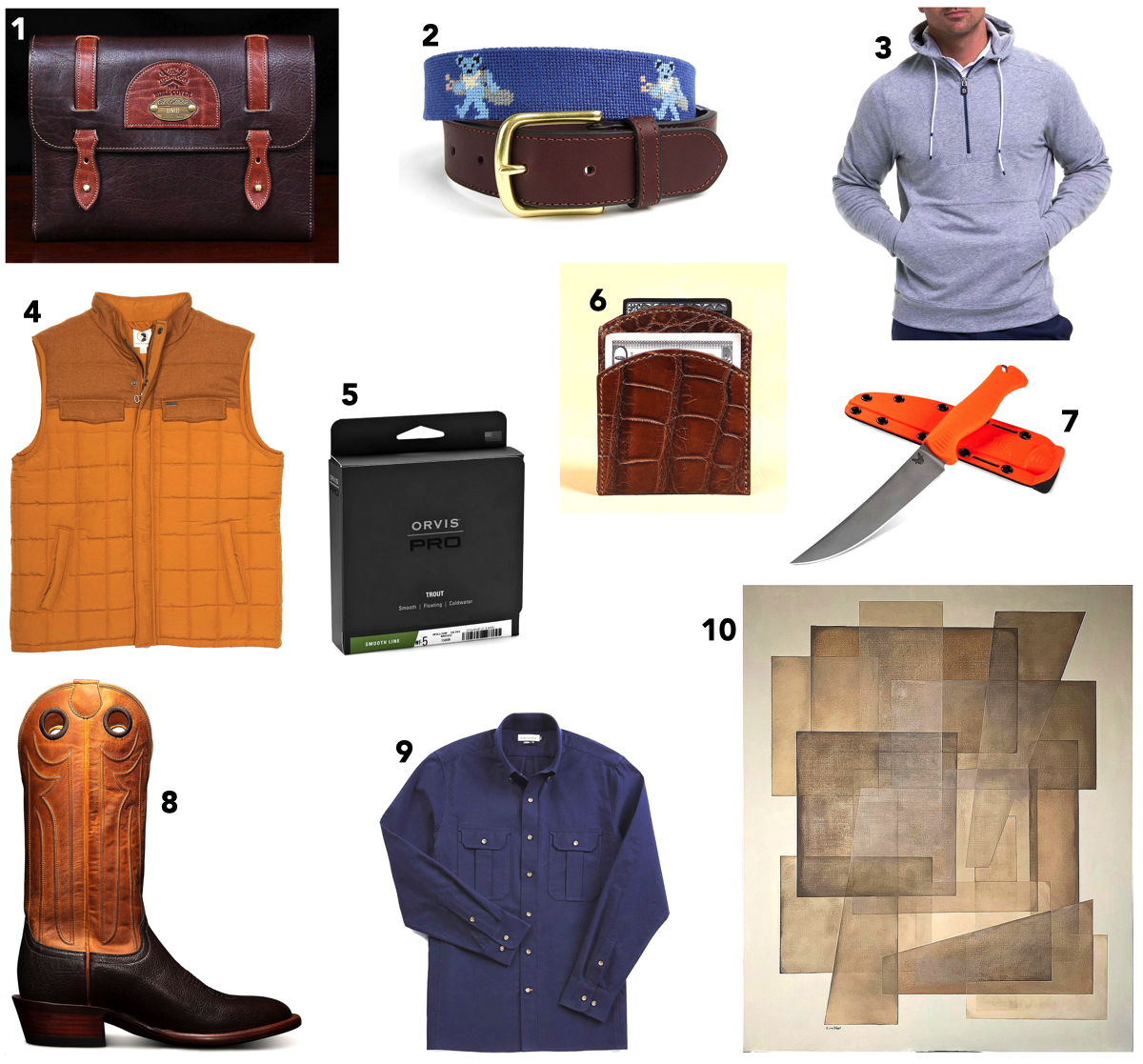 From Top Left:
1. Colonel Littleton No. 1 Leather Bible Cover: Colonel Littleton doesn't miss, and this new Bible Cover addition to their lineup will only enhance your Good Book.  It'll make a daily devotion that much more special.
2. Needle Golf Grizzly Bear Belt:  I mean, tell me a cooler needlepoint belt exists.  I'll wait.
3. B.Draddy Proctor Hoodie:  If I'm going to wear a hoodie, I want the best.  And B.Draddy knocked it out of the park with the Proctor.  I don't know if I'm ready to wear this on the course, but it will get a lot of wear on the weekends.
4. Duck Head Overland Quilted Vest:  Duck Head has been making waves the last couple of years.  It's nice to see that they've found their groove…much more than khakis, folks.  Their Overland vest in orange is just what the doctor ordered.
5. Orvis Pro Fly Line:  I'm upgrading the line in two reels – one of mine (for my 6wt) and for Mrs. RCS's reel (for her 3wt).  The Orvis Pro line is as good as there is on the market.  Ready to get these spooled up and lines tightened up as soon as the temps drop.
6. Colonel Littleton Alligator Front Pocket Wallet:  I've had my buffalo leather front pocket wallet since 2017 and it's just getting broken in.  However, I can't stop looking at the Alligator options.  Call it FOMO.  I love it.
7. Benchmade Meatcrafter Knife:  My brother-in-law has this one, and it's incredible.  All the more reason to get busy cooking some meat this Fall.
8. Tecovas Prescott Boots:  The absolute coolest boots that Tecovas has released.  Very 'Yellowstone', but approachable.
9. Tom Beckbe Solid Flannel Shirt:  The type of flannel shirt that gets worn hard for 20 years, then stolen by your boy.  My kind of shirt…
10. A Piece from Kerry Hayes:  We are about halfway done redecorating our downstairs, and need some art.  BIG art.  Kerry is a friend (and old neighbor), and she's been killing it lately.  Her stuff is so good.
What's on your wish list this Fall?