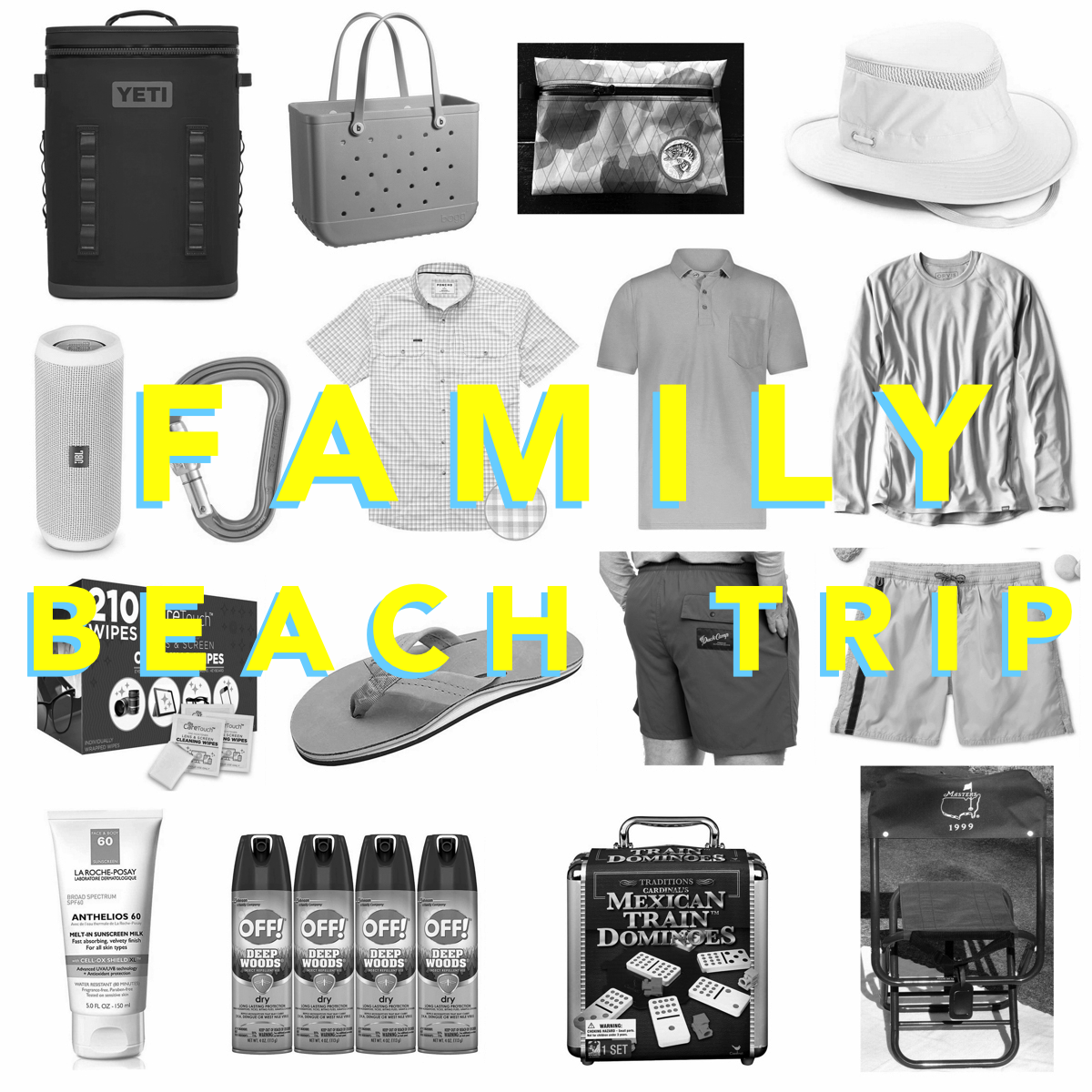 On Saturday, we are heading down to Watersound for a week.  We're going with ALL of Mrs. RCS's family – it'll be eight adults and four kids under four.  No nanny this time, but we have a lot of hands…we're going to implement a zone defense strategy vs. man to man.  We are HUGE fans of Watersound for family vacations.  The neighborhood is super safe, and even though renters can't get into Watersound Club anymore, there is a GREAT pool, a playground, and putt-putt course.  It's perfect for a family.
For the beach, we love that it's only Watersound residents/renters.  There is no public access, so for the July 4th week, it'll limit the overcrowding I'm sure you'll see on other beaches.
While we'll do a lot of the normal 30A things, this will be much for kid-focused vs. the 'reservation at Pescado' type of trip.  Lots of beach time, pool time, and playground time.  We are NOT the type of family who dresses all our kids and adults in matching Lilly for pics on the beach.  At all.  There will be lots of cooking family meals (which we all love to do), and falling asleep on the couch watching the Braves.  We've got two fishing trips scheduled with Shallow Water, and we'll take advantage of all the good stuff going on at The Hub…should be a great week.
As for packing, we're all coordinating.  We're dialing in what food to bring, what coolers to bring, and which toys for the kiddos.  We're also renting chairs/umbrellas vs. hauling them back and forth every day (which is completely worth the investment).  We're all bring one or two nice outfits, but it's only for a dinner date with our significant others…not the norm when we go down there.  We're all going for comfort vs. speed.
Here is what's on my list: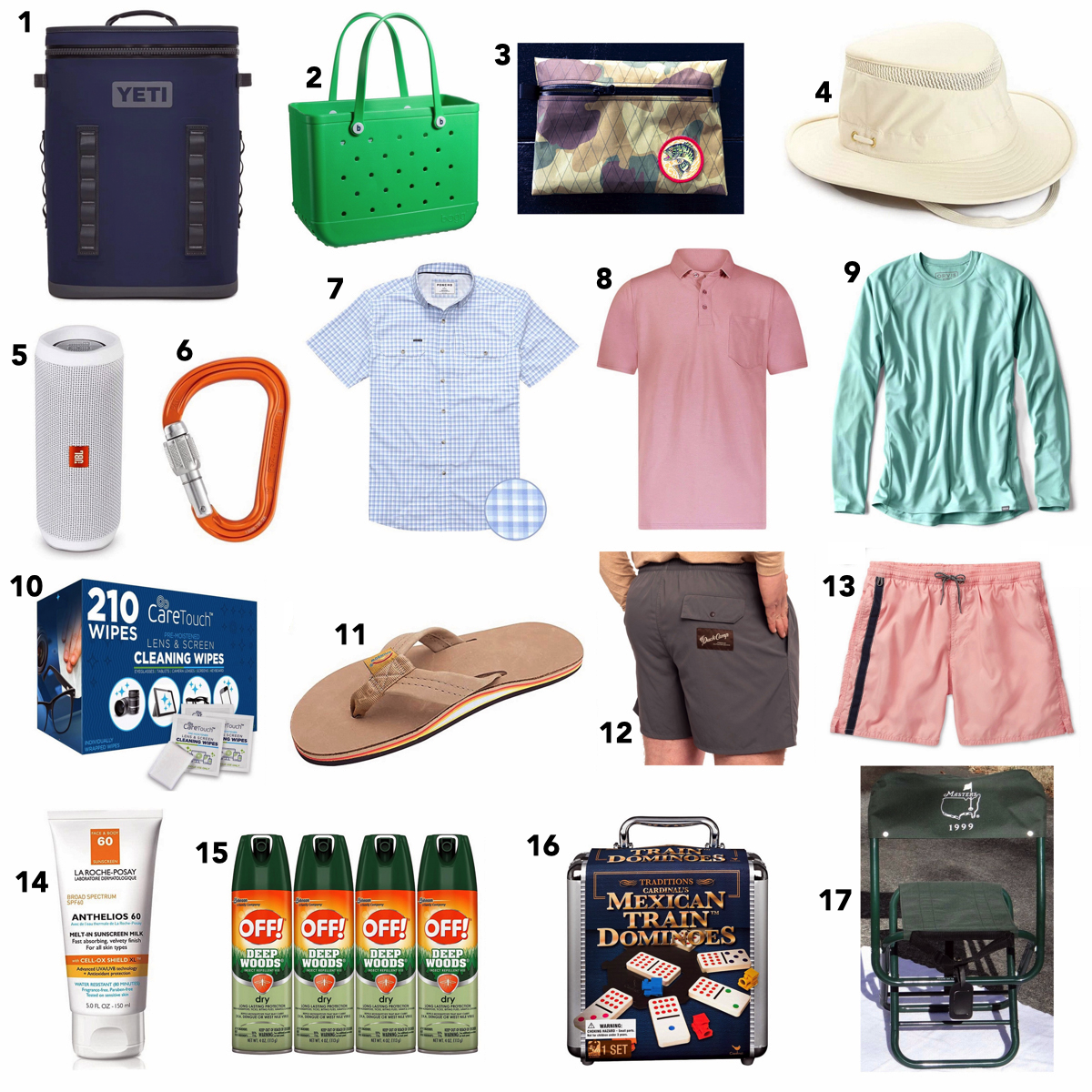 From Top Left:
1. Yeti Hopper Backflip 24:  I pulled the trigger on this, and couldn't be happier.  The shape is really conducive to long days on the beach/pool with kids and adults.  It'll hold quite a bit with an ice pack at the bottom, and the backpack design make it easier to carry home for a mid-day refill.
2. Bogg Bag:  These have been all the rage, and Mrs. RCS was lucky enough to get an XL back in February.  The size is great, but the structure is what sets this apart.  The XL easily holds four towls and all the beach necessities (sunscreens, speaker, stash pouch, books, magazines, wipes, etc.).  We also have a couple of mesh tote bags for beach toys – perfect for hosing down when we get back to the house.
3. Crooked Creek Hollar Stash Pouch:  We always bring a waterproof bag to the beach or the pool to hold our phones and other important stuff (keys, wallets, etc.).
4. Tilley Airflow Hat:  You'll start to see a lot of stuff like this from me – I'm high SPF/sun shirt/sun hat guy.  I'd encourage all of you to be as well…  This Tilley is such a cool hat, and extremely functional.  It screams 'dad hat/domestic light lager', of which I'm totally on board.
5. JBL Flip 4 Waterproof Speaker:  Always have tunes.
6. Petzl Large Carabiner:  Hack: the JBL speaker has a nylon cord, so we bring a big carabiner to hook it to the underside of our umbrella.
7. Poncho Ono Shirt:  Getting into my shirts, these short sleeve button-ups are so easy, and perfect either post-beach or hanging out at The Hub.
8. TSG Barrier Polo:  I will continue to sing the praises of the Barrier polo from TSG.  It is the do-everything polo and is completely in its element on a family vacation.
9. Orvis Pro Sun Crew:  I've worn quite a few, and this one is the best.  I have both colors and love the way they wear.  When I'm on the beach or at the pool, I prefer a true sun shirt (vs. Bamboo) as it dries off so much faster.  Now we just need Orvis to release a few more colors!
10. Lens Wipes:  Another hack.  Great for sunglasses, cameras, and smart devices.  Sand gets on everything as soon as you cross the Florida state line.  We pack a bunch of these in our beach bag.  Big help.
11. Rainbow Single Layer Sandals:  I can usually get a couple of years out of a pair of Rainbows.  I'm actually pretty hard on them.  Single layer.  Rainbows are the absolute best.  It ain't broke…no need to fix it.
12. Duck Camp Scout Shorts:  I'm all in on the Duck Camp Scout Shorts.  A nice compliment to Baggies, these have a true 5″ inseam and a good fit.  Plenty of pockets and the fabric has a nice, soft hand, I'll wear these to death while we're down there.
13. Birdwell Beach Britches Washed Sea Trunks:  I always get a new swimsuit every year.  This year is Mr. Pink from Birdwell (at the high encouragement from Mrs. RCS).  Excited to give this one a go.
14. La Roche Posay Anthelios Sunscreen:  This is ranked as the most effective sunscreen, and much safer.  We use it on our kids and on us.  It doesn't have any sort of greasy residue and doesn't ruin/stain clothes like some of the cheaper options.  It costs more, but I'm not going to skimp here.
15. Bug Spray:  Ever been to Florida in the Summer?
16. Mexican Train Dominos:  The game of choice after the kids go down.  Perfect for sitting at the table with the family, Braves on TV, and a few Miller Lattes.
17. Old Masters Folding Chairs:  We've got a crew, so having a few spare chairs around will make for a better trip.
What am I missing?  What would you recommend?