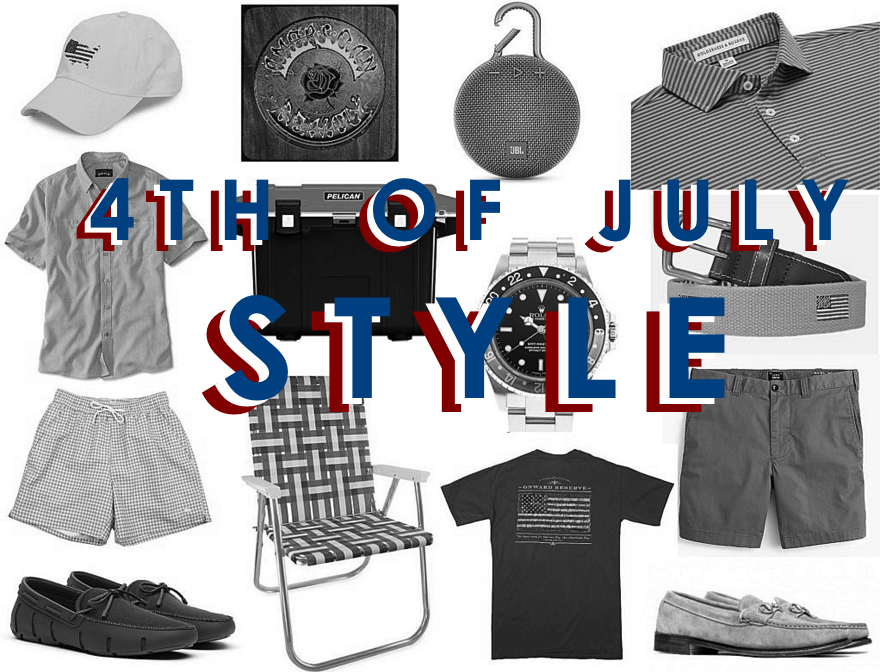 Tomorrow, we celebrate the birth of America.  The flag is a beautiful symbol our country, and should be celebrated as well.  Hopefully you are spending time with family and friends on some body of water, grilling meat and making memories, followed up by some semi-legal pyrotechnics.  Cheers to all of you daredevils out there.
Here's my style when celebrating one of my favorite holidays: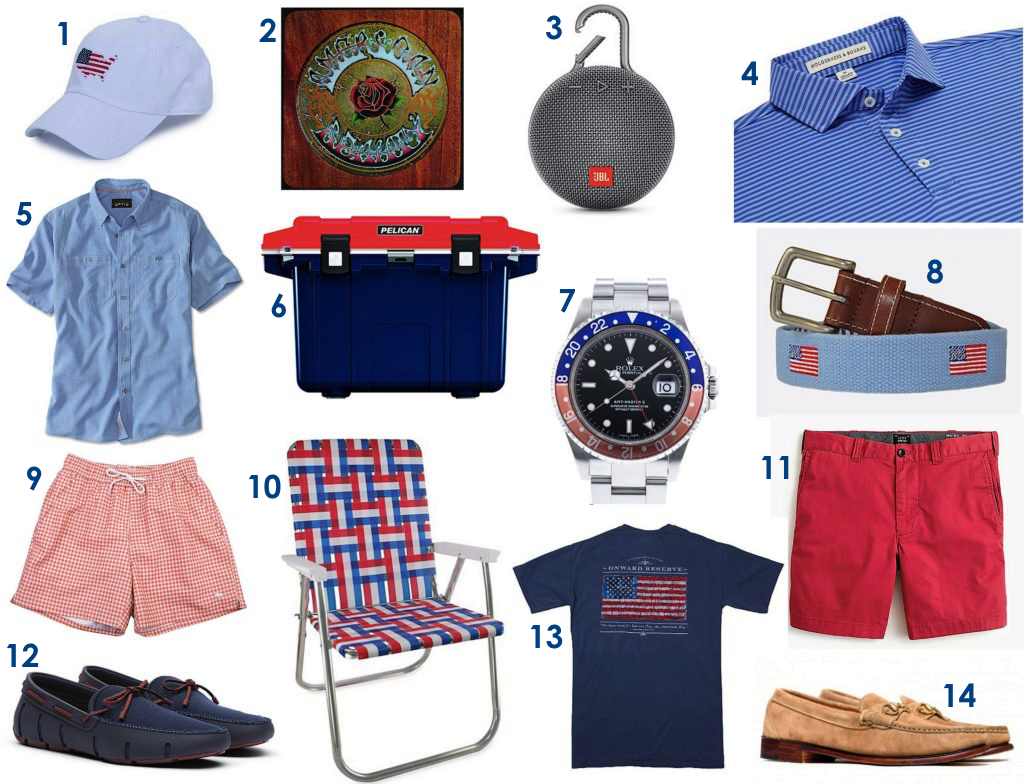 From top left:
1. State Traditions America Traditions Hat:  It all starts at the top.  Be patriotic in your choice of headwear, and the stars and strips look good on this white hat from State Traditions.
2. 'American Beauty' by the Grateful Dead:  You'll need some good 'ole hippie Americana rock and roll to get you through the day…don't sleep on the this classic album from one of America's iconic bands.
3. JBL Clip Speaker:  Don't trust the bluetooth speakers at the pool.  Bring your own.  I like this one because you can clip it to your umbrella, stroller, cooler, or gold rope necklace.
4. Holderness & Bourne Maxwell Performance Shirt:  When it's time for the nighttime party, dress up a little.  I'm not saying you have to tuck in, but be the best dressed guy at the fireworks show while wearing the best polo on the market.
5. Orvis Tech Chambray Short Sleeve Shirt:  The ultimate 'cool guy' shirt for the pool/lake/water slide.  It's a technical shirt, but looks like a chambray.  That'll do the trick…especially with a mustard stain from the hot dogs.
6. Pelican Elite 50qt Cooler:  A very patriotic way to hold both kinds of beer: Miller Lite in the can, and Miller Lite in the bottle.  And it's on super sale…check it out.
7. Rolex GMT Master II:  NEVER be late to the fireworks show, no matter what time zone you are in.  The patriotic bezel is very seasonally appropriate for the fourth.
8. JT Spencer American Flag Belt:  This is about as low as I'll go on an outfit that dons the American Flag, and it's a strong statement.  Subtle, on the Tarheel blue background…this is a belt you can wear all year 'round.
9. Onward Reserve Gingham Swim Trunks:  Please tell me you plan to get in some body of water over the fourth…and if you do, be patriotic in your swimwear.
10. Lawn Chair USA 'Old Glory':  You need a place to sit.  And these chairs are about as old school American as it gets.  Not to mention they are really comfortable.
11. J. Crew 7″ Shorts:  A great red statement on shorts that are a steal.  And on sale.  Just like everything else at J. Crew…
12. Swims Braided Lace Loafers:  I was pretty bearish on SWIMS for a while, then I started seeing them more and more.  I like the versatility, and I like the look.  A little more dressy than a pair of flip flops, but still fine to get muddy.  Clean them with a pressure washer.
13. Onward Reserve Penley American Flag T-shirt:  Always stick a fresh t-shirt in your bag, just in case.
14. Oak Street Bootmakers Tan Suede Bit Loafers:  The perfect shoes for lighting bottle rockets late at night.
What did I miss?  What's your go-to for the Fourth of July?
P L E A S E    S U P P O R T    O U R    P A R T N E R S :