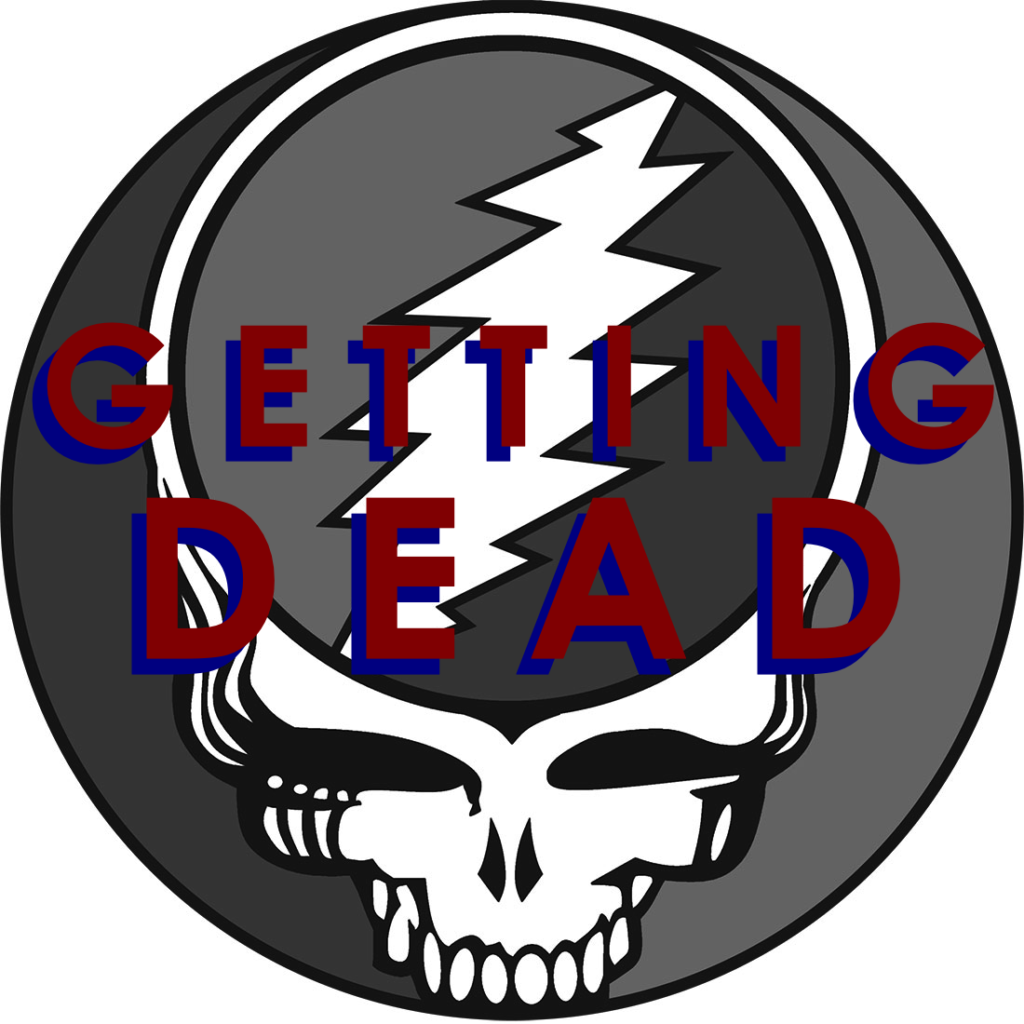 I had a good friend ask me a question recently: "I've never really listened to the Grateful Dead, and I didn't have any friends that listened to them coming up either.  What would you recommend I listen to to get going?"
Seems like a simple enough question, but after giving it a little thought, the answer wasn't as easy as it sounds.
Looking back, I can tell you exactly when I got into The Grateful Dead.  I was dating a girl my junior year in high school.  One weekend, we were invited to go visit her uncle (or cousin, I can't remember – not important).  On the way to his house, I was warned by my girlfriend's parents that he was 'a little weird', and was into 'hippie music'.  By then I was listening to a lot of Black Crowes, Led Zeppelin, Jane's Addiction, and Beastie Boys, a little of everything, so I was open.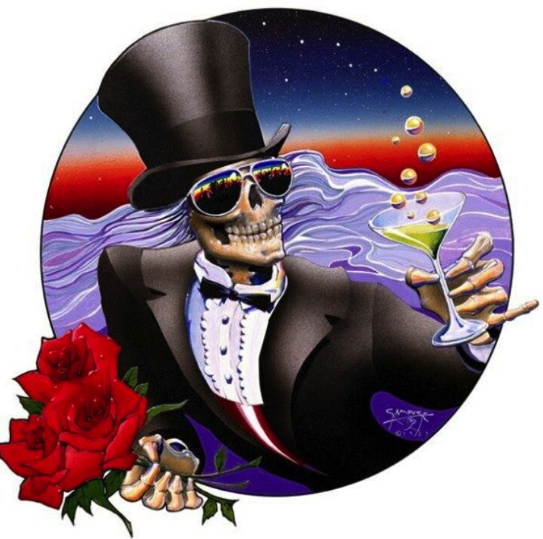 Long story short, he was a Deadhead in the truest sense of the word.  He wore (almost) exclusively tie dye shirts, had long-ish hair, and his house smelled funny.  He was a super nice guy, and we hit it off.  After about an hour, we started talking about music, and he said he had something to show me.  It was daylight, so I wasn't that worried as we made our way to the basement.  We passed a bunch of colorful posters, and he opened up a double-door closet and turned on the light…
It was stacked from floor to ceiling with tapes.  This dude must have had over 1000 Grateful Dead shows ON TAPE.  It was a sight to see.  This isn't a picture of his closet, but this is what it looked like inside (Google Image):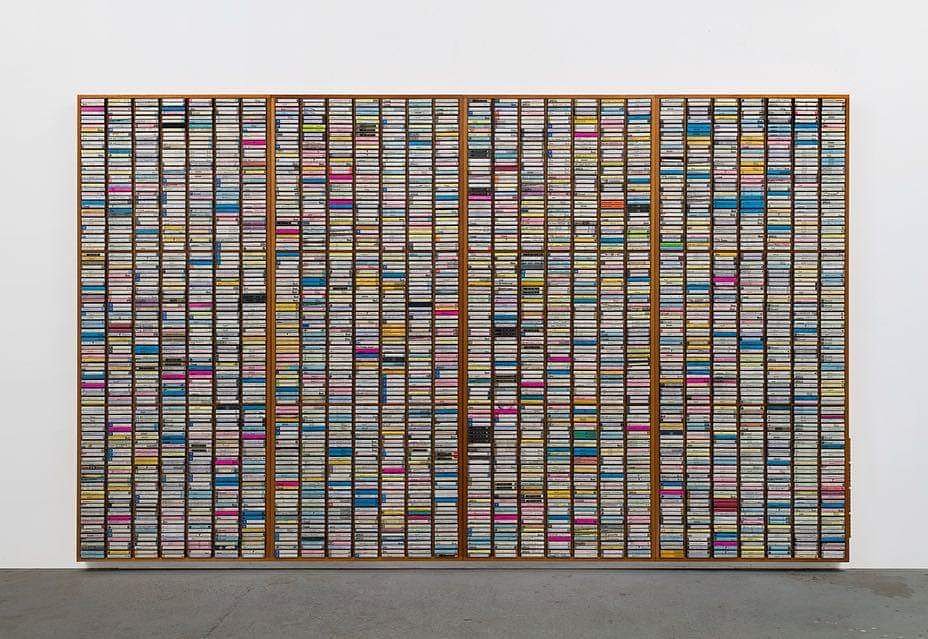 He asked if I knew anything about the Grateful Dead, and my response was probably the same as 80% of people that weren't really into the Dead: "Sure, I know 'Casey Jones'…I like the 'Steal Your Face' skull".  He smiled, nodded, and we started going through a few of the tapes.  I was really intrigued by the artwork.  Again, this isn't a picture of his stuff, but a good example (Google Image):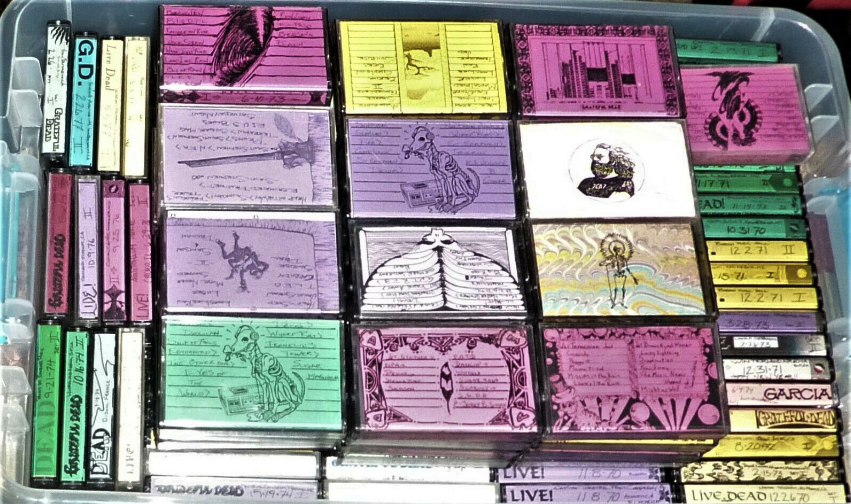 He found one that included "Casey Jones", and played it for me.  I was immediately struck at how the live version sounded uniquely different than what I had heard.  I loved it.
Anyway – long story short, we spent about an hour down there, listening to music, he was telling stories about all the shows he had seen, following them around on multiple tours in the early- to late-80's.  Super cool guy.  As we were leaving, he suggested that I buy two CDs: "Skeletons from the Closet" and "Live Dead".  I bought both CDs soon after and started listening.  Since then, I've become a pretty hard core Dead fan.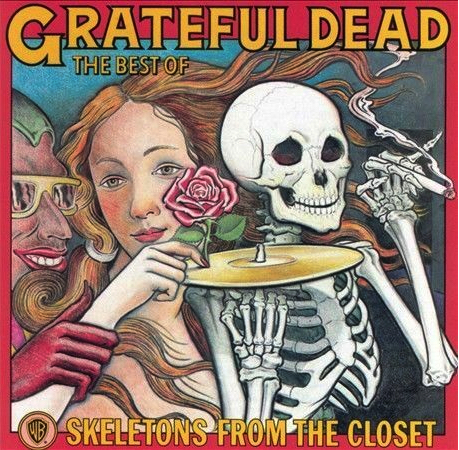 Moving back to my friend's question, I don't know that I'd recommend "Skeletons" or "Live Dead" as a way to get into the Dead.  Back when they were suggested to me, there was no Spotify, iTunes, or any sort of streaming.  All we had was Turtles and Media Play.
I reached out to a couple good buddies about this question, and curated a playlist that should be a good primer for anyone looking to get into the Grateful Dead.  Thanks to my man JGS, Jonah from Miller Brothers, Captain Ben Young of Flood Tide, Mrs. RCS, and a couple others that shall remain nameless.  Here we go:
Early Dead – This is the Skeletons stuff.  It's actually pretty bluesy, with great lyrics and good beats.  You'll be surprised at how many of these songs you've heard.
Sugar Magnolia
Truckin'
Friend of the Devil
Playing in the Band
St. Stephen
Dire Wolf
Casey Jones
Franklin's Tower
Loose Lucy
Scarlet Begonias
US Blues
Deal
Later Dead – From about 1974/5, the Grateful Dead really got into their own.  One thing you'll get from Dead fans is a) they are all pretty cool folks, and b) everyone has their own perspective of when the Dead were at their best.  Personally, I like their later stuff, but I don't discount ANY of the earlier stuff.  It all plays really well together.
Shakedown Street
Fire on the Mountain
Estimated Prophet
Terrapin Station
Feels Like a Stranger
Me and My Uncle
Jack Straw
The Music Never Stopped
Eyes of the World
Wharf Rat
Sugaree
Althea
Touch of Grey
After you spend a month or so with the above setlist, you'll be ready to transition to some Live Grateful Dead.  For someone who's been a fan for 25+ years, Live Grateful Dead is the best Grateful Dead.  It's why their shows are so popular.  Thanks to Spotify and the Internet, you can find almost any live show for free, but there are a couple that stand out.  Again – this is my opinion, and I'll reiterate my comment above that I believe they were at their best in the mid-late 70's.  Here are two shows that are excellent starters for Live Dead:
Cornell '77 – This is widely regarded as the best Dead show of all time.
Hartford, CT '77 – Absolutely incredible.  Great sound quality for 1977.
***UPDATE***  Our dear friend Jess Graves just created the above song list as a GATEWAY DEAD setlist on Spotify.  Be sure to click the link and follow.  It's a really good setlist…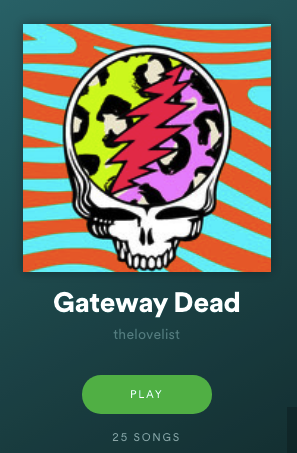 So there you have it.  This is my recommendation for anyone looking to get into the Grateful Dead.  Hopefully you'll be sporting Steal Your Face shirts and baggies in no time…  I'd love to hear everyone's thoughts in the comments below.  As with all things Dead, let's keep it kind.
Next time: the new Dead merch.  Get ready…
P L E A S E    S U P P O R T    O U R    P A R T N E R S :