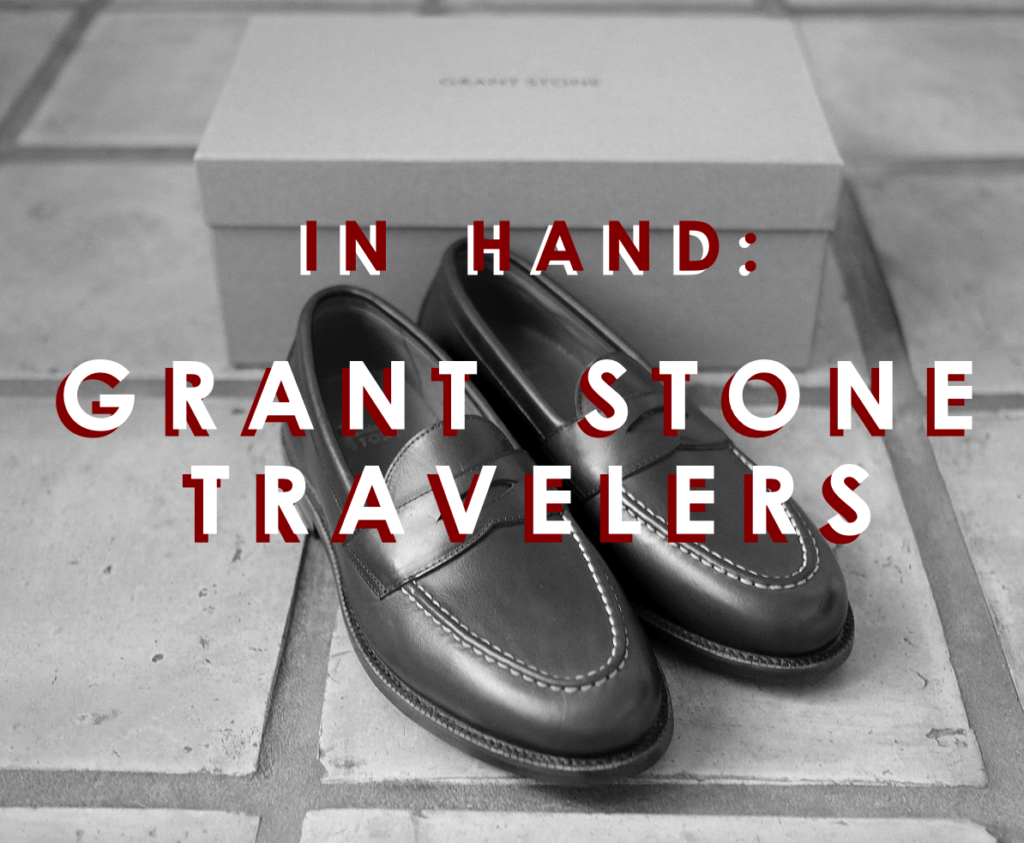 I'm a loafer guy.  I like the 'coolness' of loafers.  They are extremely versatile shoes, and buying smart will yield excellent results.  Here's the thing: there are a ton of options available in every price point.  It's almost overwhelming.  I get questions all the time about loafer styles, brands, wearability, etc.  I wear loafers more than I wear any other shoe – and I've tried a ton of them.
The folks at Grant Stone recently reached out to get my thoughts on their loafers.
The thing I like about Grant Stone is that they are pretty transparent about their product and process.  They are open that their shoes are made overseas, which gets the price point way down.  It doesn't really affect the quality, and they talk about in pretty serious detail here.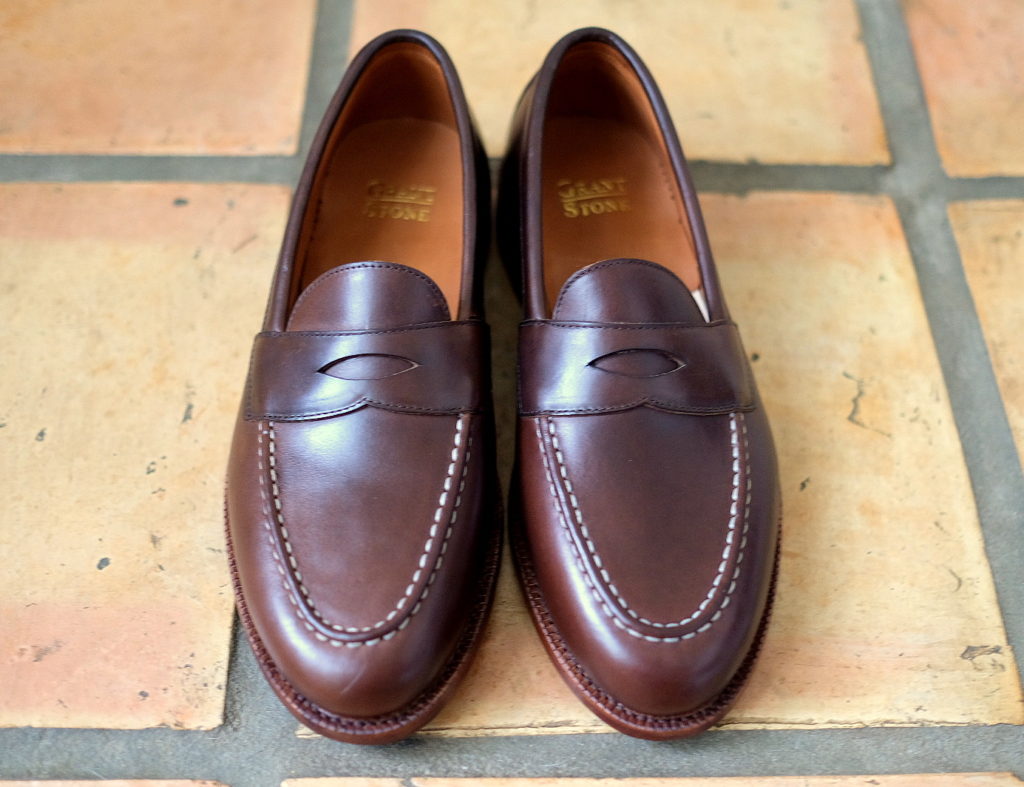 I went with their Traveler Penny in Crimson CXL.  I really liked they way they looked online, and I'm a big fan of CXL leather, as it ages well.  GREAT patina.  Not to mention that I don't have anything like them, so I thought they would be a nice addition to the rotation.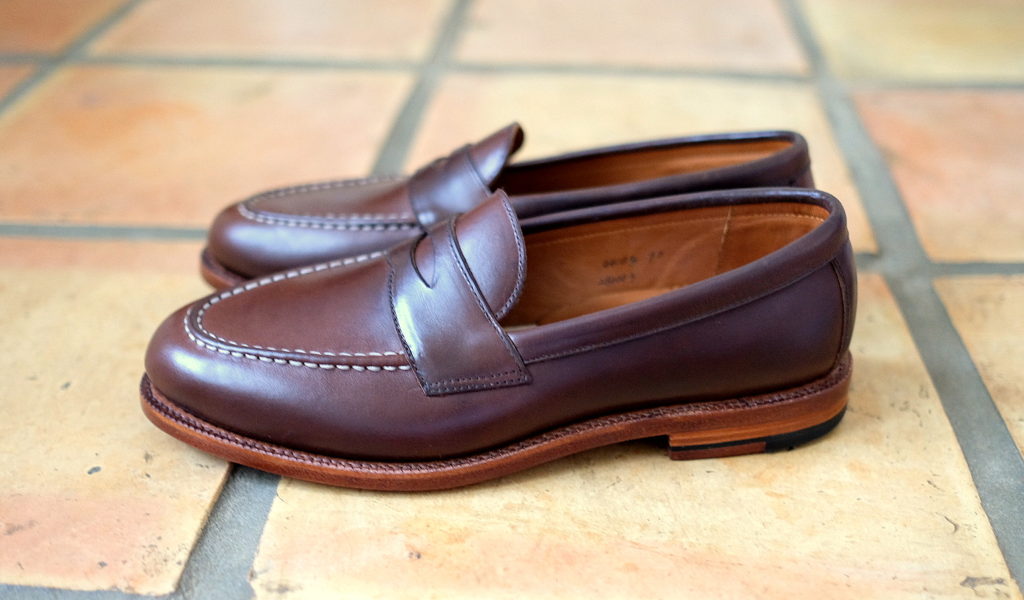 Out of the box, I was very impressed.  They are very well constructed, and have a nice weight to them.  These aren't light, dainty loafers, but they aren't heavy.  They are standard bearers that work with socks and dress pants to jeans to sockless with shorts (after beating them up a little).  From a fit perspective, they line up with Alden.  I wear a 9D in almost all of Alden's lasts, and the 9D from Grant Stone worked perfectly for me.
From a wearability perspective, they broke in nicely.  I did wear them with socks the first couple times, as it usually saves my feet from the pitfalls of going #sanssocks, and didn't have any issues.  After five full days of wear (~10 hours), they are really starting to mold to my feet, and I think I'm ready to go sockless.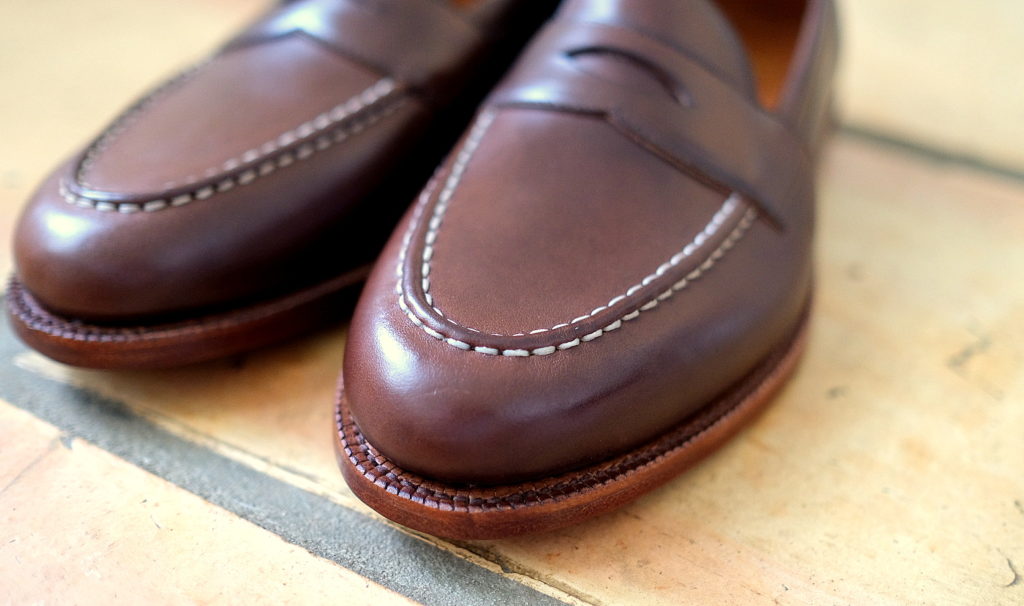 My favorite part of these shoes are in the design.  I'm not a low vamp guy, and these Travelers have a medium to high vamp that isn't too Italian, but more of a traditional American cut.  The contrast stitching around the toe box is a nice touch.  It allows these loafers a little leeway on the casual scale, but still appropriate to dress up.  The toe is rounded, and the shape is sleek.  I'll do a post after wearing these for a few months to show how they've broken in, but my guess is that they'll look fantastic going into Fall and the cooler months.
The price point is actually a huge positive for Grant Stone.  For roughly 60% of what you'd pay for Aldens, you'll have a comparable pair of loafers that are Goodyear welted and well built.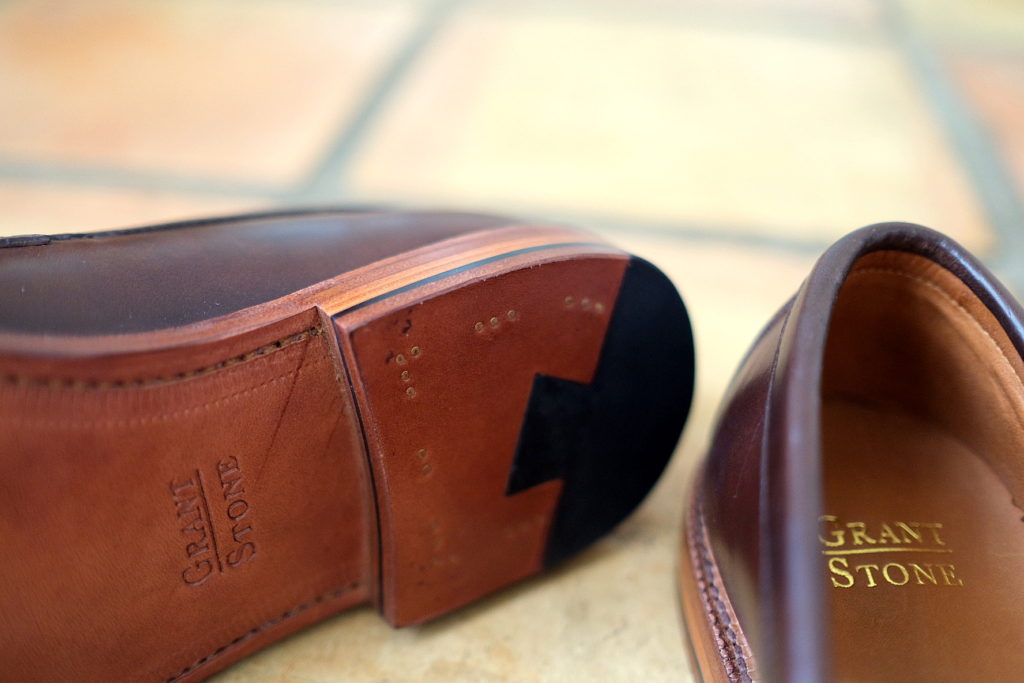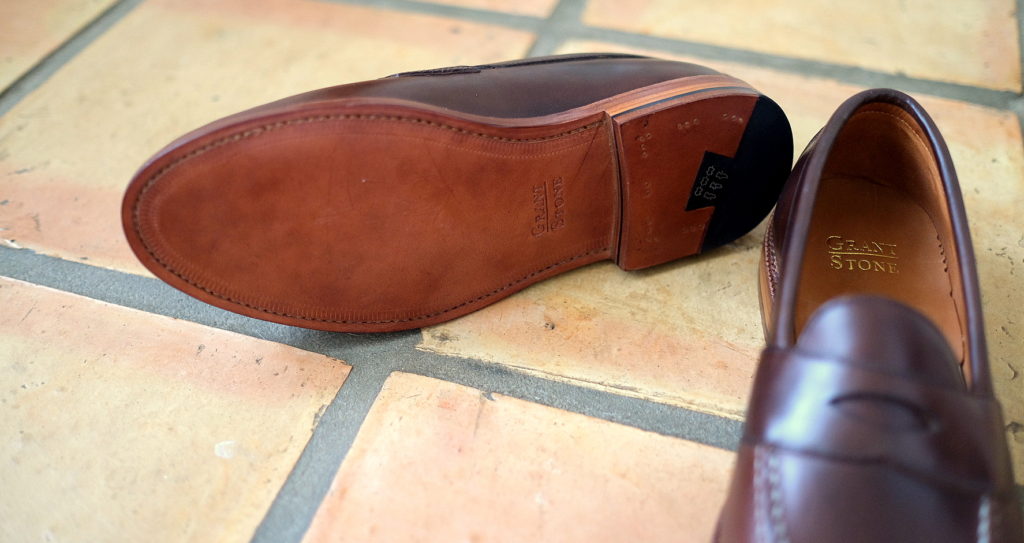 Wyatt Gilmore, the co-founder of Grant Stone was nice enough to give us some insight into his company:
What started Grant Stone?  I went to China in 2010 and started working with this factory, handling the development and production of the Goodyear welt dress shoes. I did this for about 6 years before thinking about making our own line. 
The factory is pretty special considering they are very open minded to making better grade shoes. Of course this isn't this norm for China simply because most factories need volume to stay in business. In a way, we built a niche focussing on a smaller line, producing higher end shoes at smaller quantities out of China. It was a hard sell though (and still is) because when most brands want to sell a higher end line, they want to manufacture in the likes of Europe or North America so it can be marketed. Ultimately, we felt the shoes we were making in Xiamen had the quality and detail of a tier one shoe, regardless of COO. Instead of selling this idea to another brand, we decided to create our own. It was also a nice transition as I had recently gotten married in China and we were looking to move back to the US in the next couple years. 
The freedom I had at the factory to sample ultimately allowed GS to come to life. They were always open minded and interested to try different materials such as a random leather outsole bend or shell cordovan and the team had the skills to work with the materials. Management always liked the idea of moving into better materials and making better shoes as well, it was the natural progression for the factory. 
There are very few brands that are run by the people spec'ing or designing the products. It probably wouldn't make sense in many industries. In better grade footwear, it is difficult to explain to merchants or the budgeting team why a thicker leather insole is worth the extra couple dollars or why a leather heel counter makes sense in the long term although it takes longer to make and adds cost to the product. 
When we started with Grant Stone, is was a fun mindset being able to build a product exactly how you want to knowing that cost would play a role but come second to the fundamentals. What's strange about the footwear world is for some consumers, $400 for a pair of shoes is incredibly expensive while others wonder why it's $300 below some of their favorite brands. There is such an array of quality and pricing, that was just one more reason for us to build exactly what we wanted and let the consumer decide whether it was something they could enjoy and find value in.
What makes Grant Stone shoes special?  I feel this is a two part answer. The patterns and look is what seems to capture people's interest. Most of our styles are classic patterns with a modern/casual twist in color combinations or materials. This ultimately allows you to wear the likes of our Longwing with a more casual shirt or pant. 
The number one reason (from what we have gathered) certain customers are buying more than one pair is because they enjoy the last. 
Over the years I have purchased so many shoes that I liked the look but ended up rarely wearing them because the last didn't fit me or had the wrong size. The more we talk to customers, this is very common. My family has been in this business for a long time and feel the only way for a brand to succeed in this space is to make good fitting lasts. 
From a design side, I think we are just getting started. Over the next few years we will be introducing some styles that some would think is a little bit off the beaten path for a brand like ours. To date, our patterns and leather options have been somewhat mainstream. Plain toes, wingtips, browns and blacks. This helps us build a base though as a new brand, getting our feet on the ground and understand the flow of inventory. Now that we are moving into a third width (EEE), we do need to be careful when expanding into new product.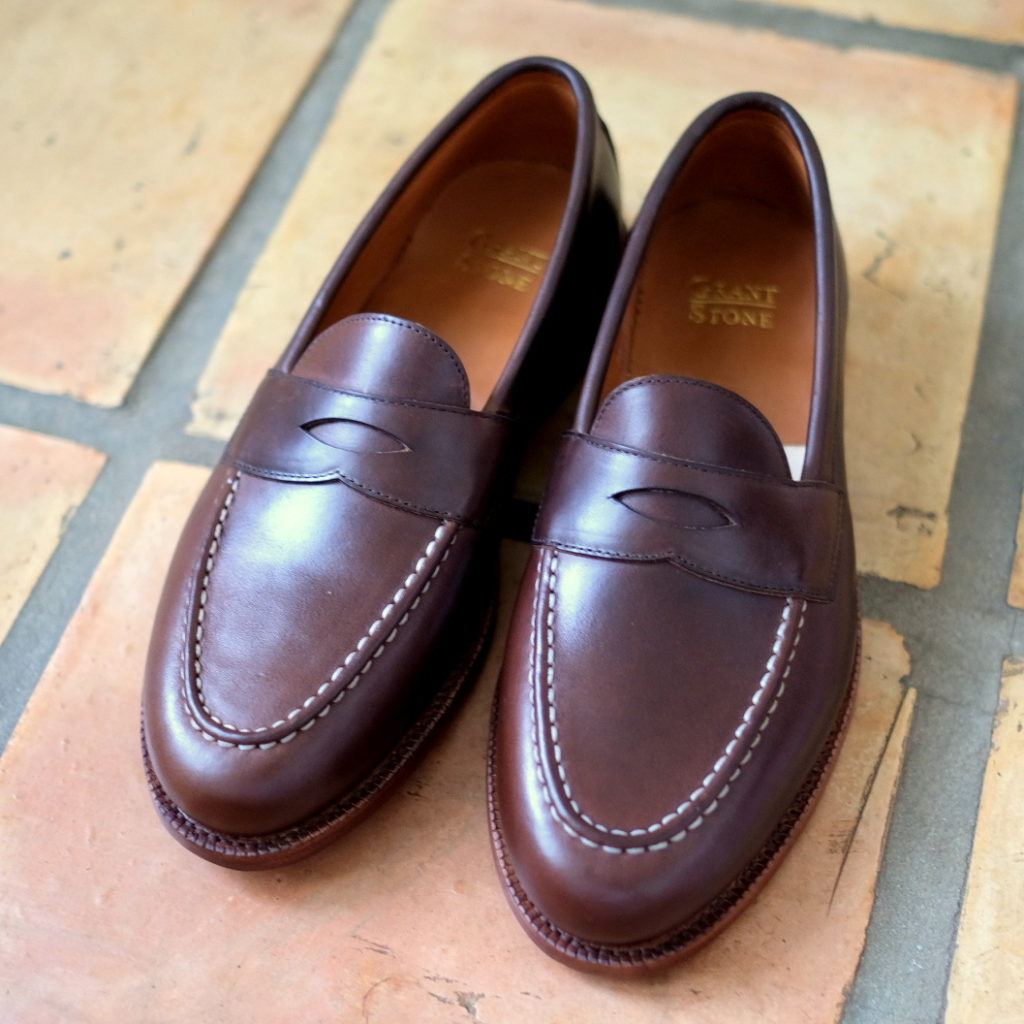 Who is a Grant Stone customer?   We have seen an array of customers but there have been some patterns. One is that they are educated or at least familiar with Goodyear-welt footwear to the point where they know lasts or tannery names. This is probably due to the cost of the product and that we are a new brand. They almost need to be actively researching shoes to find our brand and then purchase. The online forums seem to play a big role in this. 
It's almost like the consumer has to be open minded as well because most of the better grade GYW brands sold in the US are well established and are made in North America or UK. Slim to none from China, especially at this price point. This is changing though. In my experience, if the correct materials and methods are being used and the team shares the same mindset, wonderful, detailed product can come from any country. 
A lot of our customers contact us by email, text, reddit or style forum which makes the business fun. They are really into the details. As a brand selling online only, you have concerns about a lack of communication, feeling a bit removed but it has been quite the opposite. There are so many channels that it's quite simple for a customer to strike a conversation with us. 
What are your go-to pair?  The Navy Traveler Penny, hands down! I have always liked penny and tassel loafers because of the shorter vamp look. For me, it's a year round shoe, even in Connecticut or Michigan considering you're usually just walking to your car in the snow. When I need a second pair of shoes because I'm riding a bike to work or going to the golf course it's always the best choice since they versatile and convenient. 
You can see the whole collection on the Grant Stone website.
P L E A S E    S U P P O R T    O U R    P A R T N E R S :