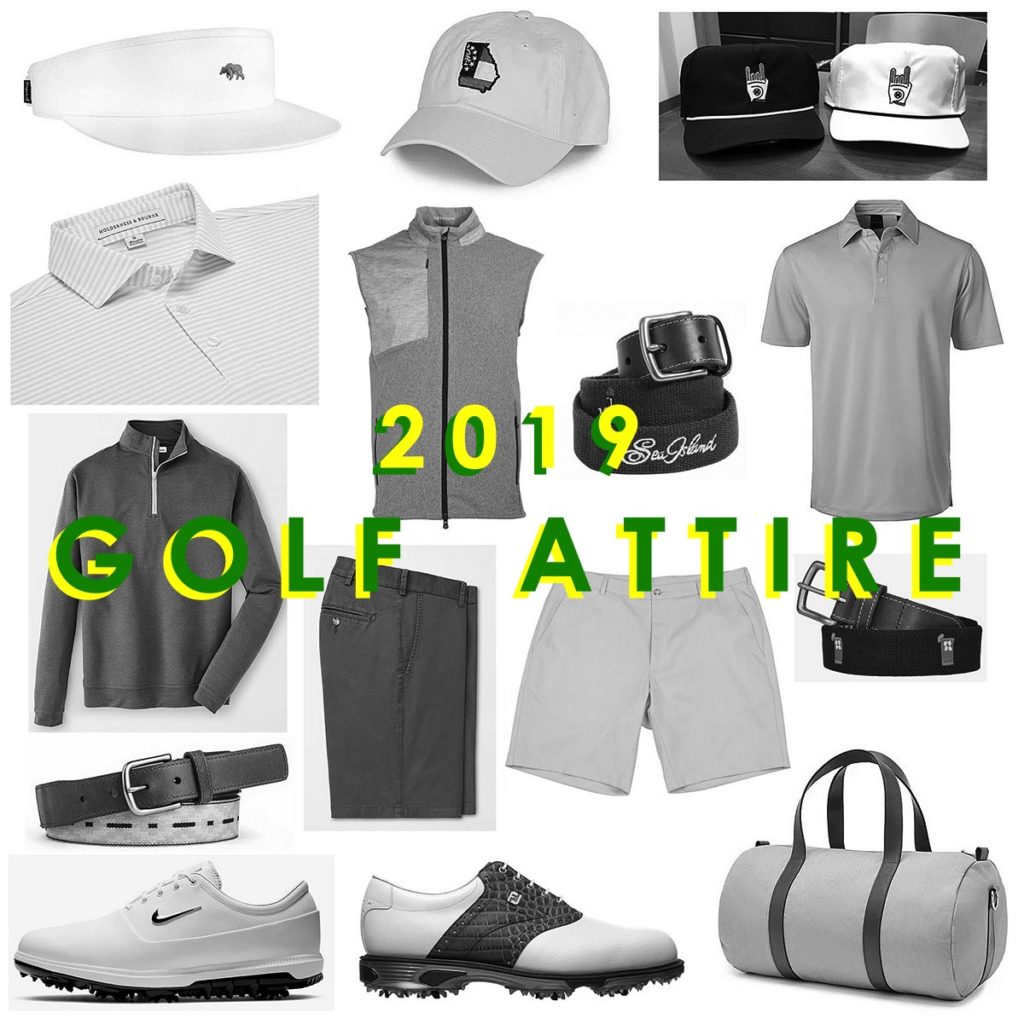 To almost no critical acclaim, I wrote a pretty extensive piece on the state of golf attire back in 2016.  I actually had a PGA tour pro tweet about it – I was humbled.  Back then, golf attire was at a weird crossroads of pseudo workout gear and strange neon patterns.   Maybe it was an effort to attract more folks to the sport, or if the brands had too much overstock from their Motorcross lines.  I don't know, but it was awful.  The sales racks were packed full of that junk in a hurry.  Luckily, the brands took note.  There were also a couple brands that started or flourished in direct retribution to that neon Star Trek look: Malbon and LinkSoul's reinvention were two notables, and  Sugarloaf Social Club is another that deserves a shout out.  Way to stay the course, folks.
In reading that piece, it's interesting that my style has remained pretty consistent.  It also appears that in the cyclical nature of #menswear (or #golfstyle), the brands have pendulum-ed back to the traditional look.  I like it.  You can see it on tour as well.  A lot of the guys that dressed like clowns have really reigned it in – Rory, Ricky, Billy – welcome back.  I highly doubt anyone is checking your IDs at QT anymore as you buy a sixer of White Claw.
The best news is that the currently en vogue traditional golf look is super transitional.  It's what most weekend golfers and professionals prefer, since the pieces can be worn on AND off the course.  It's essentially interchangeable.  These are the pieces and brands that I'm really into these days: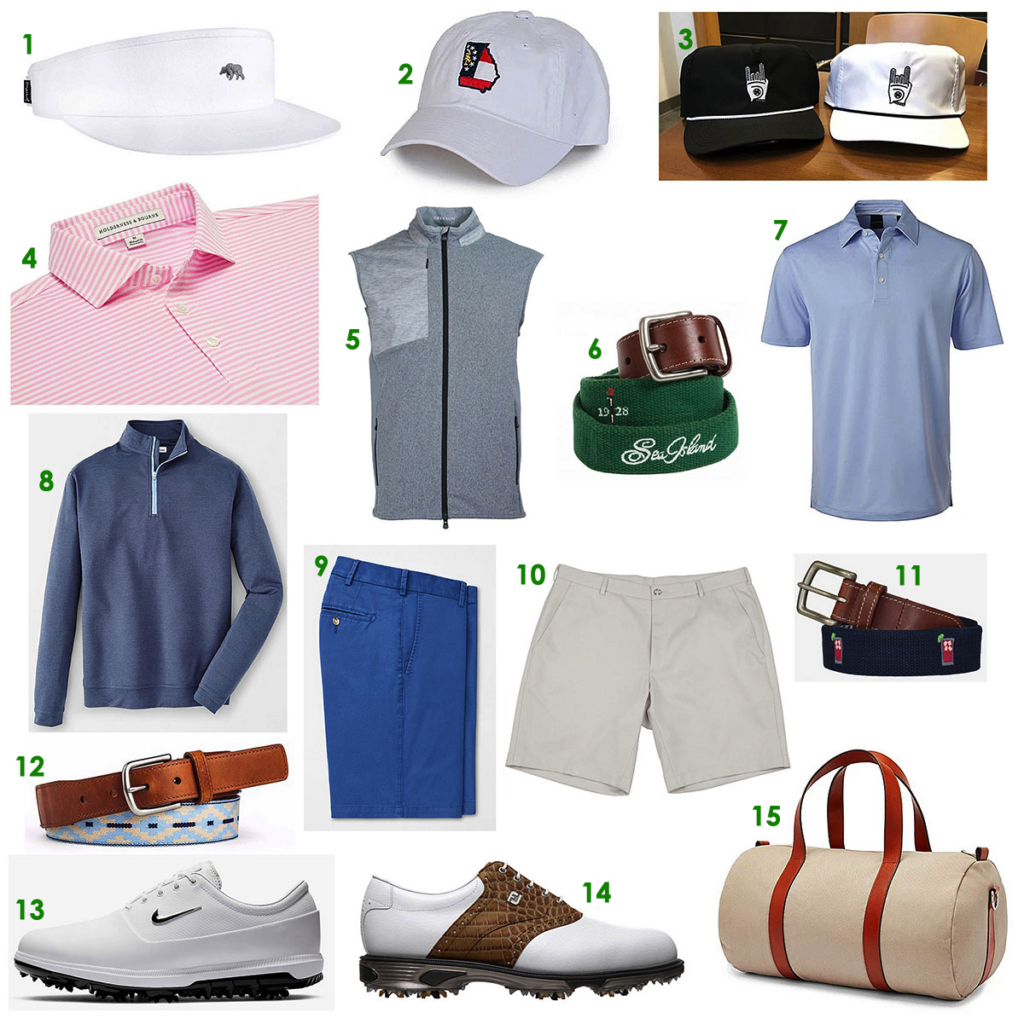 From top left:
1. Onward Reserve Tour Visor:  I'm still a huge fan of the tour visor, and find myself going for non-golf related embroidery.  I think the Onward bear is fantastic, and it looks great as a subtle logo on a tour visor.
2. State Traditions Georgia White Hat:  I wear white golf hats 90% of the time, and when I'm not wearing an arch/dated golf hat from a golf club, I like these from State Traditions.  Reppin'.
3. Blitzkreig Golf Rope Hat:  The rope hat is the real deal.  Give 'em the horns.
4. Holderness & Bourne Maxwell Shirt:  I've said it before, and I'll say it again: best golf shirts on the market.  The fit is spot on, and the collar looks great on the course or under a sport coat.  Dive in.
5. Greyson Comanche Hybrid Vest:  Greyson stuff is really cool.  While I'm sure you have a couple Better Sweaters, they aren't great on the golf course.  Get something a little more tailored for cool, wet mornings.
6. Sea Island Peter Millar Basket Belt:  While my golf attire is pretty traditional, I like to add some color with my belts.  I've gotten into the habit of foregoing the shirt for a logo belt.  It has more legs.
7. Dunning Classic Pique Golf Shirt:  Dunning has been making strides over the past year or so.  They aren't a Euro-cut, and they aren't a wide American-cut.  Good stuff at a nice price point.
8. Peter Millar Perth Melange Quarter Zip:  These have been the go-to quarter zips for the past few years, and it hasn't changed.  I own way too many of these.
9. Peter Millar Soft Touch Twill Shorts:  I've got a soft spot for cotton shorts.
10. Onward Reserve Peachtree Performance Shorts:  I've also gotten into a couple pairs of performance shorts.  As long as they aren't shiny, or with iron-on logos.  Onward did it right with these.
11. JT Spencer Transfusion Belt:  It's a power move to answer the cart girls "What'll you have" by pointing to your belt.
12. La Matera Pinamar Belt:  The best kind of upgrade to any golf outfit.
13. Nike Air Zoom Victory Tour Golf Shoes:  I can't get into the athletic golf shoes.  I've tried, but it just doesn't feel right.  My style is a little more traditional.  I really think Nike hit the nail on the head with these.  I love the look.
14. Footjoy Dryjoys Tour Golf Shoes (Design Your Own):  I've worn Footjoy Dryjoys for twenty years, and am really glad they brought them back.  The design your own option allows some really cool options.  While these are a little more traditional, I'd also consider the navy blue lizard saddle.  Why not?
15. Holderness & Bourne Marston Duffle Bag:  I'd also highly recommend a nice duffle to carry all your golf stuff.  If you are like me (a dad, who's weekends aren't as free as they used to be…) your rounds are either early before work, or after lunch.  You need a cool vessel to tote your gear around.  This is it.
What's got your attention in the golf attire arena?
P L E A S E    S U P P O R T    O U R    P A R T N E R S :