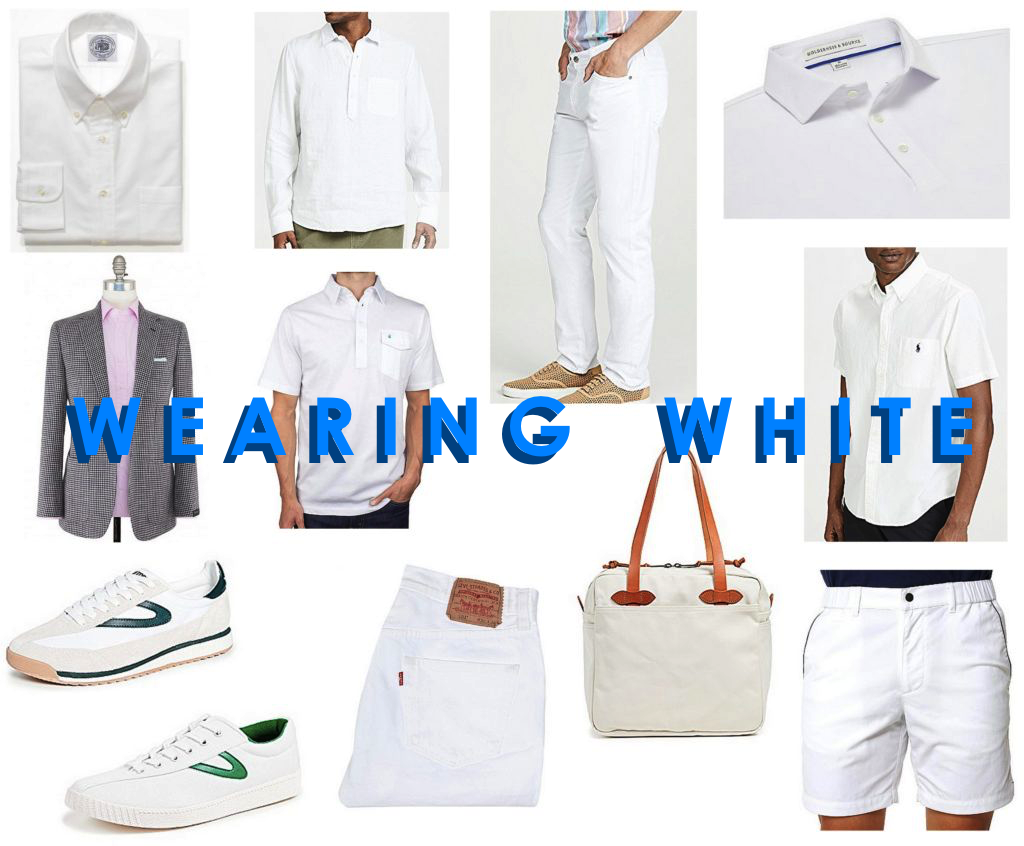 Since we are deep in the grips of summer, one color that doesn't seem to get a lot of attention when exploring outfits and looks is white.  It's simple enough, but seems to get overlooked by a lot of guys, outside of a white polo and a white oxford.  Quite frankly, this is a miss.  A lot of guys are intimidated by wearing white.  Sure, it's easy to get dirty, it's a little fashion forward, and has a Euro- feel to it, but when done right, it really looks outstanding.
Here are some options, and how to wear them right: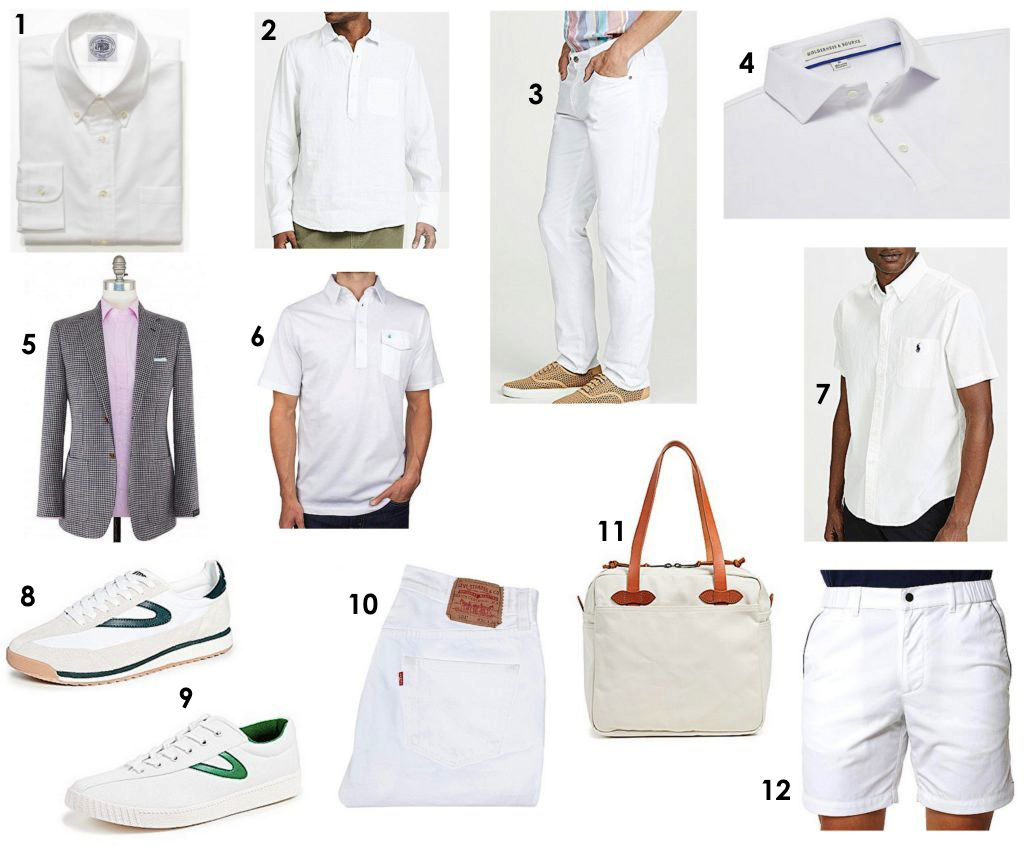 From Top Left:
1. J. Press White OCBD:  The argument can be made that a good white oxford cloth shirt is the foundation of any wardrobe.  Sure, you can wear it with a tie and a blue blazer, jeans and boots, etc, but I also like to wear an un-ironed white OCBD with shorts and Res Ipsa loafers.  Just make sure it fits well, either off the rack, or by having one made.  The white shirt makes a statement on it's own, but it fades away allowing for another lead singer of your outfit.
2. FRAME Linen Popover:  I'm back on linen shirts.  I took a break for a while, but I'm back.  However, I never iron them, or wear them in a dressy situation.  I almost exclusively wear them untucked, and usually with some sort of swimwear.  The idea of a popover is absolutely fantastic.  Very Harbour Island.  Wear these with a swimsuit and Havaianas.  Cool.
3. AG Twill White 5-Pockets:  We'll get to the jeans in a minute, but for those looking for something a little lighter, go with twill.  They are treated in much the same way as jeans (no ironing required).  AG makes a GREAT 5-pocket option.  Pair these with a gingham shirt and a La Matera belt.  Suede loafers.  Negroni time.
4. Holderness & Bourne Macdonald Polo:  It's a white polo.  A well-fitting white polo.  This is an upgrade to the ole Polo pique polos.  Having one of these is like having a summer dress shirt at the ready.  Either wear this with some great pants and loafers or with khakis and a blue blazer, and you won't miss a beat.
5. Sid Mashburn X Sartorio Houndstooth Jacket:  I don't wear white jackets unless it's with a tuxedo.  I do, however, completely support a houndstooth jacket that is white and (enter color here).  I have a white and tan Boglioli, and this one from Sid's is a Navy/White.  Both are great for summer, and do well with a solid shirt and good jeans.  No socks.
6. Criquet Bushwood White Player's Shirt:  The one that started it all.  This is your go-to happy hour shirt, or your 19th hole shirt.  It wears like a t-shirt, but has some serious style.  Goes well with short inseams and a tour visor.  Tall Boys required, and don't forget the koozie.
7. Polo Ralph Lauren White Seersucker SS Button Up:  Short sleeve button up shirts are touchy.  If you aren't careful, they'll date you buy 10 years.  Try a solid seersucker for a seriously updated look.  Pairing this with a wild pair of shorts and some loafers is a fun way to beat the heat and look cooler than the majority of the room.
8. Tretorn Rawlins Sneakers:  I'm not a fan of the term 'sneakers', but it best describes the Tretorn options.  These Rawlins are the sports car version of the Nylites (next in line…).  These are cool, but should be beat to hell.  These are not an 'out of the box' look you want.
9. Tretorn Nylite Sneakers:  Classics.  No justification needed.  Swap your flip flops for these.  Vodka Tonics with a lemon and a lime.  Repeat.
10. Levi's 501s:  These raised a lot of eyebrows as they become more and more prevalent.  Again, I think there is an natural resistance for guys to avoid white pants.  Do me a favor – swap your khaki 5-pockets out with a pair of these for a night, and see what your date says.
11. Filson Zip Tote:  An option for guys that want to lighten their load.  I have a feeling this would look better with a vintage hunting patch and a little patina.
12. Criquet Retro Shorts:  White shorts,  Touchy, so have a little fun.  I love the new Criquet retro shorts. It makes me want to tell everyone my name is Bjorn.
What is your take on white summer gear?
P L E A S E    S U P P O R T    O U R    P A R T N E R S :