Mrs. Red Clay Soul and were able to get reservations at Husk during our recent trip to the Low Country – based on countless recommendations.  I had done a little research before going, and liked what I saw.  Now – I'm not a foodie, but this place really stood out – everything about the experience was outstanding: from the welcoming front porches, to the the service, the food, and the atmosphere.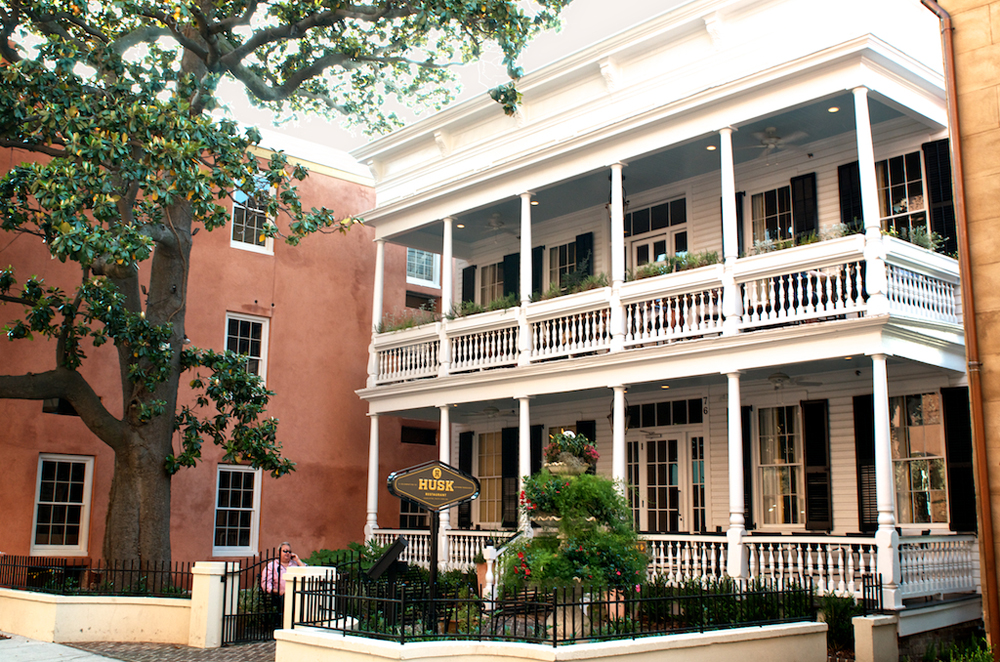 The view from Queen Street
Upstairs dining room – it filled up pretty quickly
The floors – a great part of the atmosphere
The staff was very friendly and accommodating during our visit.  Everyone seemed to share the same passion about Husk, touting all of the good parts – locally supplied food, unique menu items, and the cornbread (I can attest – it was great).  I started with a pufferfish appetizer (based on the recommendation of our server), and Mrs. Red Clay Soul had TN cheddar pimento spread and crackers.  For dinner, I had pork chop from Fudge Farm, with Surry sausage, field peas, and butter beans, and Mrs. RCS had a spring lettuce salad with pickled shrimp (which she gave to me), marinated tomatoes and cucumbers and a black pepper buttermilk dressing.  We got cornbread (in addition to the biscuits) for the table.
In all honesty – it was the best meal (start to finish) that I've ever had.  Mrs. Red Clay Soul said the same thing.  We ordered a lot of food, but the portions were respectable.  We were both full when we left, but not stuffed.  I'd go back in a heartbeat.
The pork chop from Fudge Farm (cornbread served in an iron skillet)
Mrs. Red Clay Soul's salad
A good story – a couple days after we had dinner at Husk, Mrs. Red Clay Soul and I were eating a late lunch on the porch at Poogan's Porch (next door).  During our lunch, we saw two deliveries at Husk – both by local farmers.  Both looked like they were some sort of vegetables (I'm 99% sure that one delivery was okra).  That stuck with me for a couple reasons – it's nice to see support for local farmers, and it says something about the freshness and quality of the food.
Do yourself a favor and save the Husk website to your bookmarks – they post their lunch and dinner menus every day.  Well worth the read…