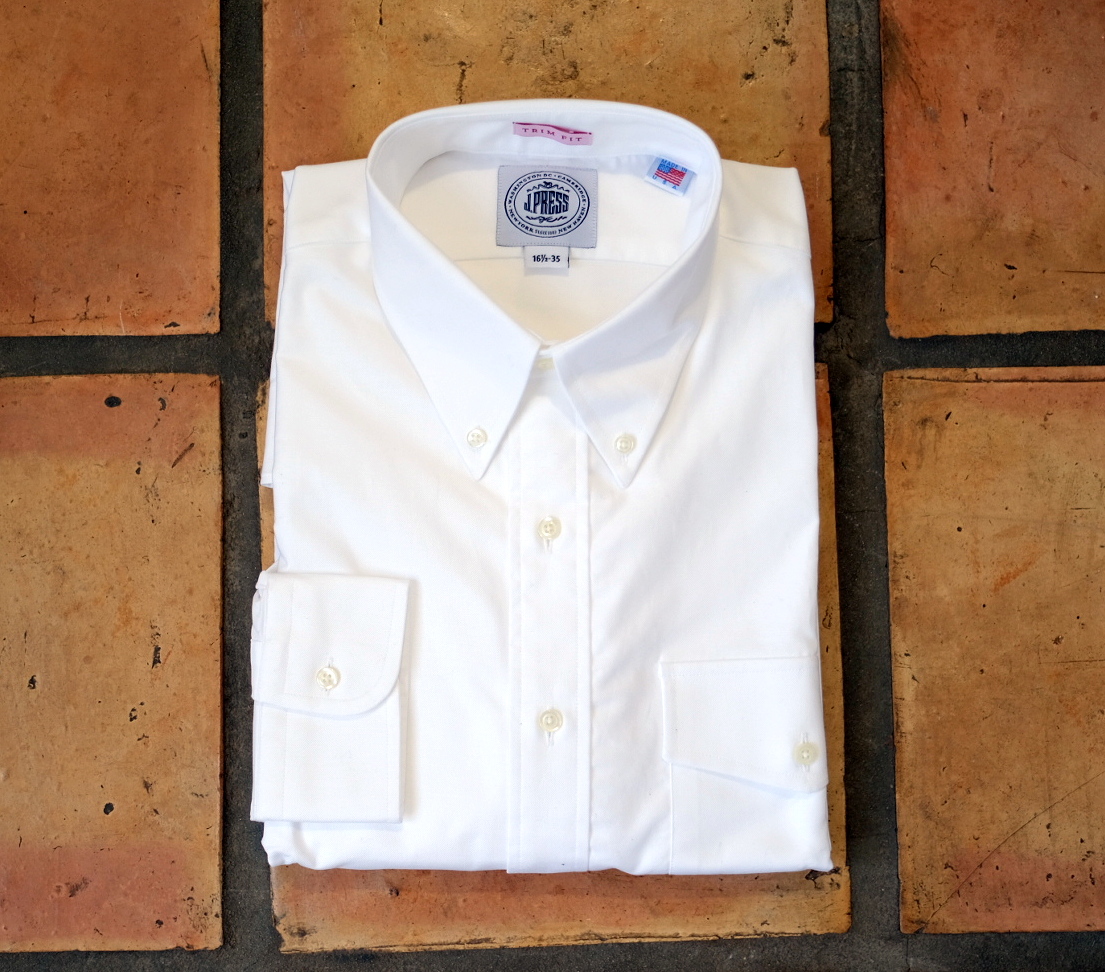 We talk a lot about the 'OCBD' here at Red Clay Soul.  OCBD stands for Oxford Cloth Button Down, and refers to the thick woven oxford cloth cotton fabric with a button-down collar.  It is the most imitated shirt ever produced.  My first introduction to these were the old Polo Yarmouth oxford shirts with the pony on the left chest and that unlined collar.  For a dressier look, I added in some of the Brooks Brothers Supima Polo Shirts with a front pocket.  Throughout high school and college, I wore them ALL the time.  As they got older, they got softer, and eventually they would start to fray, which to me was a sign of pride.
Then this weird 'non-iron' thing started to happen.  My mom got me a couple for Christmas one year, and after one wash, the white had turned a really nice shade of off-white, and the shirt had a plastic feel.  I immediately revolted.  Death, Taxes, and 100% cotton shirt.  Only.
It wasn't until I dug deep into the Ask Andy trad forums that I came to appreciate the J. Press oxford.  Made in the USA, tank-proof thick oxford cloth, and a flap pocket.  More on the flap pocket later.  The biggest issue with the original J. Press OCBDs was the cut.  For a slim guy, their traditional fit shirts were way too boxy.  I hadn't gotten into the tailoring thing yet, so I largely skipped the J. Press offerings.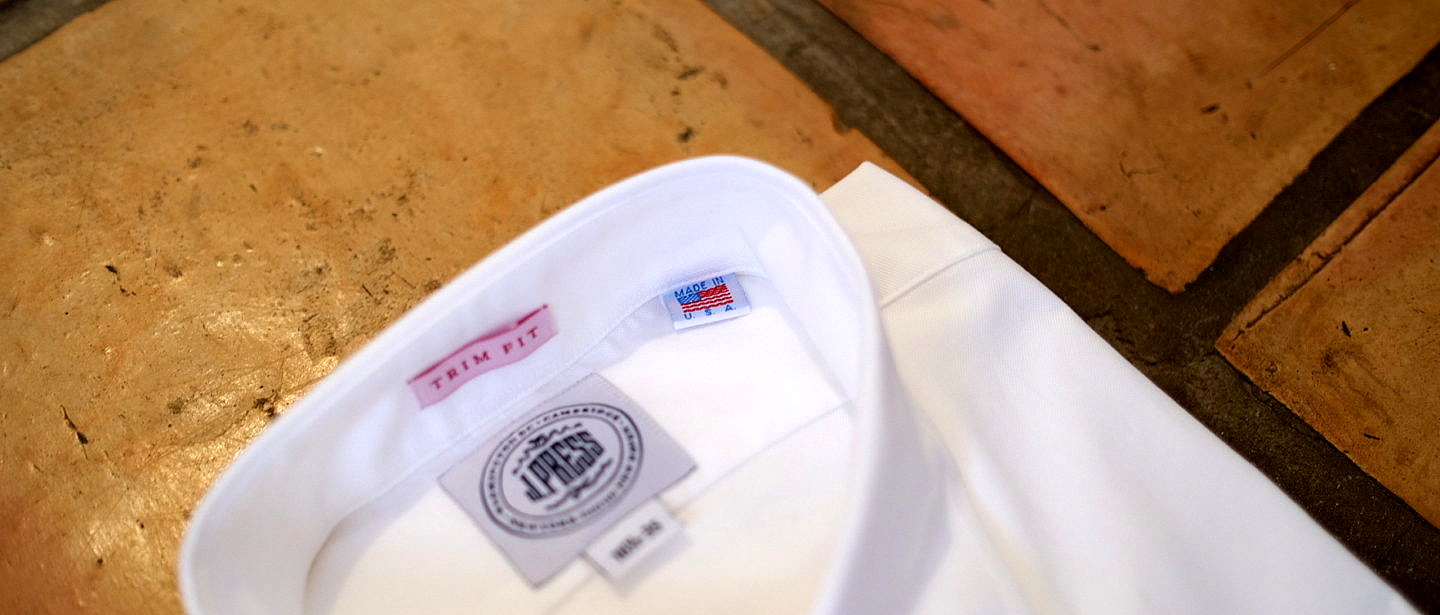 Then something happened.  Actually pretty recently.  They released a 'Trim Fit' version.  It was a great day…like opening the briefcase in 'Pulp Fiction'….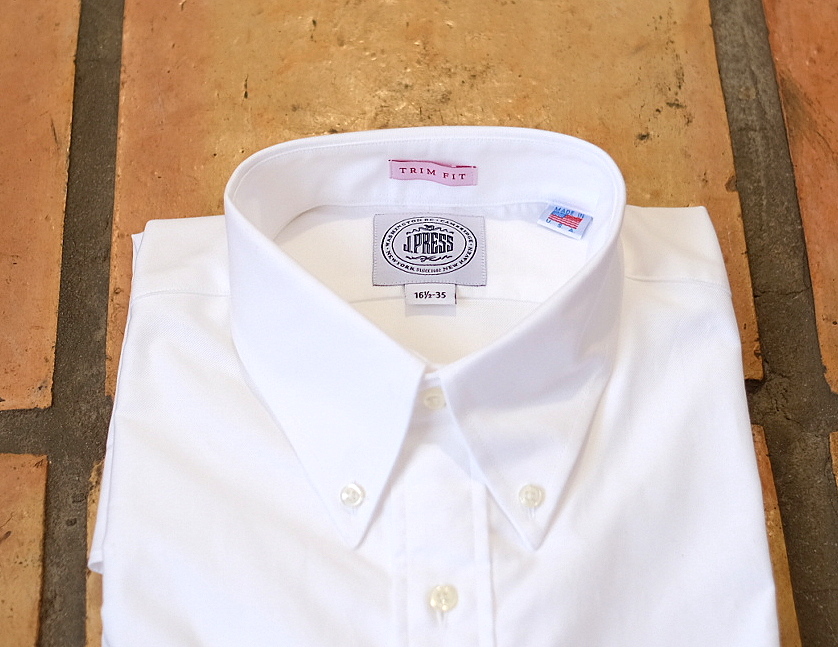 The trim fit is just that: trim.  It's not skinny, but conveniently cut with higher arm holes, and a more snug body.  By no means is this restrictive or tight, but a very well-fitting shirt for $125 a pop.  Until recently, it was VERY difficult to find a USA-made OCBD off the rack.  Brooks Brothers released theirs a while back in a multitude of fits, and now that J. Press has released theirs, it's giving everyone a run for their money.
The Trim Fit flap pocket options are available in the standard white, blue, and pink.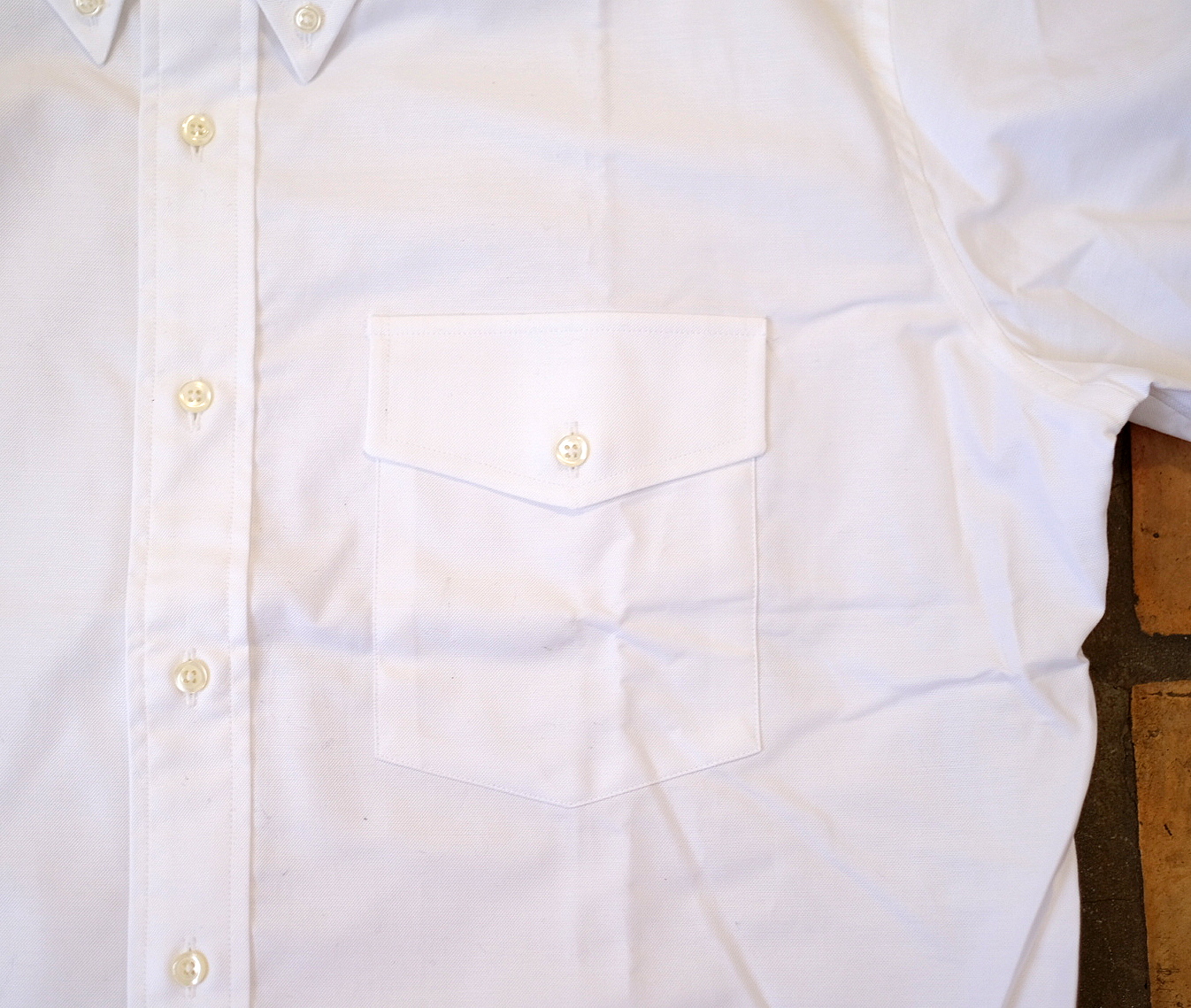 The flap pocket…is such a cool feature.  The flap was added to the J. Press Oxford Shirts to differentiate them from the competition. It served as an understated brand identifying predecessor to logos that would later adorn shirt fronts.  Today, you'll find some flap pockets here and there, but there is nothing like the original.
My advice on these shirts?  First off, they are absolutely worth the money.  $125 is a KILLER deal for a USA-made oxford that fits this well off the rack.  Remember, it's going to last forever.  Second, and most importantly, I highly recommend washing these shirts yourself, drying them on low for ~5 minutes, then hanging to dry.  There is NOTHING better than the pucker you'll see on the placket and along the seams.  It is the coolest look on the planet.  Use a warm iron to give it back it's shape, and you are ready for business.
(pucker)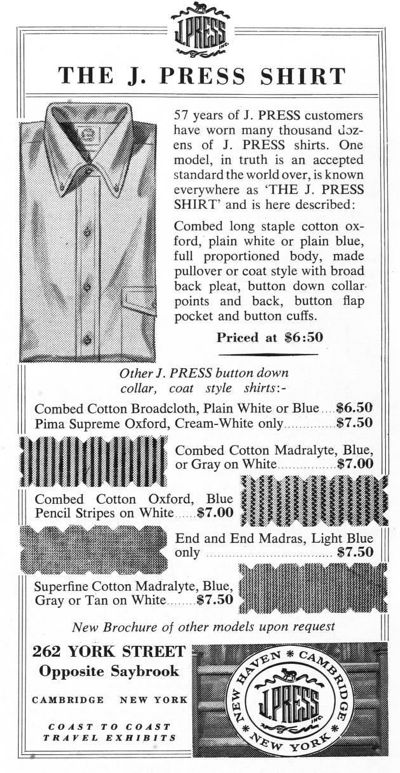 And to top it off, here is Richard Press' take, the grandson of J. Press founder Jacobi Press:
Threading The Needle ~ Borne Back Ceaselessly Into The Past
When I entered the family business in 1959, J. Press shirts were made at the now long gone Tyson Shirt Co. in Norristown, Pennsylvania. Patterns were designed, developed and screened by Irving Press, assisted by Ty-son honcho Ralph Trichon. They tended to follow Brooks Brothers shirt specifications, adding a flap pocket for the differential featuring full-count fabrics knife-cut by hand for uniformity of size, carefully stitched and seamed on slow-running machines, pressed and folded by hand coat-style with broad back pleat and single-button cuffs.
The New Haven influence on OCBDs runs deep. When his sons got out of the army at the end of World War II, Bernie Gantmacher asked his pal Ja-cobi Press if he could give sons Elliot and Marty a job in the stock room at J. Press. Gantmacher had owned a shirt factory in New Haven since the '20s and occasionally supplied J. Press. Packing the ties, shirts and ar-ranging the haberdashery in the York Street store, the Gant boys inhaled the scent of Ivy and the rest is history.
Since the turn of the century until onset of World War II, a majority J. Press shirts were made in England by shirt-makers utilizing our special shirt pat-terns under the auspices of longterm British import resource Welch, Mar-getson & Co.
For those adopting the current trend of tieless suits and sport coats button down shirts render a more rational choice rather than broadcloth spread collars intended to be worn with Windsor Knot in the boardroom or over mid-day martinis at 21 Club. Unlike their Savile Row spread collar cousins, J. Press OCBDs define American sprezzatura—i.e. a certain nonchalance so as to conceal all art and make whatever one wears appears without ef-fort.
Holding fast to Irving Press' original specifications, 2019 J. Press OCBDs are 100% combed cotton with the same collar and body patterns that have empowered customers over 117 years. Their sturdy construction al-lows for breathability in either our classic full chest fit or our newer trim fit.
Historical antecedent—the 1970 romantic film drama Love Story with Ryan O'Neal in Harvard Yard with his inamorata Ali MacGraw sporting his
J. Press Shetland Glen Plaid and open collar OCBD.
The storied pocket flap model features a perfect collar roll enabled with unlined collar and locker loop. Author and culture critic Tom Wolfe por-trayed 1968 Yale and Harvard undergrads "searching like detectives" over brochures for OCBDs with our signature pocket flap.
The current J. Press OCBD highlights time-honored colors: white, blue, pink and yellow. Regular chest models are available in expanded selec-tions of solids and stripes. All J. Press shirts are made in the USA with center rear box pleat for comfort and ease of movement.
F. Scott Fitzgerald captured the zeitgeist in The Great Gatsby,"So we beat on, boats against the current, borne back ceaselessly into the past."
Richard Press
See the whole J. Press Oxford collection here