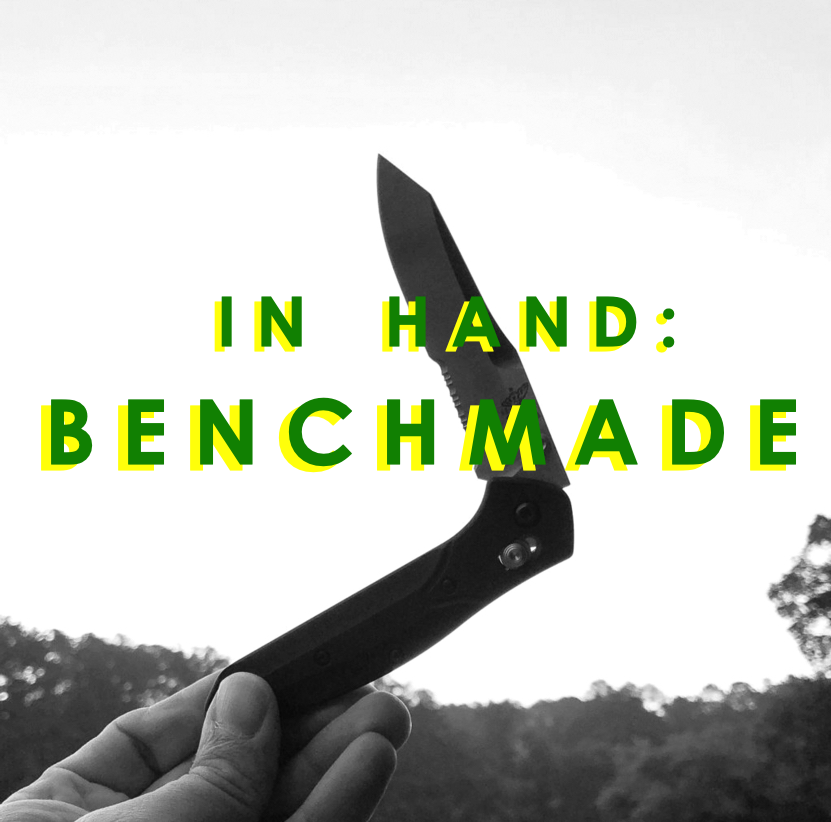 For as long as I can remember, I've carried a pocket knife.  My Granddad carried one, and I thought he was the coolest guy ever, and I wanted to be like him.  He was the kind of guy that grew a garden, repaired lawn mower engines, had two garages on his property filled to the brim with 'stuff', and drove Fords.  He carried some version of the iconic Buck Stockman.  We'd give him a new one ever third or forth Christmas, and after he died, we found a few of them still in the box.  That's the type of guy he was.  I miss him.
It's good that we live in a pocket knife-friendly world.  Unless you are going through an airport.  Or a metal detector.  I work in a corporate environment, but I do carry something small every day.  I don't really publicize it, but I am known as the guy with a pocket knife.  I've had countless maintenance knocks on my door to help with this or that.  I wear the 'pocket knife guy' mantra like a badge of honor.
At night and on the weekends, I carry a clip knife.  I've had quite a few since I started doing so in college, and have only recently come to understand the real value proposition of a good one.  I've gone through quite a few brands, but am always impressed with Benchmade.  My Father in Law has carried them for as long as I have known him…and he knows what's up.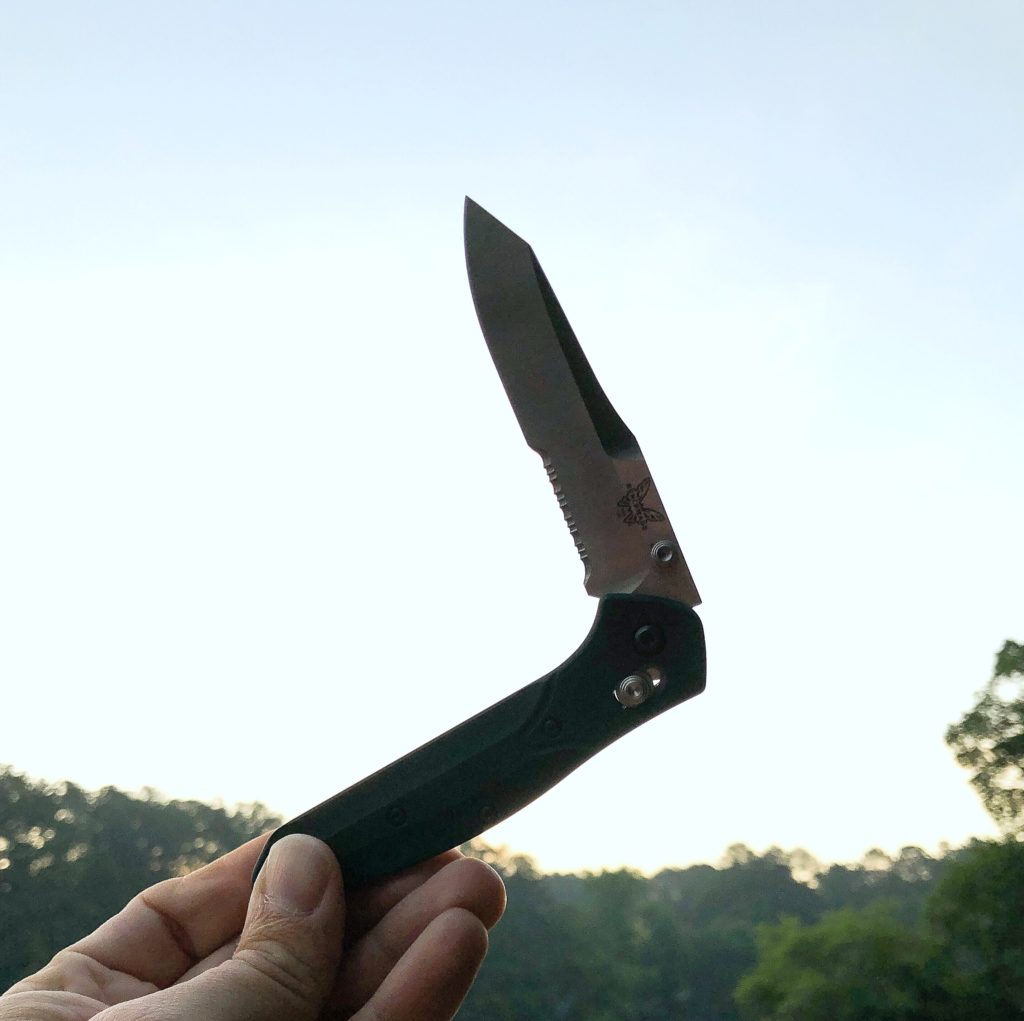 Here's what I like about Benchmade: the weight, the size, the slim design, and the blades.  I'll unpack this in a bit.
I ran into the Benchmade folks, and they offered to send me a new design for me to use and abuse for a while.  I chose the 940s, as it works for me and the uses I need a knife like this for.  Now, remember, I'm not a logger, a fireman, a hunting/fishing guide, or any other aspirational guy that you see in the catalogs.  I'm a corporate guy that runs a blog, I'm a husband and a dad to two kids under two, and I'm an avid outdoorsman whenever I can find a few hours to rip some lips or chase some quail.  The uses I have for a knife are more utilitarian.
The 940s is perfect for me because it has a reverse tanto combo blade, it's locking, and is slim like a bullet.  It fits perfectly clipped to the back pocket of a pair of Stand Ups or in a pair of jeans.  It's easily accessible, and can be flipped open with the flick of a wrist.  It weighs less than three ounces, so it's not bulky at all.  It almost disappears in your pocket.  It feels great in my hand and the satin finish gives it a good grip, even when it gets wet.  Since the handle is made of anodized aluminum, it's light.  And even better than all that: the blade is SHARP.  I mean REALLY sharp.  I put it through quite a bit….
Fishing…it works great on braided line, and the serrated edge is handy when a heavy-duty cut is needed: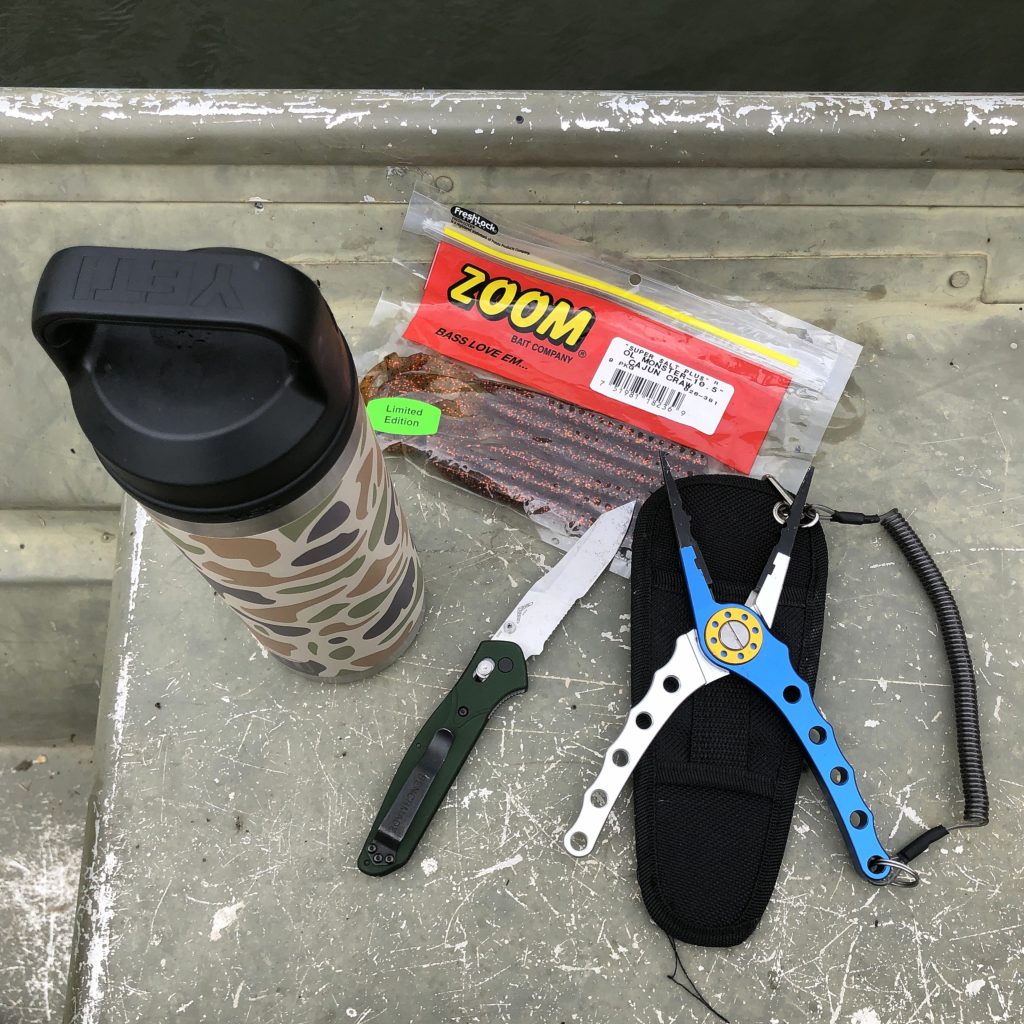 Opening a million Amazon boxes and opening bananas:
Sharpening colored pencils for my son: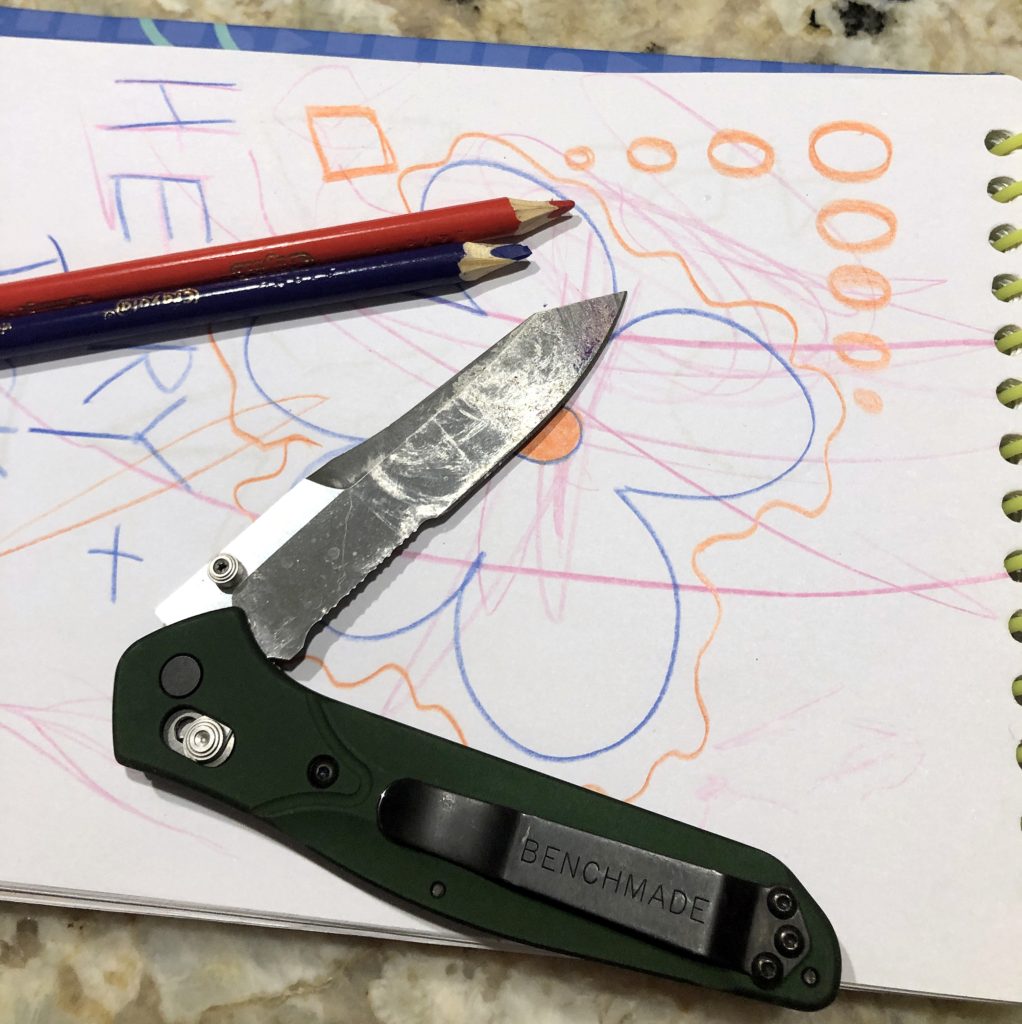 I am very happy with the knife so far, and highly recommend Benchmade.  The knife is a $200 investment, which feels about right for a knife of this quality.  It's made in the USA, and they carry a lifetime warranty.  They take pride in taking care of their customers.  Benchmade also offers a program called Lifesharp, which allows knife owners to send in their knife for cleaning, oiling, adjusting, and re-sharpening the blade to a razor edge.  All for free (other than postage).  For all practical purposes, it's a worry-free investment.
I get a lot of questions about what I carry everyday.  I thought this was a good a time as any to share: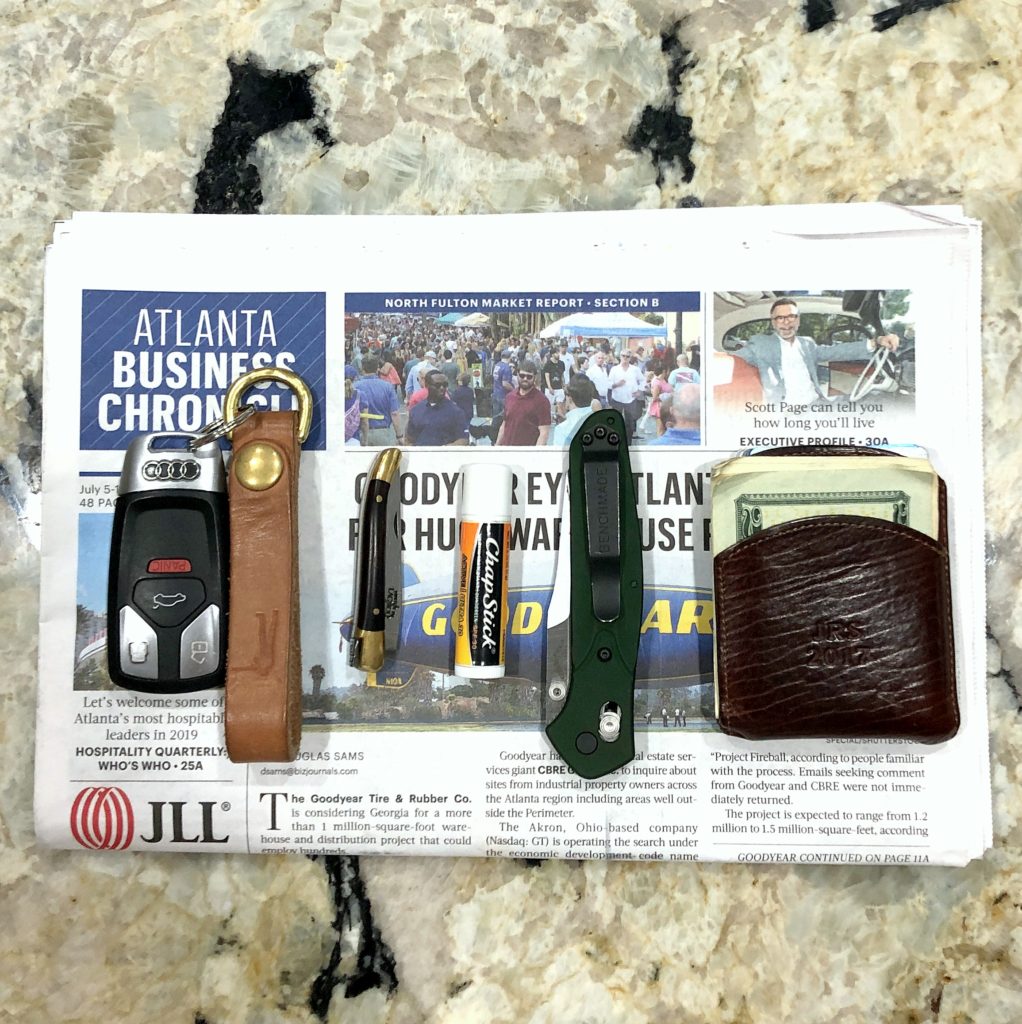 As a minimalist, I don't carry much.  My truck key on a Ball and Buck strap, along with my 7cm Laguoile pocket knife and chap stick are always in my left front pocket.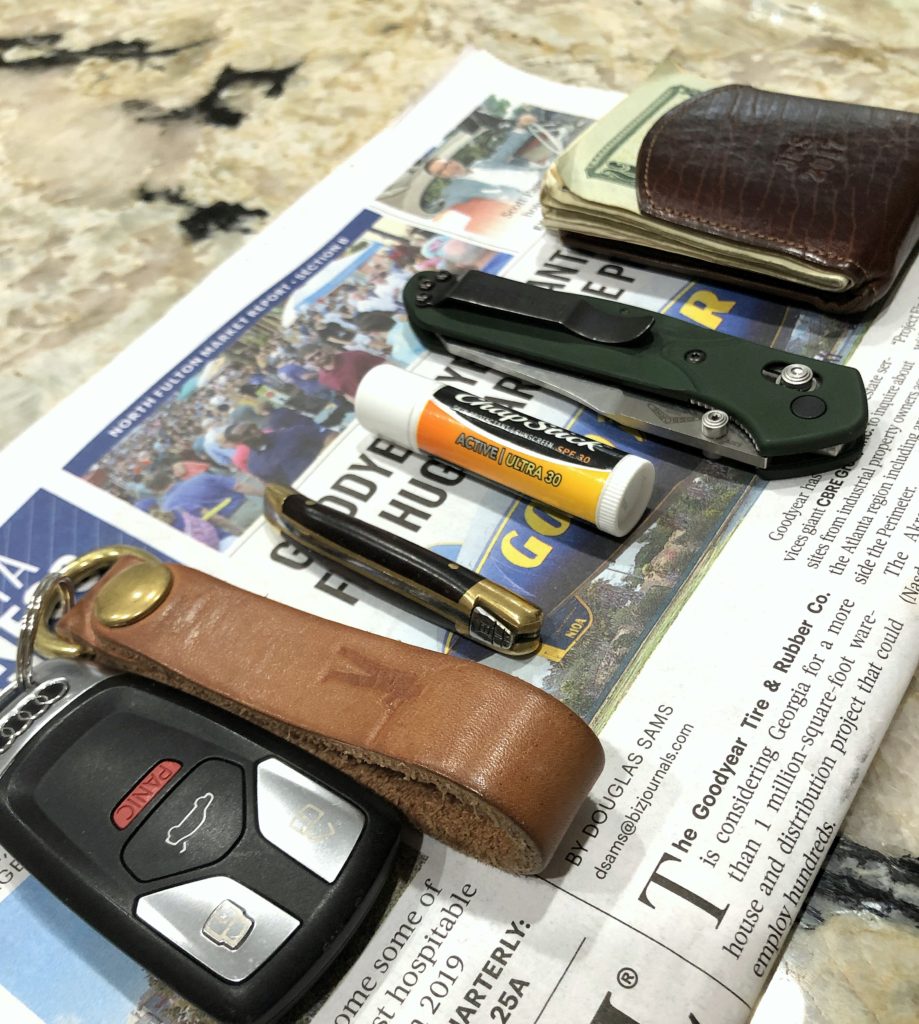 My right pocket holds my Colonel Littleton front pocket wallet and my Benchmade 940s (when I'm not in the office).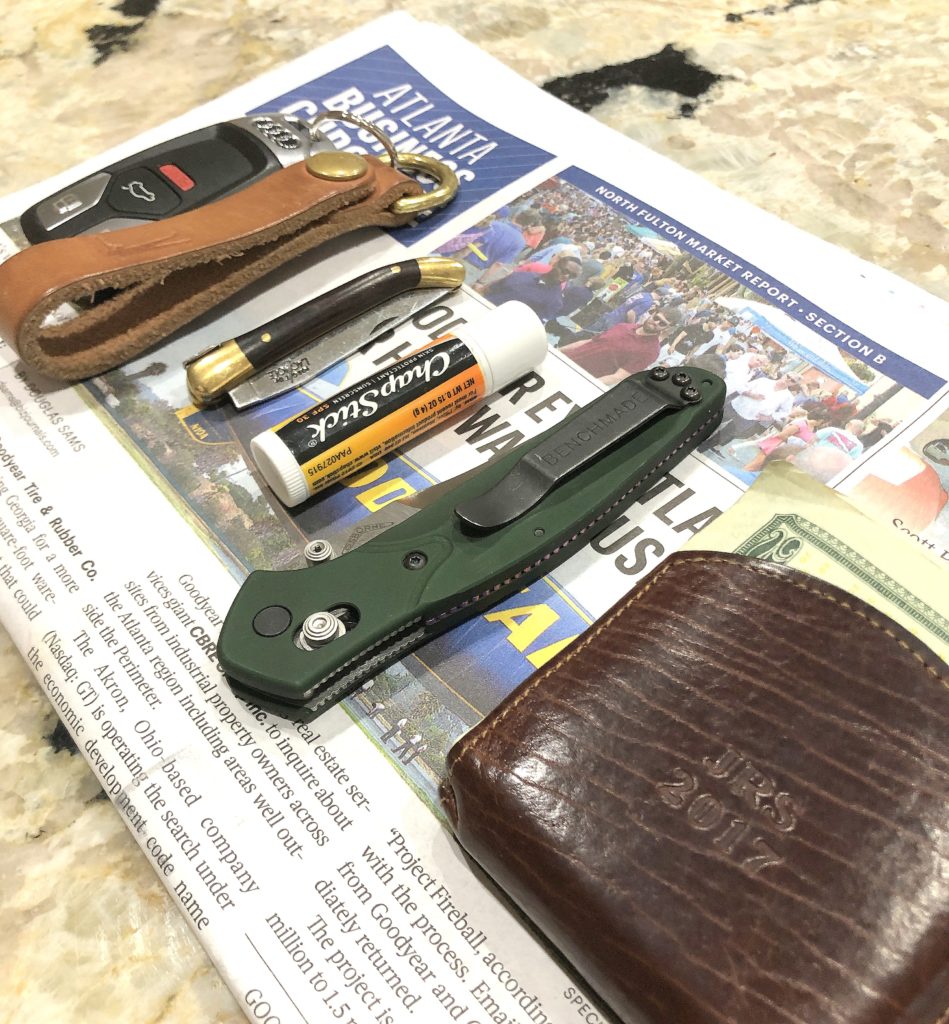 My benchmade isn't in need of a sharpening, because this guy really holds an edge.  However, after a month or so of heavy Amazon box opening and pencil sharpening, the blade is in need of cleaning.  We all love a before and after, so here you go: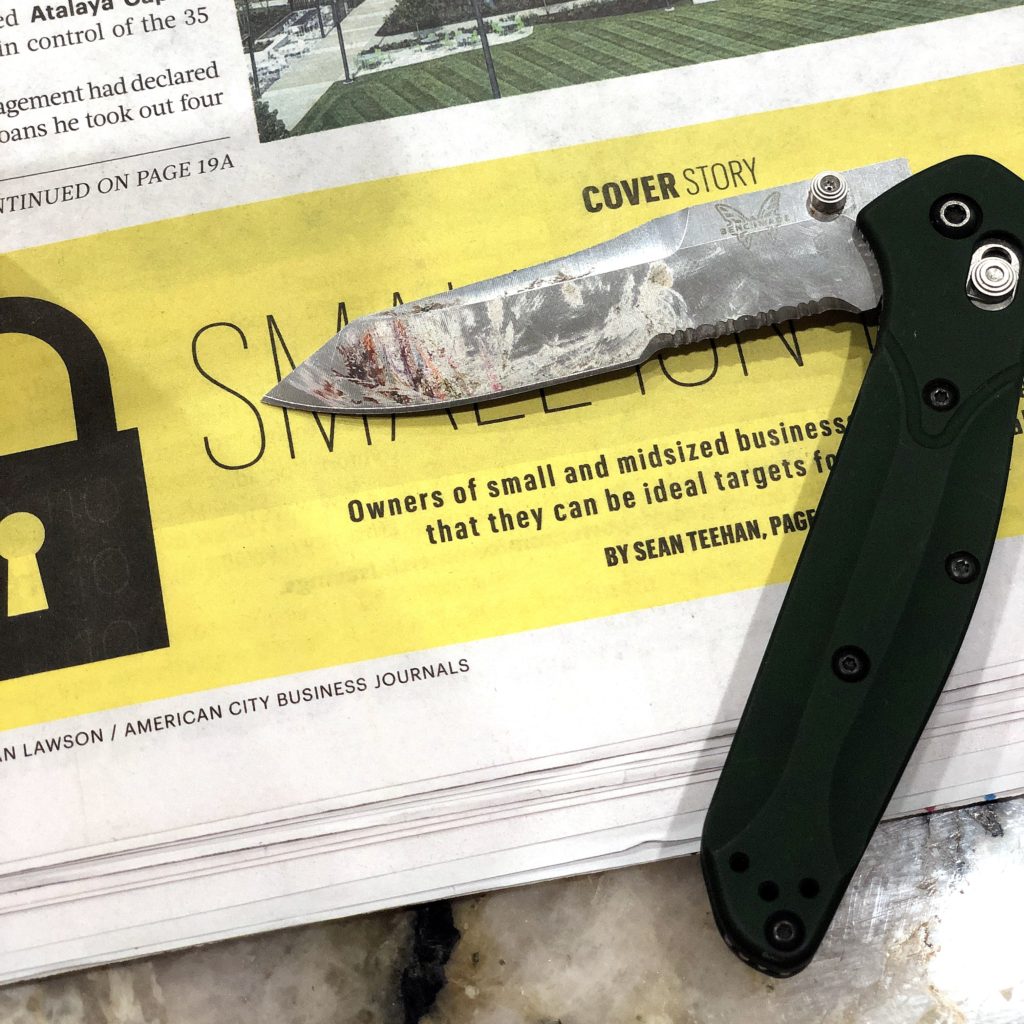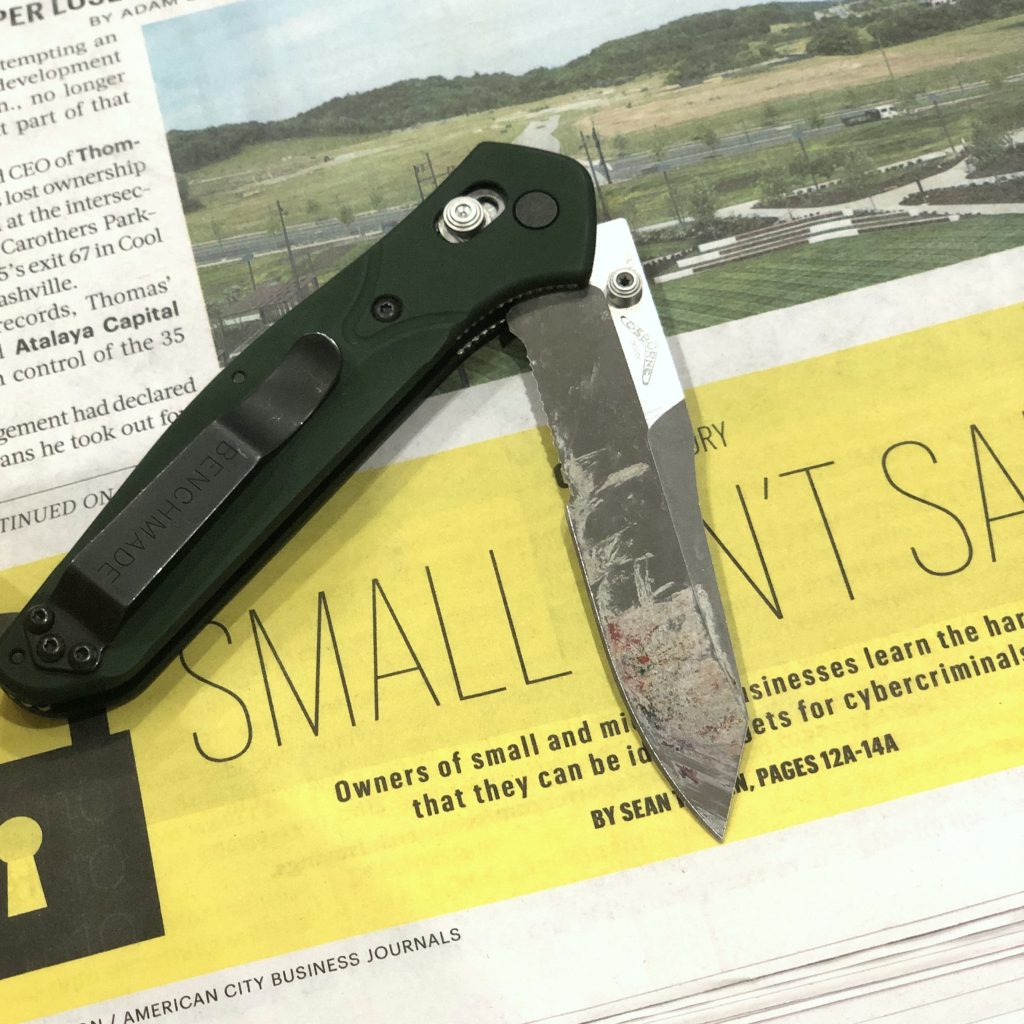 Please tell me you have some Goo Gone in your house…this stuff works magic.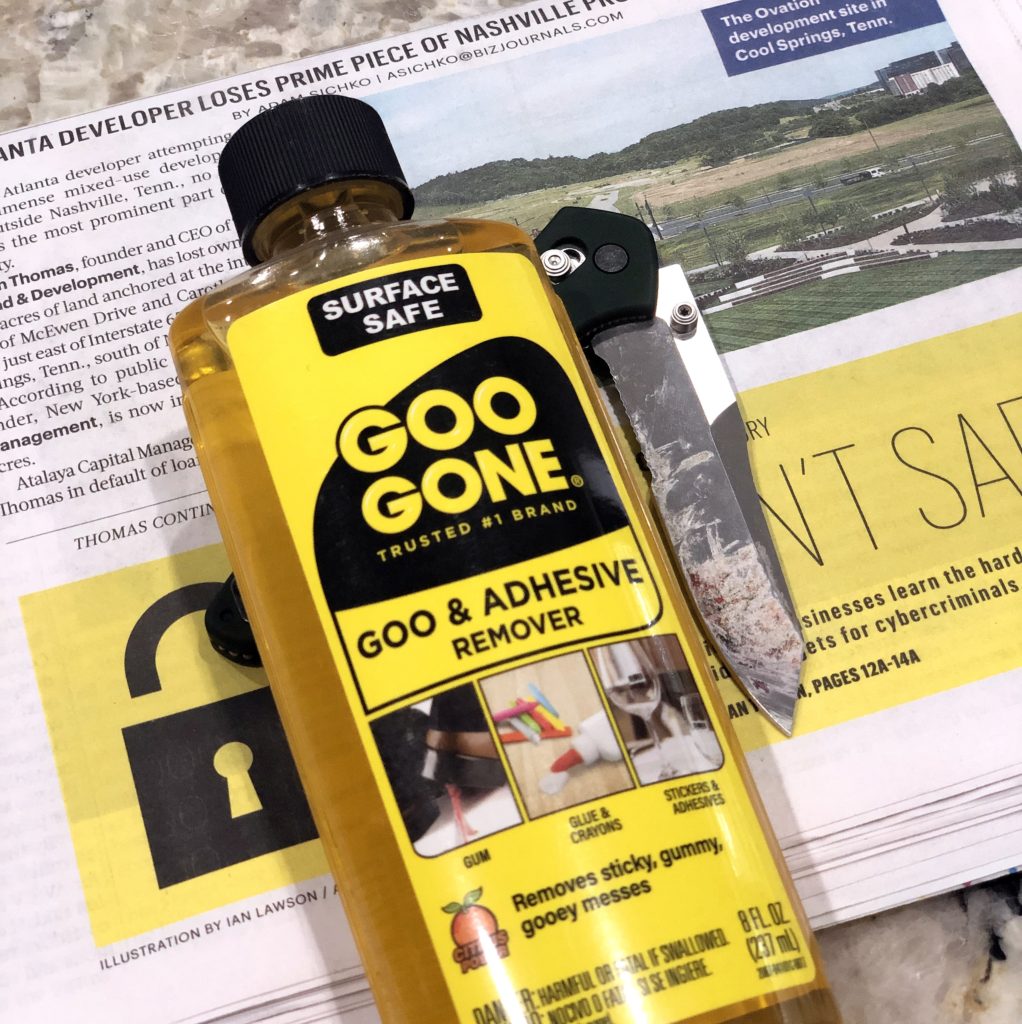 Douse the blade, and let it work.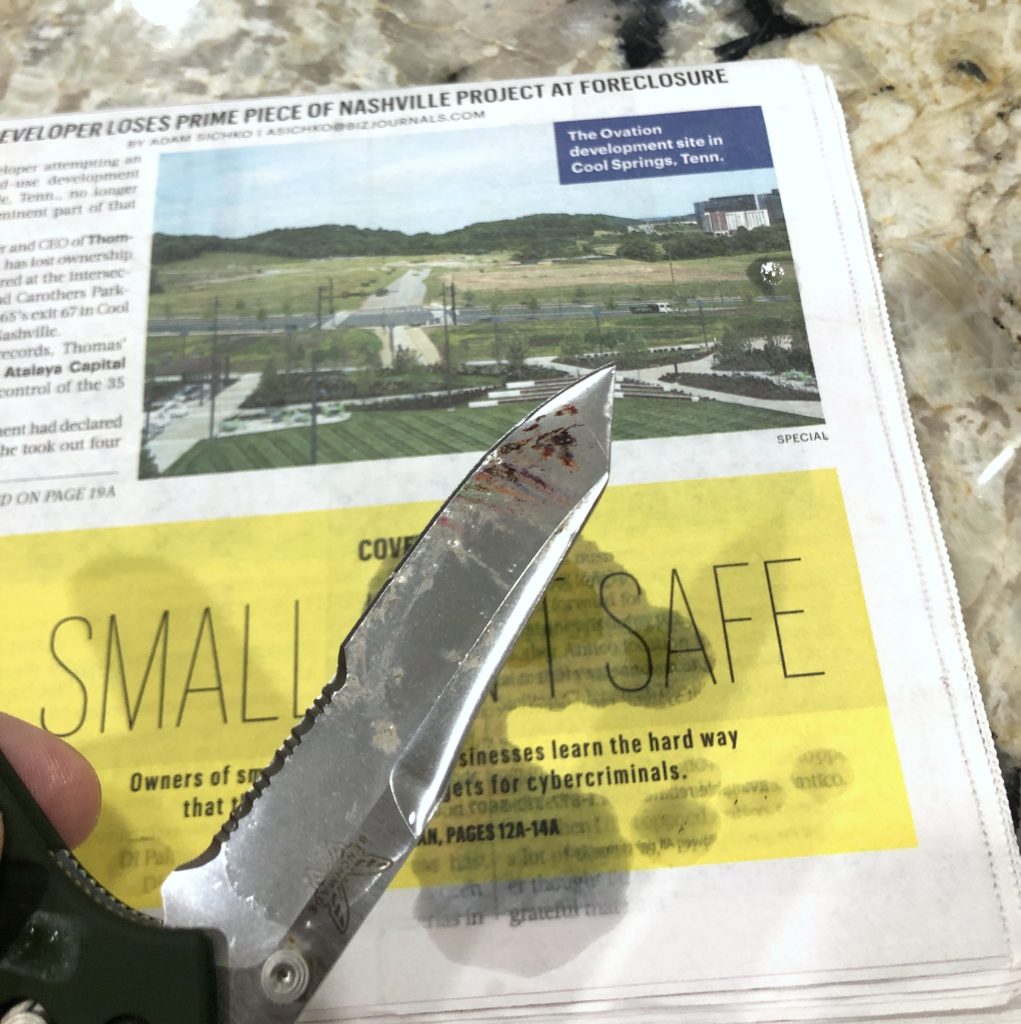 Give it a few rubs with a sponge, then wipe it off with a paper towel, and it's as clean as a whistle: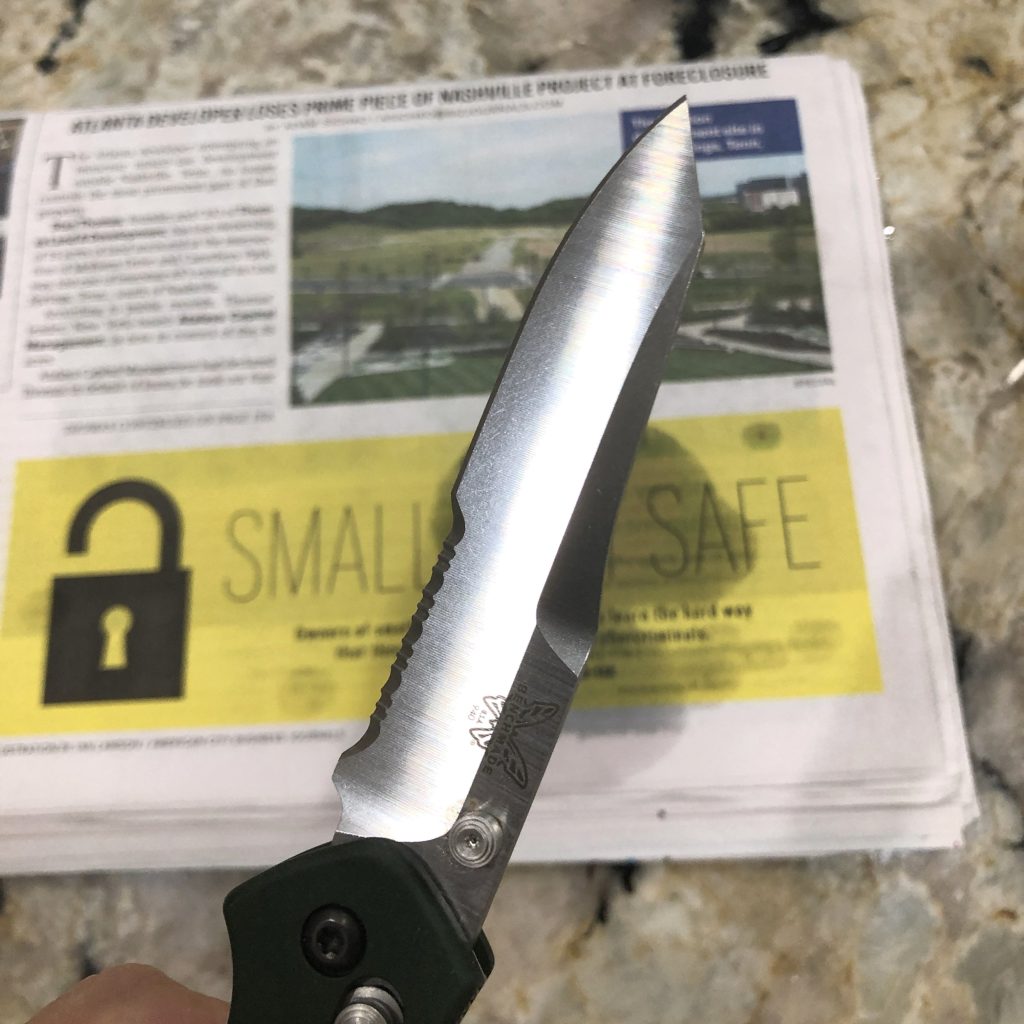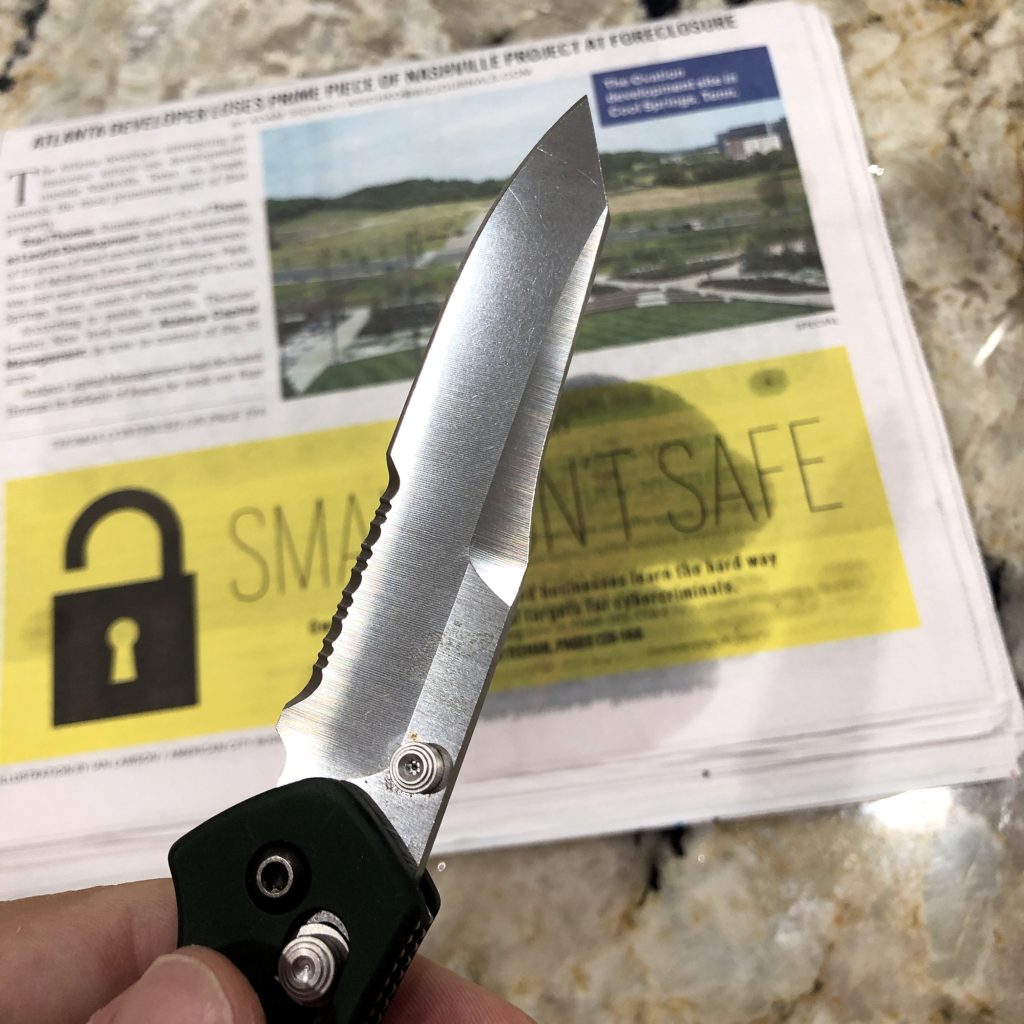 Now off to go put it back to work.
Are you a Benchmade fan?  If so, what do you carry?  Send me a picture and I'll post it here…
P L E A S E    S U P P O R T    O U R    P A R T N E R S :