I'm leaving Thursday morning to head out to Kansas for some highly anticipated pheasant hunting.  It's been a couple of years since we've chased roosters, but my old buddies and I are planning on going out for a good time.
There are a dozen of us going – 90% of us having pheasant hunted multiple times.  No rookies on this trip.
What's interesting about this time of year is the weather out in Kansas.  We're doing two hunts while we're out there: Friday and Saturday.  On Friday, the high is 63, with 30 mph winds (40 mph gusts).  Friday is high of 41 with 20 mph winds.  Two very different hunting conditions.  There's a slight chance of rain on Saturday, but nothing worth overpacking.
It's all going to be about layers.  For the most part, this is what I'm packing: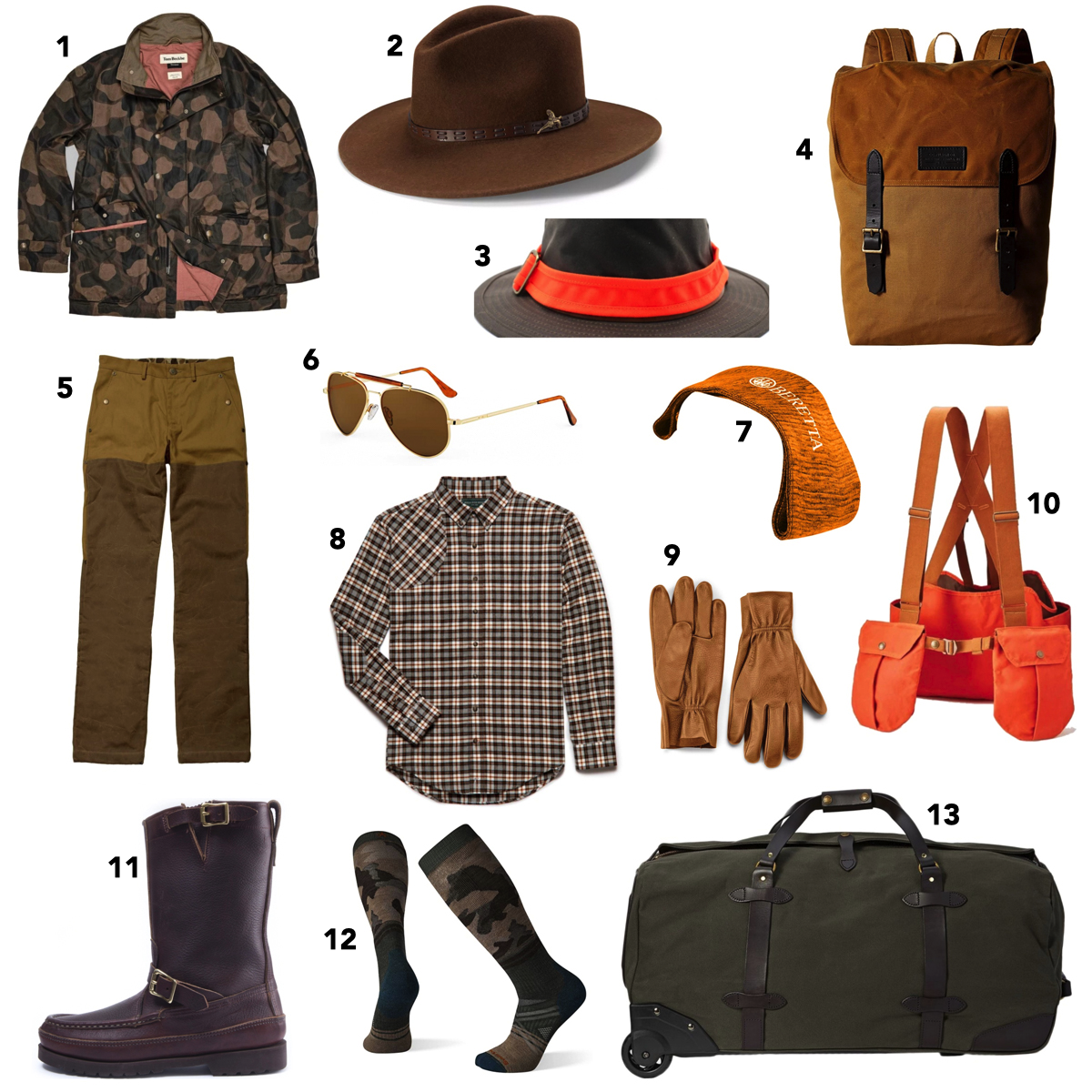 From top left:
1. Tom Beckbe Tensaw Jacket:  This is a perfect trip for the Tensaw.  It might get a little warm on Friday, but I expect we'll limit out before it gets too hot in the afternoon.  It has the best collar for wind protection, and I plan on taking advantage.
2. Orvis Sandanona Crushable Felt Hat:  After my skin scares earlier this year, I'm trying to transition to a full brim – both in the field and on the water.  I recently picked up this hat from Orvis, and love it.  I'll have a waxed blaze cap as well.
3. Beckbe Hat Strap:  I'll add this to my Orvis felt hat.
4. Filson Ranger Backpack:  We'll be driving a bit from our lodge to the hunting field, so I'll need something to carry my gear and stay organized in the truck.  This Ranger backpack is a GREAT size for travel (I'll carry this with my on my flight out), and plenty big enough for hauling or stashing extra layers/field gear when we are hunting.
5. Ball and Buck Field Pants:  Hands down the best field pants on the market.  They are waxed, so they might be a little warm, but I'll sacrifice that vs. the heavy gusts on Friday or the chill on Saturday.  Mine are starting to develop a really nice patina.
6. Randolph Sportsman Sunglasses:  Besides that need to wear eye protection any time we are hunting, I like to wear something that is made for what we are doing.  These Sportsman sunglasses have tan lenses which are great for the field, and I really like the classic look.
7. Gun Sock:  I have a Pelican gun case that I'll use to bring my gun out to Kansas, but will use this gun sock to tote my gun from the lodge to the field.  It's not much protection, but it's enough.
8. Ball and Buck Sportsman Shirt:  Fantastic field shirts.  They are very thoughtfully made with longer sleeves and breathability in the pits.  I'll wear this as my bottom layer, and then pack on as needed.
9. Orvis Upland Shooting Gloves:  The first pair of hunting gloves are a version of these…and they have been fantastic.  I like to wear unlined gloves because I don't want any bulk near the trigger, especially in the field.
10. Tom Beckbe Strap Vest:  A new addition this year. I love hunting in strap vests – especially on LONG walks in pheasant fields.  Enough room to hold all the gear I need, including shells, a short bottle of water, sunflower seeds, etc, and the back game bag is good for not only roosters but also for holding extra layers.
11. Russell Moccasin Cavalier Crossover Boots:  I've been wearing mine for years, and they are hands down the best hunting boots I own.  Rain and mud won't be an issue, so it is the primo environment for these Russells.  I'm really excited to take these for a walk.
12. Smartwool Ski Socks:  After searching long and hard for socks, I've settled on these Smartwool OTC ski socks.  I have some thin pairs and some medium (thickness) pairs.  They are fantastic and don't add too much bulk.
13. Filson Large Roller Duffle:  I scored one of these in the dark brown color after they discontinued it for ~$200.  One of the best travel bags I own, and perfect for this trip.  I'll check this along with my gun, and have zero worries.
Be sure to follow along later this week.  Should be a great trip.