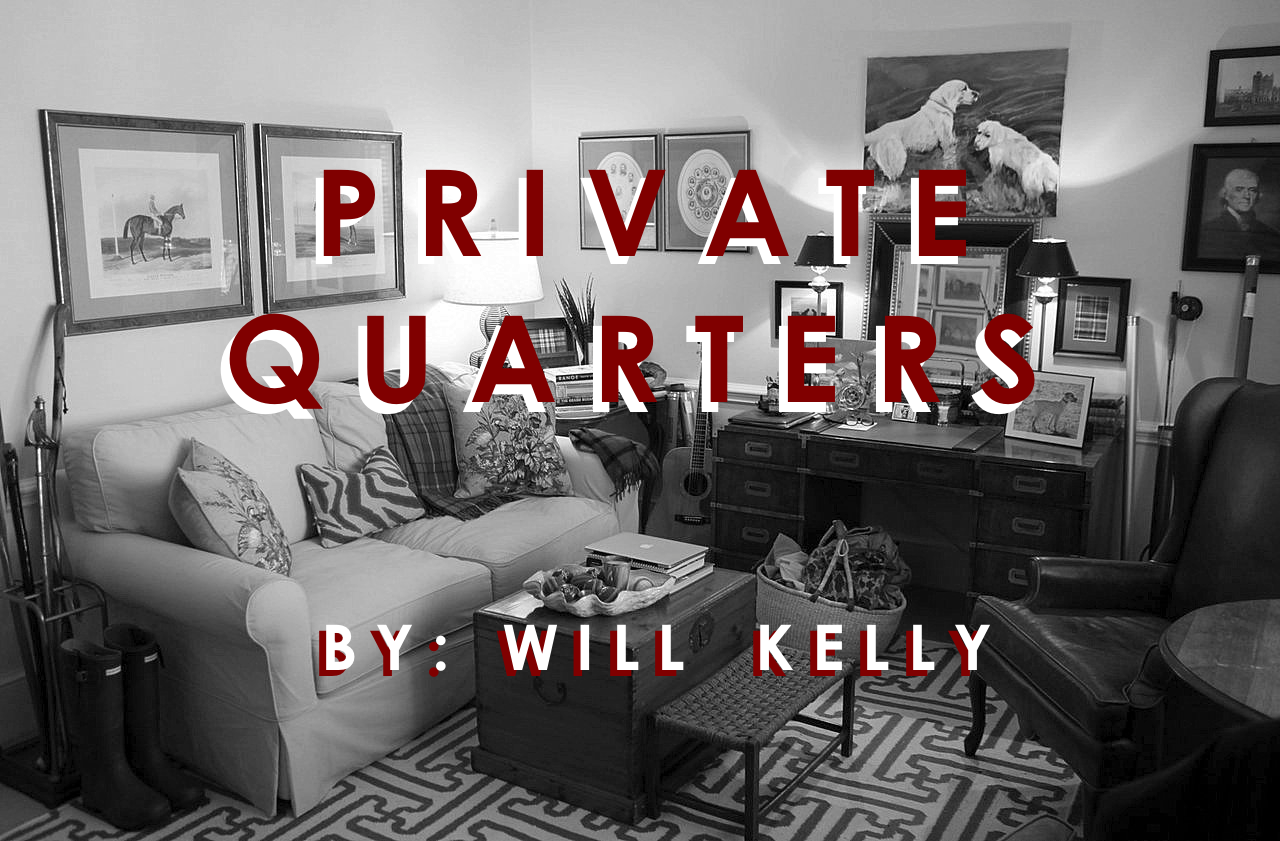 Mr. RCS has often been asked how to outfit a gentleman's home-office or man-cave. I am honored that he has deferred to me and will oblige. My only authority on the subject comes from the handsome and frequent use of my personal space in daily routine, not necessarily because of execution or esthetic design.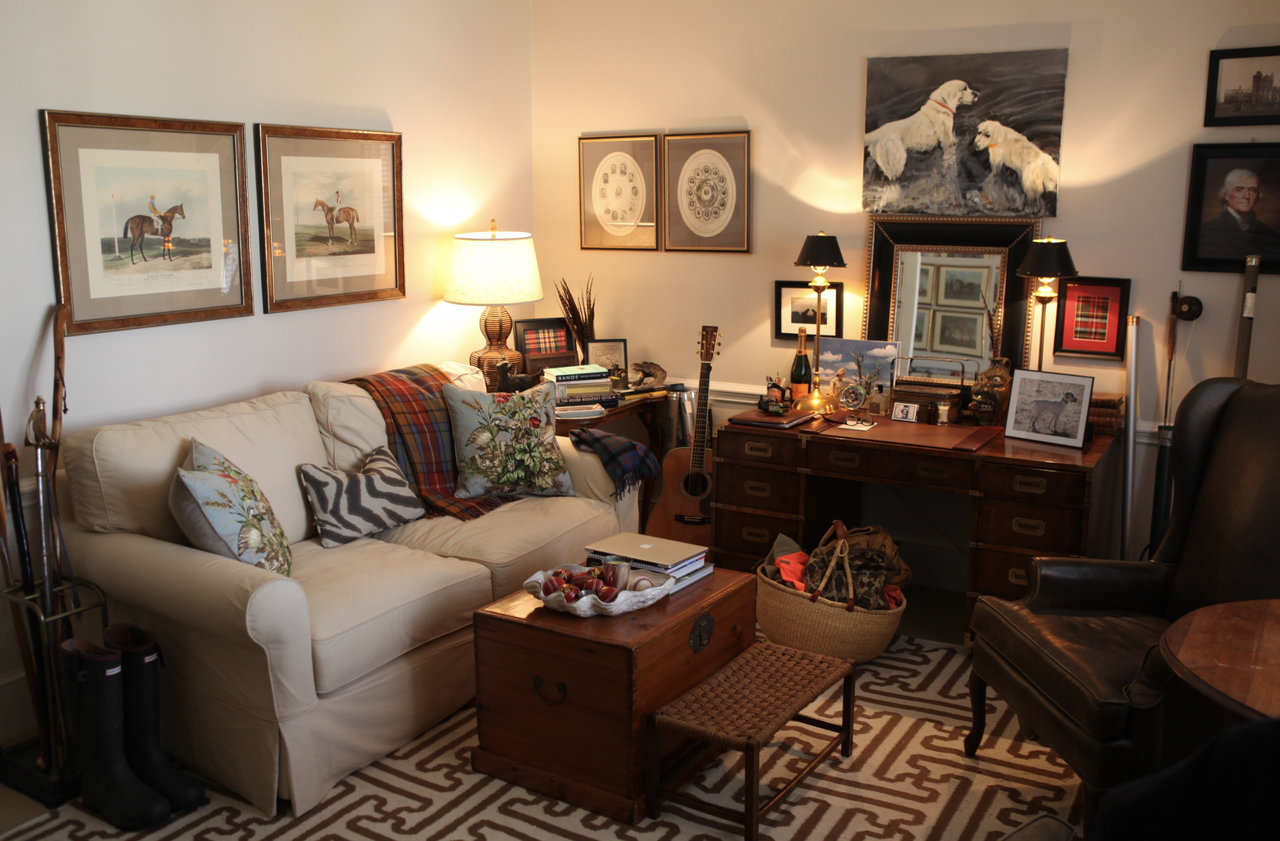 Unless you live alone, the opportunity to have an exclusive space becomes necessity. This may emerge around your most intimate material things. It becomes a reflection of values and tasks at hand. I suppose the default cliche to never forget the fraternity experience is why many fellows end up with dead square footage adored in classic-clubhouse style: dartboards and overstuffed couches in front of a mega-TV. The "cave" can still be had, but if argument must be made for one need… if I only had one space to brand my "own"… shooting pool with the neighbors over a light beer would never steal priority over my office-den.
One may let a hobby define their refuge- be it a wood shop with mini fridge or an auto restoration garage with the ballgame in the background. No matter what takes shape, the space is ultimately where a line is drawn declaring, "What happens in here is under my sovereign dominion!" My little refuge suits me. Everyone deserves to find a personal lair of relaxation, renewal, and productivity. For a guy that seemingly enjoys talking and tells stories all week long, it would be fair to assume that I'm an extrovert. Quite contrarily- lengthy contact with people exhausts me. The door to my room can be a barricade where most conversations had beyond are quiet ones in my head. There, I can recharge from a busy week that has drained me. My home office is a 12×14 decommissioned guest room tucked back in the corner of our home.
It is equal part studio, den, and dressing room densely filled with the curiosities of a young guy with an old soul. Through childhood, I was blessed to have space that was just mine to be creative, to put things out as I saw fit, to muse, and be comfortable being alone for some quiet and privacy apart from my large family. In many ways, this office den is a grown up extension of everything valuable in my teenaged bedroom (sans Playboys). Yes, the door is locked to keep little hands out, but unlike Ricky Fitz's crazy dad- the boys are invited in (and there are no Nazi plates to break, but I do have some of grandfather's WWII medals.)
One of the joys of marriage is making a home together- but this rite is probably the essential explanation for how private chambers and man caves have come into existence. I love my wife's instinct for organization, but after a few years of marriage I swiftly realized that I could never find any of my things. I didn't play the guitar as often because they were cased up in the back of closets and under beds. You see- I don't really like to put things away— I like to curate. I prefer to have all my tackle together for any pending adventure. My things are displayed to be admired, dressed, and assessed.
On the flanks of an old English drop-leaf in a bay window sit two green buffalo leather wingbacks. One of the pair is the ubiquitous chair that every man needs and covets. In it books are read, shoes go on with coffee and come off as the evening cocktail is had. Its mate, the facing chair, unless a guest may be joining, is a haberdasher's gentleman butler in disguise. A week prior to an outing, this chair my be dressed from boots to trousers to fieldcoat that perhaps would be hidden away in other parts of the house. With an event on the cusp, this chair may don a freshly brushed tux and perhaps is draped with it a bit looser days following (picture those great scenes in Bond movies when the belt buckles hit the floor). I leave guns and rods out of the safe for awhile before and after using them, in both anticipation and memory afield. If an oil painting is in progress or I'm working a fly pattern, all materials will remain mise en place- the supply is in no ones way but my own. A fellow shouldn't be blamed or scolded for a little mess- I'm sure DaVinci and Jefferson had their little mad scientist labs too. I don't see the armamentarium of creativity as clutter, but beautiful and smile evoking.
My space is very personal, but it occasionally gets a few guests. Whether another couple joins us for cocktail and the mood turns to listening to records or a few guys need to have some politically accurate pottytalk while the rest of the party is in the kitchen- there's room to accommodate. My son's needs for dad-time are often met there while playing gin or backgammon. The image you may be forming of dusty clutter could be better described as curated maximalism. The room shows like a men's shop in a Wes Anderson movie set. If someone came into my office they'd have a pretty good sense of who I am, what I do, and my values. Nothing there is really on display for their fancy. I'm more comfortable than proud. To be invited lies in the realm of trust and intimacy. Artifacts fill bookshelves, tabletops, and walls.
Old bottles of cologne, trophy engraved Julep and Jefferson cups, clippings, and photos- all marking rites of passage and invoking welcomed memory. Some framed pictures would never make the walls of the house- but simply could not fade away in drawers. There is a basket that declares a sunglasses fetish, a spitcup that no one can fuss at me about, a bowl full of random cartridges and shells and pocket knives. I wouldn't be able to deny being a lover of R.E. Lee, Carolina pioneer history, Lynyrd Skynyrd, an Anglophile, or pretty conservative for that matter.
The material evidence additively confesses. You can see that if something is fashioned in Tartan or Tiffany blue or Blaze orange that I believe it matches anything. Drawers are full of drafting supplies, designs and ideas, doodles, journals, and plans of lots of things I've promised myself that I'll get around to finishing when I slow down doing the things the world demands of a forty-something dad. There is plenty of stationery and I have a thing for good pens and handwritten notes.
Music, when properly honored and the opportunity presents, should be played through real speakers and a good stereo, not a Bluetooth MP3 player. With these stealthy little technologies available, good look convincing the wife to allow floor speakers in the living room. With so much sound wave disrupting matter in my little space, months were spent moving around that green chair and vintage speakers until I found a sweet spot for a wildly alive sound stage. But now it's so chill- I've ruined a phono cartridge on a record label while dosing out on the sofa.
There is a door to our back porch in the room. I have an espresso every morning with a little devotion and slide out without waking family to witness the sunrise across my field. The "escape hatch" is especially nice during hunting season, not only getting out quietly, but I slide back in mid-morning too- allowing a little snooze on the sofa before I've been detected. (I believe it's healthy to get a little siesta somewhere other than your bed. Likewise, it is poor sleep hygiene to do things like work or look at screens in the bedroom- but that's another story about the bedroom.)
A photograph of this ever revolving world of my things would never do justice to represent the esthetic of the space. It is a critical necessity for my daily life and emotional calm. My dad once walked in and said, "Damn son—Genetic memory is amazing. To have never met your granddad, it's like I'm standing in his den sixty years ago." My grandfather, his father-in-law, was a venerable gentleman. He was well liked and remembered for his style, humor, and good taste. Dad says it's uncanny how much more I am like as I grow older, I am honored at the compliment, hope it's true, and reckon everything is okay. This was perhaps validating in knowing that a place can tell your story. When asked to give advice on how to decorate a home office, my wish is that the unique specifics of mine can only serve you in imagining the examples of how your cherished things, your habits, life patterns, desires, and idiosyncrasies can fill in the blanks of those that you may delete from the picture I have painted.

Will Kelly is a RCS contributor and a good friend.