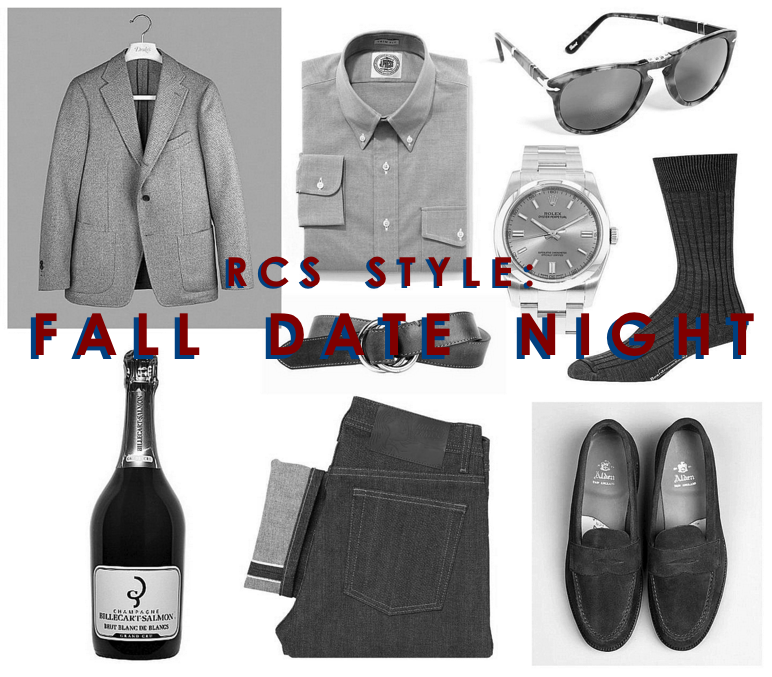 It's not often that Mrs. RCS and I get a date night.  We are seriously lucky in that both of our families are local, and love seeing our kids.  However, we don't overplay our hand, if you know what I mean.  Date nights to us are a really great way to relax and enjoy each other, without the stresses of two small children.  Don't get me wrong, we both LOVE the chaos of having two boys, but getting away for a date helps us reconnect, and it makes us better parents.
We both like to get a little dressed up on our date nights.  We've all but retired from the 9PM dinners followed by Northside Tavern until xAM, so we normally go to a really nice dinner, followed by a night cap.  That said, we both like to dress well for the occasion.  Here is how I like to do it in the Fall:
From top left:
1. Drake's Wheat Herringbone Wool Tweed Jacket:  Not quite the heavy tweed feel for Fall, but still heavy enough to prevent any sort of late-night chill.  The cut is superb, the style is 'updated' English, and the look is top shelf.  You'll wear this one for years.
2. J. Press Trim Fit Blue OCBD:  This is obviously a year-round wear, but a great look under a statement jacket.  Looking to be a little more bold?  Wear the pink one…even in Fall.  Those that know, will give you the nod.  Those that don't need to tighten the velcro their Rockports.
3. Persol 714 Foldable Sunglasses:  You may not need them, but they are always handy.
4. Martin Dingman Christophe O-Ring Belt:  Talk about a stylish…pulling off an O-ring belt is NOT difficult.  Especially one this cool.  It looks like a vintage piece that has been brought back to life.  Embrace it.
5. Rolex Oyster Perpetual 116000 Watch:  Time to bring out the big guns.  I'm already hunting for my second Datejust…and I really like an ALT-look…like this gold dial.  This sucker is sweet…
6. Olive Merino Wool Socks from Boardroom Socks:  If you have to wear socks, wear good ones.  And not clown socks.  More on Boardroom in a bit…
7. Champagne:  Now that we've got two kiddos, it's not often that we get to go out on dates…however, when we do, we pop a bottle.  Usually a pretty good bottle.  Nothing like celebrating a night out!  And it makes good fodder for #mascarachronicles
8. Naked & Famous Left Hand Selvedge Jeans:  I'm telling you, don't sleep on Naked & Famous denim.  They do a great job at a good price point.  Try to find the thicker denim, as it'll hold it's shape AND fade a little better.
9. Alden Unlined Penny Loafers in Dark Brown Suede (6245F):  Dark Brown suede this time of year is KEY to a good look.  Pair them with the olive socks (#6) for a super cool look.  They only get better with age…and don't forget the cedar shoe trees.
What did I miss?