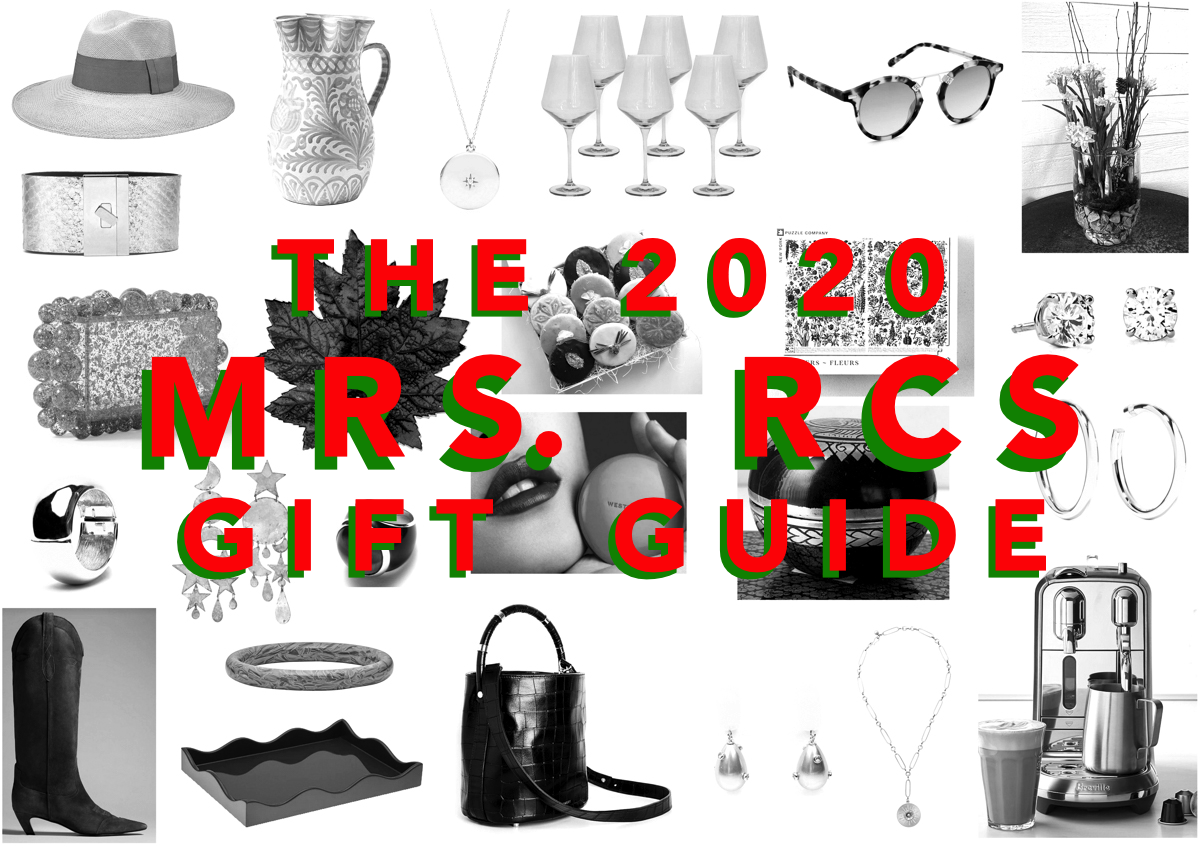 20 days and counting slackers! I kid, I kid, and I'm here to help. This guide has something for your best gal, whoever she may be to you. I can not stress enough, if she has been dropping hints or more clearly told you what she wants this year, then buy THAT thing, guys.
Here is what I'm thinking: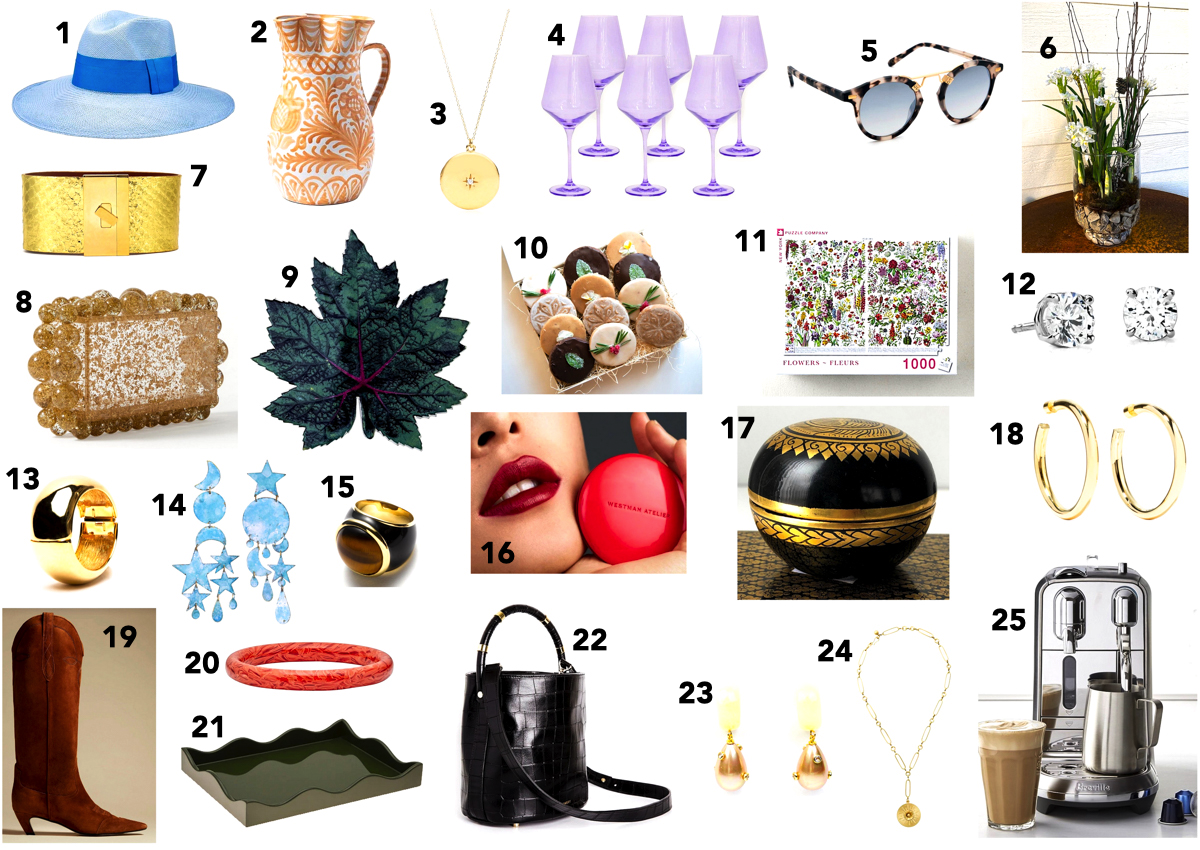 From top left:
1. Artesano Wide Brim Hat: The blue shade of this straw hat just begs to be worn somewhere warm and somewhere tropical. If you don't have something booked, tell her to get to planning.
2. Pomelo Casa Melocoton Hand Painted Pitcher: I have this pretty pitcher in blue, and used to save it for festive gatherings at our home. Lately, I've found it makes a wonderfully cheerful vase for my flowers each week.
3. Sasha Samuel Round Gold Locket: Emily at W.Port had these beauties in her shop last year, and I've wanted one since. This modern locket is a new everyday essential, so she can keep her babes next to her heart.
4. Biscuit Lavender Wine Glasses: We really can't host or entertain, in the ways and with all the people we hold dear. these bright glasses brighten up any bottle for now.
5. Krewe St. Louis Sunglasses: My, how terribly rough we are on our shades. These are my newest, and my favorite in a long time. For now, I'm keeping mine out of reach of little hands.
6. Jennifer Rust Tabletop Paper White Planter: What a pretty way to welcome the new year!
7. Leighelena Wide Turnlock Python Gold Cuff: I have both given and received these beautiful cuffs several times over the last few years, and they are always perfect. There are plenty of color options, of both band, style and clasp, so choose what you think suits her best.
8. Cult Gaia Eos Beaded Acrylic Clutch: Now you just need to plan a date night for her to carry this thing!
9. Leaf Platter: It's so pretty, she may find herself baking (or buying) tasty treats just to display them on this unique and interesting platter.
10. Almo Kitchen Noel Cookie Collection: A beautiful and appropriate gift for a host, a neighbor, or the assistant that keeps your calendar straight.
11. Flower Garden Puzzle: This is not a regular jig saw puzzle, it's a cool jig saw puzzle and anyone that loves puzzles and pretty things will be into this one.
12. Diamond Stud Earrings: A carat for each ear will keep you on her nice list for the next year.
13. Frances Valentine Gold Dome Bracelet: Hello wrist candy!
14. Over the Moon Blue Twilight Earrings: If she loves party jewels, she will adore these festive baubles from We Dream in Colour. Even though these are quite the statement, I find myself wearing them more and more, just because they are such fun!
15. Asha Tiger Eye Ring: This one packs plenty of big ring energy.
16. Westman Atelier Lip Suede: This palette has become a cult favorite because it is the perfect red on every woman.
17. Vintage Black and Gold Trinket Box: Most women I know have a little collection of small things held precious and dear, and those things need a home. Etsy is a wonderful place to source special places to stash her special things. Pro tip: Put something sparkly in it before wrapping.
18. Jennifer Fisher Samira Gold Hoop Earrings: I've found myself wearing these damn near daily, and bet she will too. Looking for this look for less? Try these from Machete.
19. Khaite Dallas Knee High Boots: Dude, these boots! I swear, many wrongs can be made right with a good pair of boots, and these are them for every woman.
20. Machete Statement Bangle: These bangles are so reasonable, I stack 3 and 4 together at one time, although also lovely worn as a single bracelet.
21. Biscuit Small Belles Rives Tray: This tray would be gorgeous in her office, on an ottoman or displaying her pretties on her dressing table.
22. J. Lowery Black Croc Max Bag: Classic, classic, classic! This understated bag is perfect for her everyday carry, but is so special, she'll love grabbing it every time she does.
23. The Avenue Gemstone & Resin Hoop Earrings: These are sure to brighten her next round of Zoom meetings.
24. Brinker & Eliza Sunshine & Lemonade Necklace: Yes, she does need another gold necklace! She can dress this up or dress it down, as a statement or layered with her other favorites.
25. Breville Nespresso Creatista Plus Espresso Machine: YES to this! It's a gift for y'all, more than a gift for her, so probably best to couple it with something sparkly from this list too.
Good luck, guys!