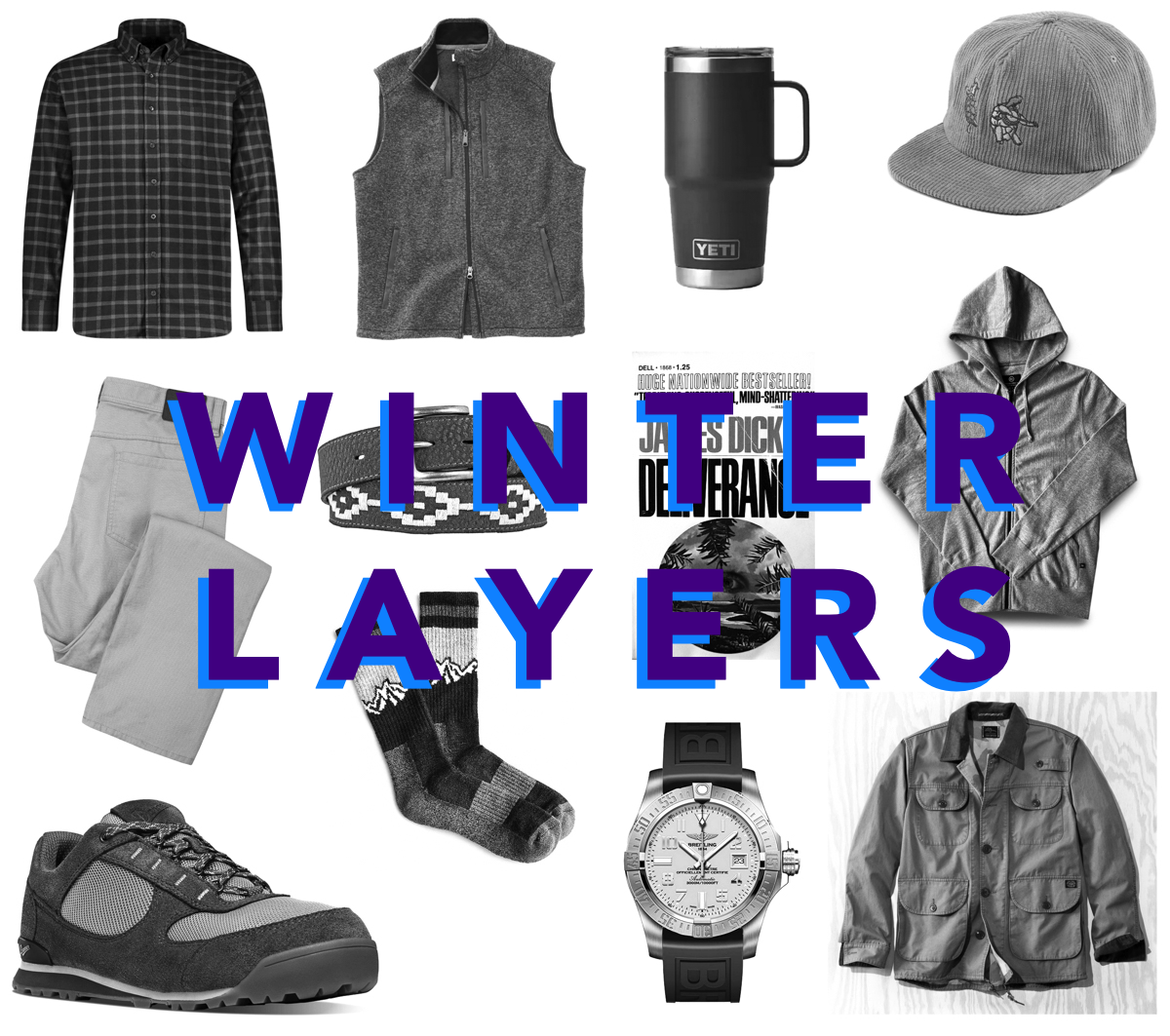 We're in that weird part of the year where there aren't any more parties, the weather sucks, everyone is sick, and most folks have gone 'dry' for the month.  Our calendar is pretty open.  Work has fired back up for Mrs. RCS and me, which is good.  The weekends are a bit challenging, but we'll fill our days with visits to the Aquarium or Fernbank, and then hours of arts and crafts.  It gets dark before six, so daylight is at a premium.
So it's a versatile layer game.  Prepping for anything from donut runs, field trips, scooter races, and naps on the couch.  Comfort is key, but in an all-out effort to avoid any sort of 'athleisure', here is an example of what I've got going on: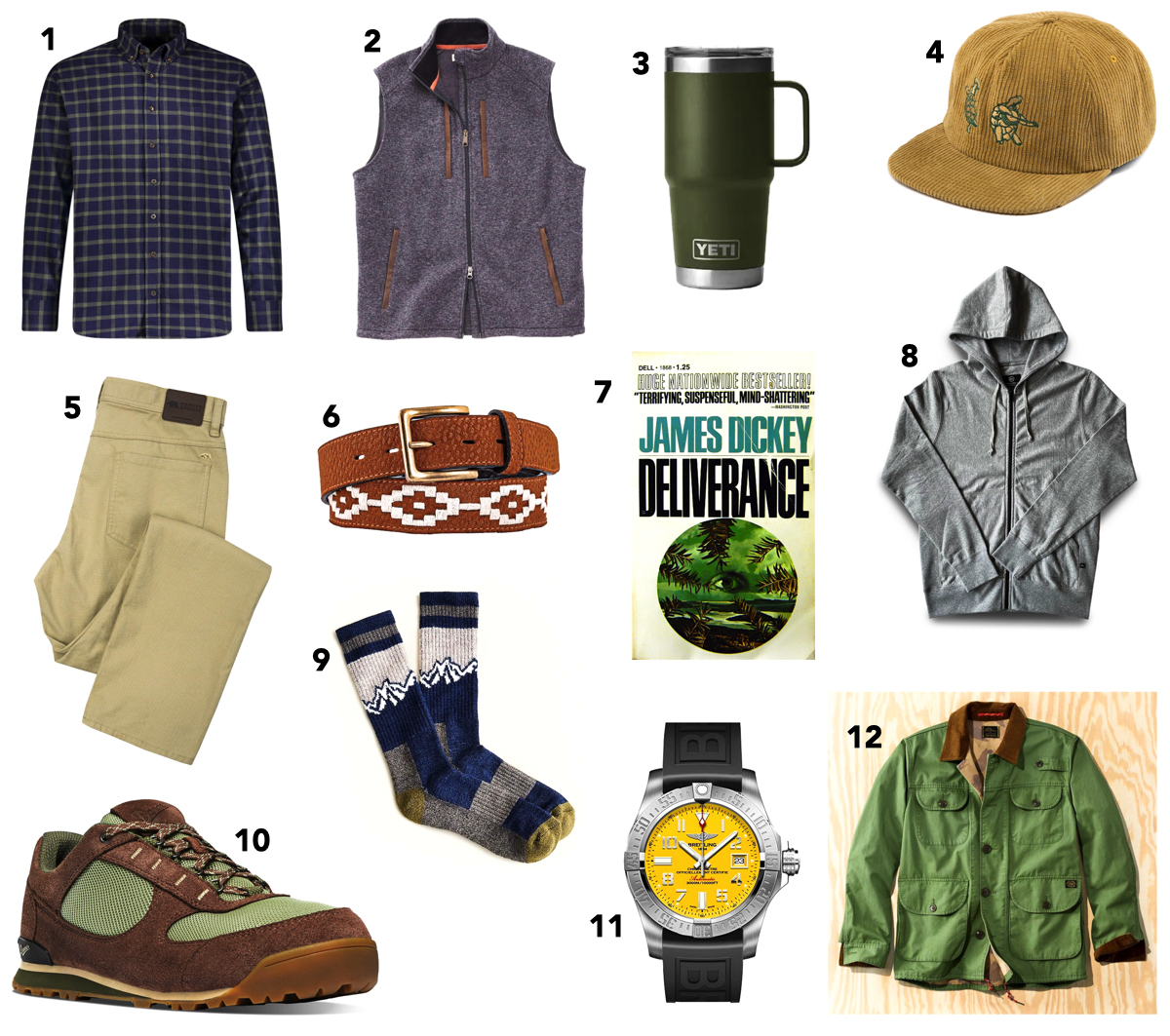 From top left:
1. TSG Midweight Flannel Shirt:  I love flannels this time of year.  Quite frankly, the lighter the better.  I prefer to wash them and hang t0 dry.  Throw them in the dryer for five minutes, and they are ready to wear.  Super soft.  A great base layer.
2. Tom Beckbe Knit Vest: There's always room for a vest.  It's the perfect layer under a jacket, or as its own outer layer.  Beckbe has crushed it with their outerwear for years, but don't sleep on their vests.
3. Yeti 20 oz. Mug:  It's great to see Yeti release their mugs that fit in cup holders.  Finally.
4. Teton Gravity Research Terrapin Corduroy Hat:  Take advantage of any opportunity to wear a corduroy hat.
5. Onward Reserve Micro Canvas 5-Pocket Pants:  Canvas pants are perfect this time of year.  They wear really well, and soften up the longer you wear them.  They look great with almost any footwear, especially #10 below.
6. La Matera El Campo Polo Belt:  Waist flare.  Always embrace it.
7. 'Deliverance' by James Dickey:  Probably my favorite novel ever.  I read it once a year.  Don't think about the scenes in the movie that have unfortunately diluted the story.  Try it…trust me.
8. Foreign Rider Full-Zip Hooded Jacket:  These aren't the old hoodies from back in the day.  Foreign Rider has created the perfect option.  It fits well, it's the perfect weight, and the sleeves are long enough to handle chasing two youngsters.
9. J. Crew Nordic Socks:  If you have to wear socks…a wool blend is good this time of year.
10. Danner Jag Low Boots:  Perfect boots for bouncing around.  Not heavy, but sturdy.  And that cool, old-school look.
11. Breitling Avenger II Seawolf:  My buddy has this watch.  It's such a cool look – I love the yellow face.
12. LL Bean X Snyder Fishing Jacket:  I love the price of this jacket.  And I like all the pockets.
Lookin' good, guys.