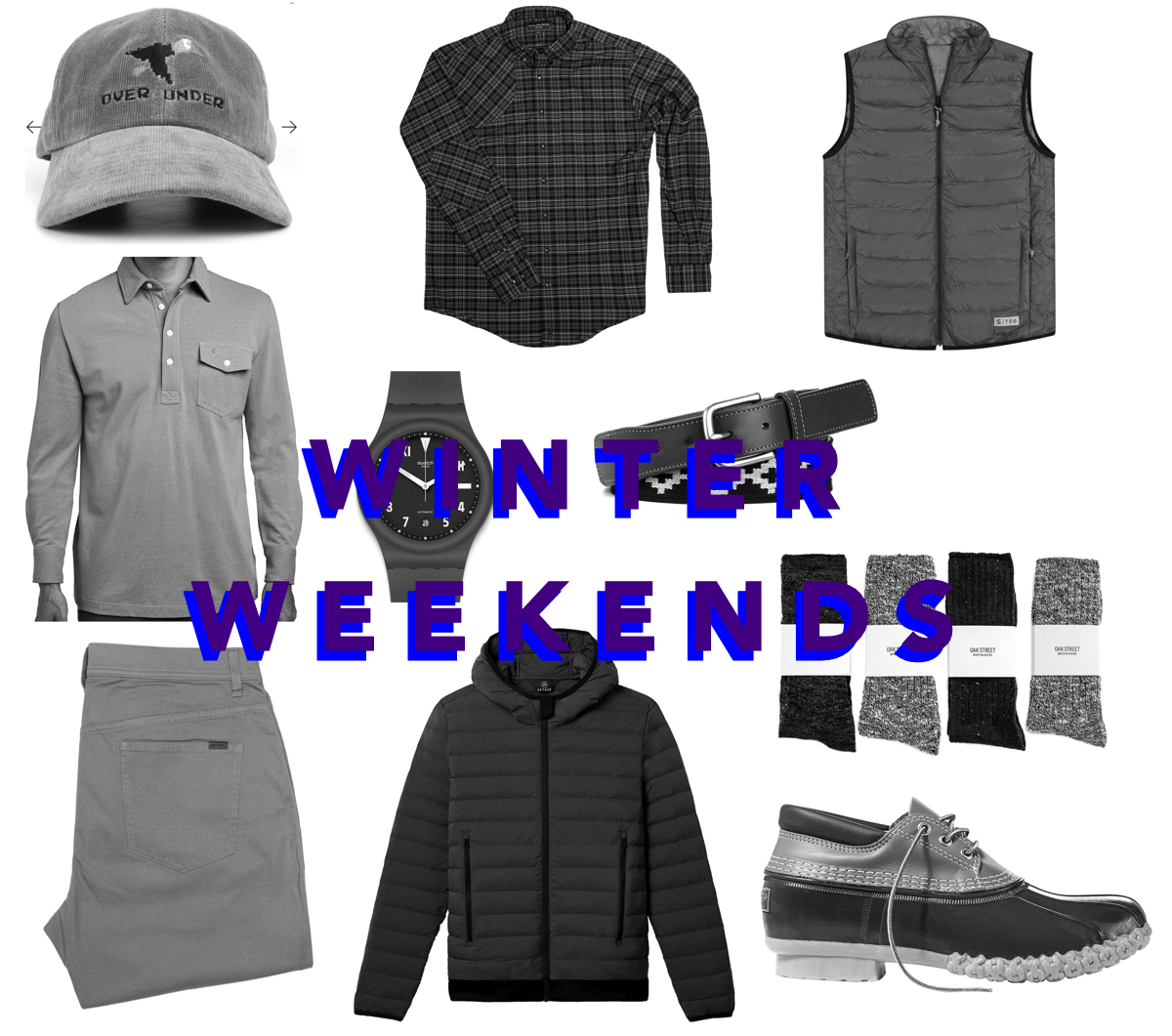 And just like that, the holidays are over.  The milder winter we had is starting to turn cold, which is a tough row to hoe.  Unless I'm out in the field chasing birds or sneaking up to the stream to catch a lazy rainbow, my weekends consist of hanging around with the family making the best of this cold weather.  That means getting creative, but it also means getting comfortable.  There will be a lot of 'adventures' with my older boy – donut runs, haircuts, Home Depot… little trips to pass the time and have some fun.
From a style perspective, it's all about layers.  Get a good base, and then lots of options that provide warmth.  And Duck Boots.  Gotta have Duck Boots.  Here's how I like to do it: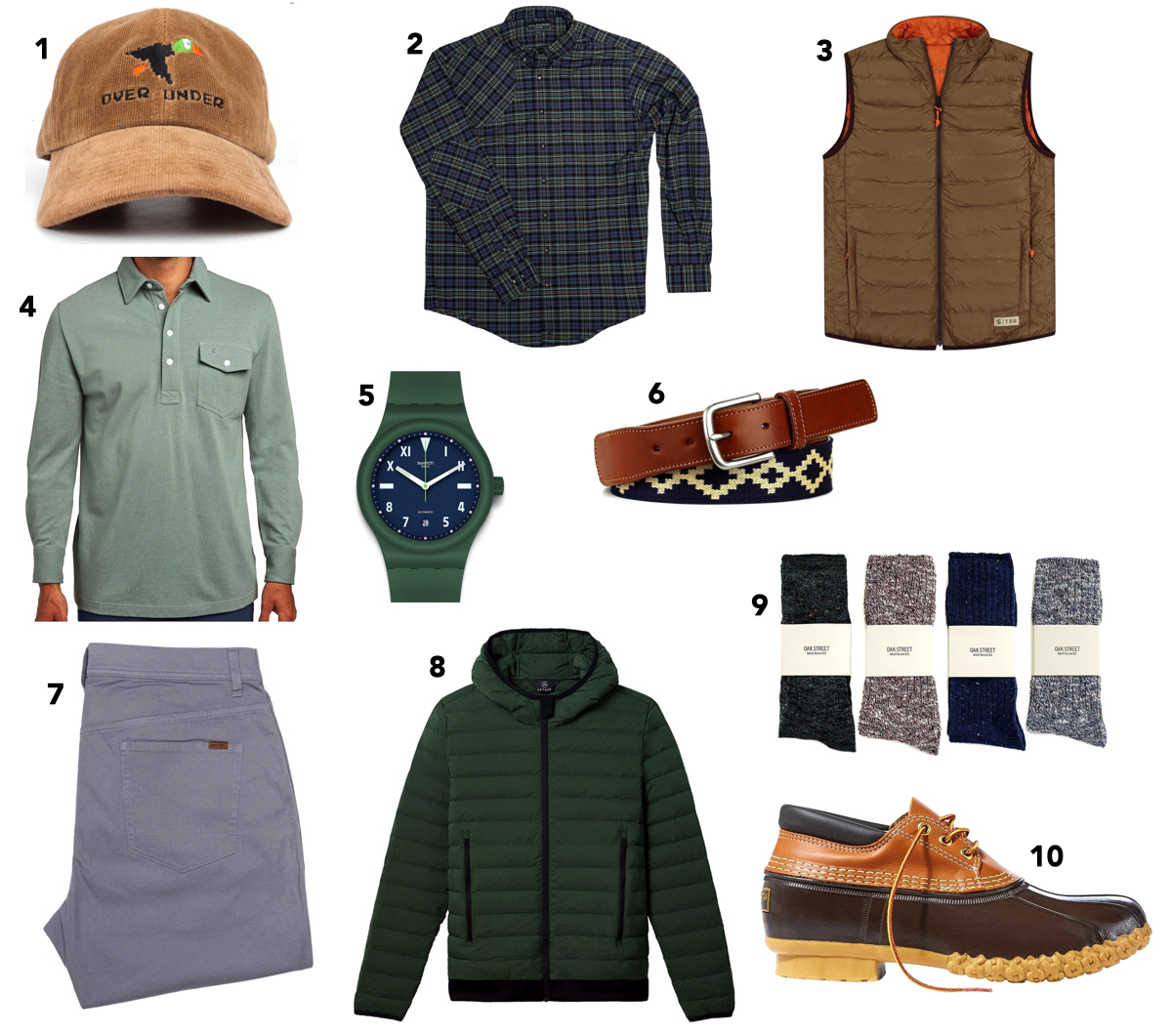 From top left:
1. Over Under Duck Hunt Corduroy Cap:  A good hat is totally necessary to keep the 'Rona lettuce in check.  The Duck Hunt corduroy option from Over Under redefines perfection.  I'm serious.
2. Ball and Buck Granby Sportsman Shirt:  A good plaid shirt is about as 'Southern Winter' as it gets.  These from Ball and Buck are actually oxford cloth, so they'll wash and wear extremely well.
3. TSG Covey Packable Down Vest: I really like these packable vests.  They are light and very wearable, providing a lighter layer of warmth and a couple extra pockets.  And it's reversible – feeling olive, or feeling orange?
4. Criquet Long Sleeve Player's Shirt:  A GREAT alternative to a quarter zip.  The pique fabric is a little thicker than their typical Player's Shirts, and the working cuffs dress it up.
5. Swatch X Hodinkee Sistem51 Watch:  Sometimes your Tudor/Rolex/Omega need a little break as well…  I've been searching the secondary market for a cool old Swatch for quite some time, but that all stopped when I saw this bad boy.  The green is perfect, the navy face…and the California dial?  Retro cool, team.
6. La Matera Corbina Belt:  Some serious style for your waist.  The La Matera options are fantastic not only for the office, but dresses up a weekend look.
7. Duck Head 1865 Canvas 5-Pocket Pants:  The all-around winner as the best 5-pockets on the market.  These can take a licking and keep on ticking…and the price is right.  Duck Head just released grey canvas, an option that is perfect for anything the weekend throws at them.
8. Aether Launch Jacket:  As an alternative to a waxed coat, a hooded down jacket will fight off the rain and cold, and look a little more sporty.  Aether stuff is really cool.  Very thoughtful design and good colors (how cool is that green?).
9. Oak Street Bootmakers Camp Socks:  Gotta have socks, and these are fantastic.  They are running a deal on these bundles…worth every penny.
10. LL Bean Gum Shoes:  Yes, very '1997 Tailgate on the Fraternity lawn', but they've been around for a million years for a reason.  They just work.  And the gum shoes are great because they slip on and off with ease (without looking like a New England prep).  Get some.
What did I miss?