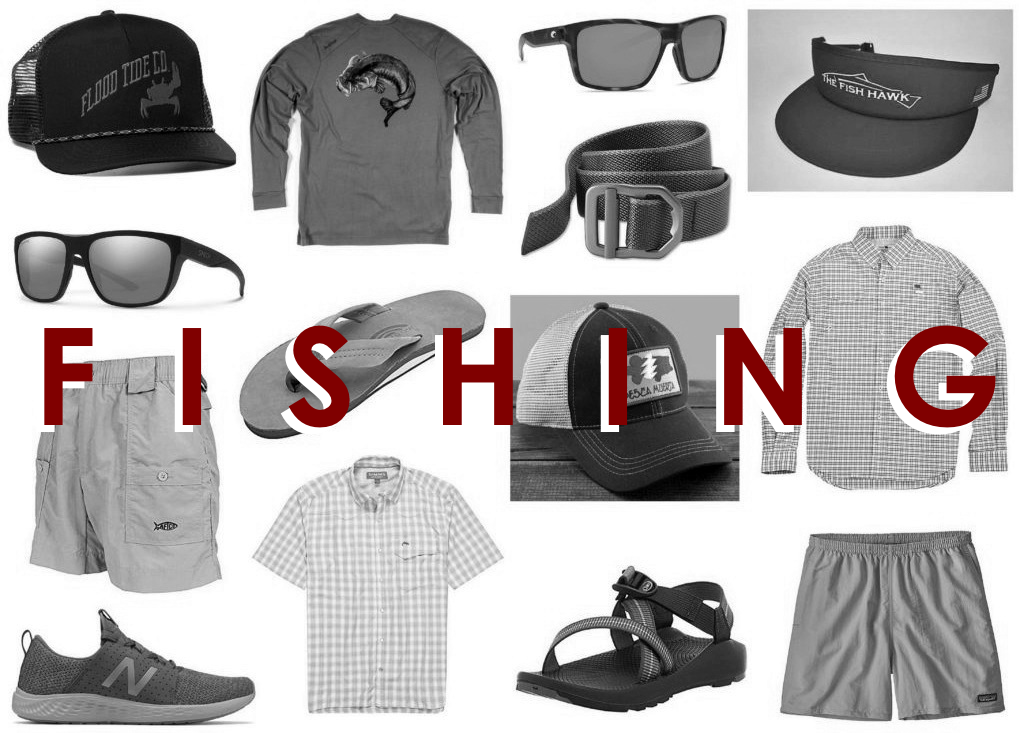 With the arrival of Spring also comes seriously hungry largemouth bass.  I love bass fishing.  I've loved it all my life, and look forward to ripping lips every Spring.  That's when the monsters surface, and I am waiting for them.
I'm hard headed, and will keep fishing well into the Fall when they start to go deep and have no interest in what I'm throwing.  The good thing about bass fishing is that it isn't very technical.  When I was a kid, I wore shorts and a ball cap.  Literally, that's it, and there's no reason it wouldn't work today.  These days, I am a little more concerned with sunburns and general comfort in that I do try to dress accordingly.  I typically fish for bass in three spaces: in an aluminum Jon-boat, on a bass boat, or from the shore.
Here's what I'm sporting when I'm fishing for bucketheads: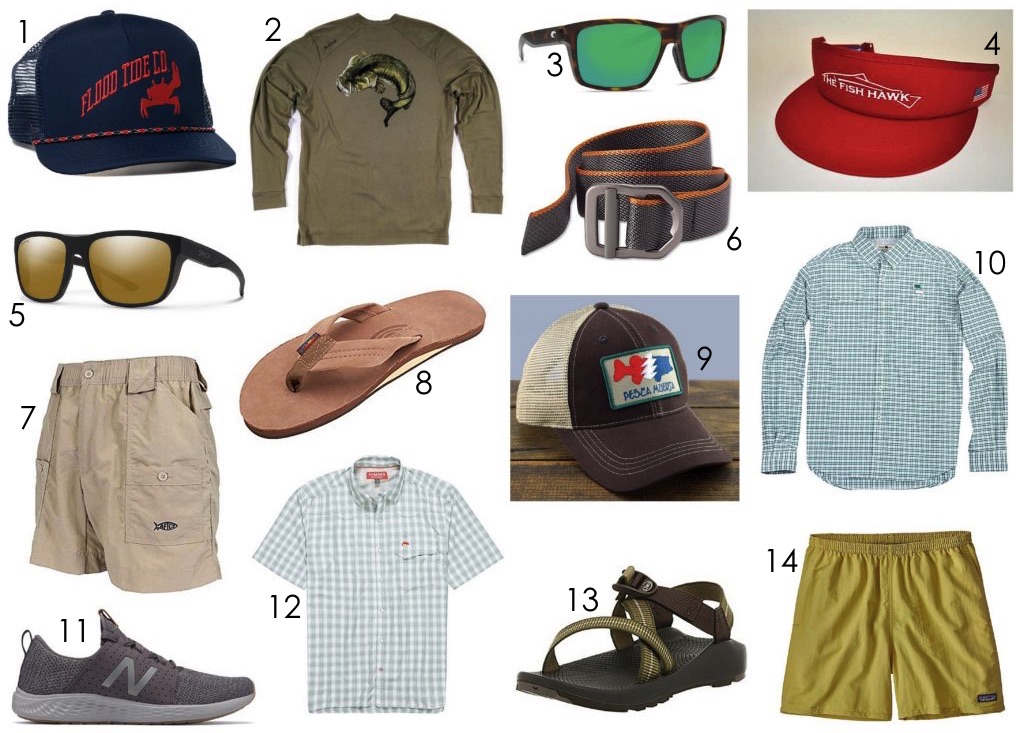 From top left:
1. Flood Tide Performance Trucker Hat:  Performance hats have taken over the golf world, so it's only fitting that they make their way to fishing, in a trucker form.  Well done, Flood Tide.  These look pimp.
2. Duck Camp Largemouth Bamboo Shirt:  I'm sold on bamboo…and especially with the largemouth bass artwork as icing.  It should go without saying that I want the entire Duck Camp bamboo line in my closet.  Now.
3. Costa Slack Tide Sunglasses:  I recently added a pair of these, and really dig the big lenses.  We're all familiar with Costa, and these Slack Tides are the leader of the pack (for those of us with large heads).
4. Tour Visor from The Fish Hawk:  Tour visor-ing while fishing.  Power play.
5. Smith Optics Barra Sunglasses:  Don't sleep on Smith Optics…I've fished with three guides this year, and they were all wearing Smith.  That should tell you something.
6. Orvis River Bend Pop Top Belt:  The rule is this: if there are loops, wear a belt.  Be smart, and utilitarian about it when fishing: get something that'll dry fast, and act as a bottle opener.  Boom.
7. Aftco M01 Fishing Shorts:  I've been wearing these for years, and there's no reason to adjust course.  These are great.  Buy 2″ larger in the waist for a comfortable, baggy fit.
8. Rainbow Single Layer Sandals:  Shoes on a boat?  Well, you can't go wrong with flip flops, especially if you are going to lose them and fish barefoot.  I prefer to do that when on a skiff…
9. Pesca Muerta Bass Patch Trucker Hat:  Show a little Dead pride, folks.
10. Onward Reserve Islamorada Fishing Shirt:  I love the idea of beating up a nice, plaid fishing shirt.  These by Onward are really nice, and they'll look really cool covered in fish guts, blood, and sweat.  Street cred.
11. New Balance Fresh Foam Running Shoes:  A better 'boat shoe' that most boat shoes.  The gum bottom won't leave a mark, and the woven top will actually dry out pretty quickly.  And you don't have to worry about sunburned feet.
12. Simms Big Sky Fishing Shirt:  I wear short sleeve fishing shirts quite a bit, and I really like the snap action of the Simms Big Sky line.  A little wookie, but very cool.
13. Chaco Z/1 Sandals:  I'm going to get some crap, but I pulled the trigger on a pair of these, and wear them quite a bit when chasing bass in an aluminum Jon boat.  They don't slip, and provide a little support.
14. Patagonia Baggies Shorts:  The best of the best.  They only get better when they start to fade out.
What did I miss?  What are you fishing in these days?
P L E A S E    S U P P O R T    O U R    P A R T N E R S :